US stocks closed the week in a sea of red on Friday, September 17, after technology shares led the broad losses across segments and tax hike fears dragged the benchmark indices down.
The S&P 500 fell 0.91% to 4,432.99. The Dow Jones fell 0.48% to 34,584.88. The NASDAQ Composite Index declined 0.91% to 15,043.97, and the small-cap Russell 2000 was up 0.18% to 2,236.87.
Markets have been volatile this week amid mixed global cues. Loses in the Asian markets over worries of slow economic recovery and recent geopolitical developments weighed on investors' minds. The tech-savvy Nasdaq declined the most.
In addition, the recent retail sales and unemployment data offered mixed signals about the US economy. While retails sales were up in August, jobless benefits claims rose noticeably last week.
Meanwhile, lawmakers were considering a proposal to hike corporate tax. The news could be worrisome for some investors as a tax hike may eat into the companies' profits. Democrats are seeking to increase the corporate tax from the current 21% to 26.5%.
Investors will now eagerly wait for the Fed's monthly meeting next week. The central bank officials are expected to discuss the latest economic data as they continue with the stimulus tapering talks.
US Fed meet & Top Global cues to watch out
All the S&P 500 stock segments stayed in the negative territory. Technology and communications services stocks were the biggest losers, pushing the index down. Stocks of vaccine manufacturers Moderna, Inc. (MRNA) and Pfizer Inc. (PFE) plunged 3.57% and 1.34%, respectively.
Invesco Ltd. (IVZ) stock rose 5.71% after reports that it is in talks to merge with the asset management unit of State Street Corporation (STT). STT stock declined 2.47% in intraday trading.
SmileDirectClub, Inc. (SDC) shares surged 12.92% after the stock was discussed on social media.
AbCellera Biologics Inc. (ABCL) stock rose 2.53%, a day after the US Food and Drug Administration extended the emergency use authorization for its covid drug Bamlanivimab.
In technology stocks, Apple Inc. (AAPL) fell 1.94%, Microsoft Corporation (MSFT) fell 1.65%, and ASML Holdings N.V. (ASML) declined 3.18%. Adobe Inc. (ADBE) and Cisco Systems, Inc. (CSCO) fell 1.75% and 1.19%, respectively.
In communication stocks, Alphabet Inc. (GOOG) fell 2.08%, Facebook, Inc. (FB) declined 2.96%, and T-Mobile US, Inc. (TMUS) declined 1.19%. In addition, Sea Limited (SE) dropped 1.23%, and Snap Inc. (SNAP) advanced 3.08%.
In the material sector, BHP Group (BHP) fell 4.46%, Rio Tinto Group (RIO) fell 3.02%, and Vale S.A. (VALE) fell 2.21%. Ecolab Inc. (ECL) and Freeport-McMoRan Inc. declined 2.01% and 4.10%.
Also Read: Check these 5 oil and gas stocks with high price-to-earnings ratio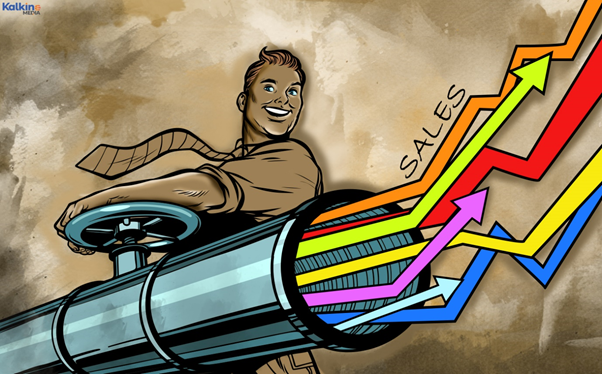 Copyright ©Kalkine Media 2021
Also Read: ASAN, FORG, & DATS stocks shine on higher demand hopes
Top Gainers
Top performers on S&P 500 included Thermo Fisher Scientific Inc (6.49%), Invesco Ltd (5.46%), Centene Corp (4.95%), Diamondback Energy Inc (3.18%). On NASDAQ, top performers were Corvus Pharmaceuticals Inc (135.40%), Helbiz Inc (96.56%), Priority Technology Holdings Inc (47.23%), Innate Pharma SA (40.87%). On Dow Jones, Amgen Inc (0.93%), UnitedHealth Group Inc (0.80%), American Express Co (0.79%), Procter & Gamble Co (0.16%) were the leaders.
Top Losers
Top laggards on S&P 500 included Unum Group (-6.04%), International Flavors & Fragrances Inc (-5.53%), Copart Inc (-5.46%), Nucor Corp (-4.49%). On NASDAQ, Protagonist Therapeutics Inc (-62.00%), TCR2 Therapeutics Inc (-36.45%), Eliem Therapeutics Inc (-21.92%), Janux Therapeutics Inc (-20.26%). On Dow Jones, Dow Inc (-2.89%), Caterpillar Inc (-1.89%), Apple Inc (-1.83%), Microsoft Corp (-1.75%) were the laggards.
Volume Movers
Top volume movers were Bank of America Corp (43.29M), Nov Inc (41.49M), Apple Inc (40.72M), AT&T Inc (38.62M), Oracle Corp (37.24M), Lucid Group Inc (39.05M), Match Group Inc (36.06M), SoFi Technologies Inc (33.81M), Tellurian Inc (28.37M), Corvus Pharmaceuticals Inc (26.47M).
Also Read: Top five mid-cap retail stocks with more than 100% YTD gain
Futures & Commodities
Gold futures were down 0.22% to US$1,752.85 per ounce. Silver decreased by 1.87% to US$22.367 per ounce, while copper fell 1.15% to US$4.2322.
Brent oil futures decreased by 0.45% to US$75.33 per barrel and WTI crude was down 0.81% to US$71.97.
Bond Market
The 30-year Treasury bond yields was up 1.13% to 1.902, while the 10-year bond yields rose 2.43% to 1.363.
US Dollar Futures Index increased by 0.33% to US$93.227.