All major US stock markets closed the week on a positive note on Friday, July 2, as investor sentiments were boosted by the Labor Department's June employment data.
The S&P 500 was up 0.75% to 4,352.34. The Dow Jones gained 0.44% to 34,786.35. The NASDAQ Composite rose 0.81% to 14,639.33, and the small-cap Russell 2000 was down 1.01% to 2,305.76.
The latest labor data showed that the US economy had added 850,000 jobs in June, the highest job openings since August 2020. However, the unemployment rate marginally rose to 5.9% from 5.8% in May, partly due to the increased number of job seekers, a separate survey showed.
The June jobs data should offer some respite to the Federal Reserve, whose major attention has been on employment, one of its primary considerations for keeping the interest rates down despite inflation. In their recent meeting, most Fed officials had favoured maintaining the current policy.
Investor optimism was also boosted by the prospect of a bumper upcoming earnings season due to the rapid economic progress in recent months. The March quarter had been kind for many companies despite the scourge of the pandemic, raising the bar for June quarter performance.
Strong gains by tech stocks lifted the S&P 500 to its seventh record consecutive closes. Eight of the 11 critical sectors of the blue-chip index remained in positive territory. The energy stocks were the bottom movers.
Global Market Round Up || Here's A Glance At Important Global Markets Updates
In corporate news, Virgin Galactic (SPCE) stock closed around 4% higher after the spaceflight company announced that its billionaire founder, Sir Richard Branson, along with others, will travel to space on July 11, ahead of Jeff Bezos. The latter was planning a similar trip on his Blue Origin spaceship on July 20. The SPCE stock had jumped more than 28% in the premarket session on Friday.
Meanwhile, electric vehicle maker Tesla, Inc. (TSLA) reported record delivery of vehicles, mainly the cheaper models, in the second quarter despite a chip shortage, in line with analyst's estimates. Tesla delivered 201,250 vehicles in Q2, whereas analysts estimated 200,258 vehicles, according to Refinitiv data. Its stock was trading flat in Friday's session.
AMC Entertainment Holdings, Inc. (AMC) shares fell around 12% in the morning session after short-seller Iceberg Research tweeted that it sold AMC shares in the short term on a bearish bet. However, the stock later recovered some grounds to close at 4.17% down at the market close.
In tech stocks, Apple Inc. (AAPL) gained 1.74%, Microsoft Corp (MSFT) rose 2.28%, and NVIDIA Corp (NVDA) increased by 1%. ASML Holdings NV (ASML), Adobe Inc. (ADBE) and Intel Corporation advanced 1.41%, 1.38%, and 1.38%, respectively.
In industrial and energy stocks, United Parcel Service, Inc. (UPS) rose 0.75%, Union Pacific Corp (UNP) increased by 0.57%, while The Boeing Company (BA) declined 1.04%. Shares of PetroChina Company Limited (PTR) fell 1.74%, and Enbridge Inc. (ENB) gained 0.69%. China Petroleum & Chemical Corporation (SNP) ticked down 1.79% and Equinor ASA (EQNR) advanced 0.99%.
In the financial sector, Berkshire Hathaway Inc. (BRK-B) plummeted 0.42%, Bank of America Corporation (BAC) shed 0.84%, and Wells Fargo & Company (WFC) fell 0.76%. Conversely, Visa Inc. (V) and Mastercard Incorporated (MA) increased by 1.32% and 0.98%, respectively.

Shares of DiDi Global Inc. (DIDI) fell 7.44% after China's cyberspace administration said that it launched a probe to determine whether the company poses a national security risk. It comes two days after the company made a stock market debut in the US.
Also Read: What happened to GTT Communications (GTT) stock on Friday?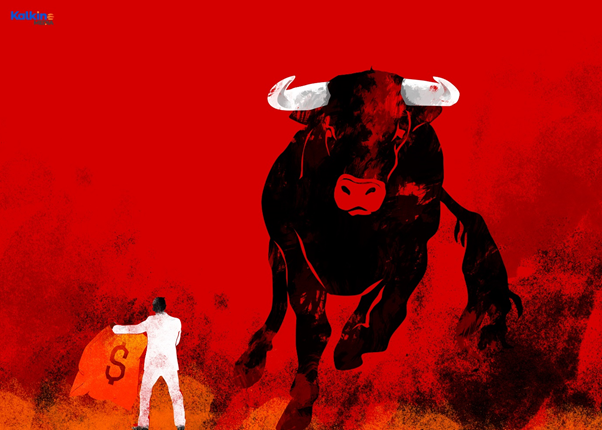 Copyright ©Kalkine Media 2021


Also Read: 8 healthcare stocks that may ride on covid-led demand
Top Gainers
Top performers on S&P 500 included Oracle Corp (2.87%), Paycom Software Inc (2.75%), Hilton Worldwide Holdings Inc (2.58%), Carmax Inc (2.48%). On NASDAQ, top performers were Sequential Brands Group Inc (89.16%), Alector Inc (57.12%), Bridgeline Digital Inc (56.00%), TAT Technologies Ltd (42.62%). On Dow Jones, Microsoft Corp (2.23%), Apple Inc (1.96%), Johnson & Johnson (1.82%), Visa Inc (1.48%) were the leaders.
Top Losers
Top laggards on S&P 500 included International Business Machines Corp (-4.64%), Devon Energy Corp (-2.44%), Marathon Oil Corp (-2.26%), Penn National Gaming Inc (-2.19%). On NASDAQ, Iterum Therapeutics PLC (-37.99%), Arrowhead Pharmaceuticals Inc (-25.69%), Powerbridge Technologies Co Ltd (-19.28%), Alterity Therapeutics Ltd (-18.22%). On Dow Jones, International Business Machines Corp (-4.64%), Boeing Co (-1.27%), Walgreens Boots Alliance Inc (-1.11%), Travelers Companies Inc (-0.40%) were the laggards.

Volume Movers

Top volume movers were Apple Inc (18.27M), Ford Motor Co (8.69M), Microsoft Corp (8.54M), Bank of America Corp (8.49M), Advanced Micro Devices Inc (7.98M), Marin Software Inc (20.76M), Bridgeline Digital Inc (14.83M), ContextLogic Inc (10.22M), Iterum Therapeutics PLC (9.40M), Staffing 360 Solutions Inc (8.92M), Sundial Growers Inc (8.40M), Li Auto Inc (7.12M).


Also Read: Virgin Galactic (SPCE) rallies as Richard Branson will fly to space before Jeff Bezos
Futures & Commodities
Gold futures were up 0.61% to US$1,787.55 per ounce. Silver increased 2.01% to US$26.600 per ounce, while copper rose 1.02% to US$4.2790.
Brent oil rose 0.29% to US$76.06 per barrel and WTI crude decreased 0.25% to US$75.04.
Bond Market
The 30-year Treasury bond yields was down 1.96% to 2.045, while the 10-year bond yields decreased 3.34% to 1.431.
US Dollar Futures Index fell 0.37% to US$92.248.