Benchmark US indices edged higher on Friday, October 1, after technology, energy, and communication stocks registered handsome gains lifted by positive economic data.
The S&P 500 was up 1.15% to 4,357.04. The Dow Jones gained 1.43% to 34,326.46. The NASDAQ Composite rose 0.82% to 14,566.70, and the small-cap Russell 2000 rose 1.69% to 2,241.63.
Upbeat economic data boosted investors' confidence. The Commerce Department said on Friday that construction spending remained unchanged at US$1,584.1 billion in August, compared to US$1,584.0 billion in July when it rose 0.3 percent.
Most economists said that despite elevated inflation, markets were recovering. Philadelphia Fed President Patrick Harker on Wednesday said that the central bank should soon start withdrawing its asset-buying program. However, Harker also said that he does not expect a rate hike soon.
Energy and communication stocks were the top gainers on S&P 500. The technology sector provided the biggest boost. All 11 major sectors of the index stayed in green in Friday's session.
NIO Inc. (NIO) stock fell 0.24% a day after presenting its vehicle delivery report for September and the third quarter of 2021. NIO delivered 10,628 vehicles in September, representing an increase of 125.7% YoY, while its third-quarter deliveries jumped 100.2% YoY to 24,439.
Shares of XPeng Inc. (XPEV) fell 0.25% after reporting record vehicle deliveries in September and the third quarter of FY21 on the previous day. The company delivered 10,412 vehicles in September, an increase of 199% YoY, while the third-quarter deliveries were 25,666, up 199% YoY.
Merck & Co., Inc. (MRK) stock jumped 9.53% after it announced plans to acquire Acceleron Pharma for US$11.5 billion.
In the energy sector, Exxon Mobil Corporation (XOM) rose by 3.21%, Chevron Corporation (CVX) rose by 2.58%, and ConocoPhillips (COP) rose by 3.00%. EOG Resources, Inc. (EOG) and Pioneer Natural Resources Company (PXD) advanced 4.08% and 4.52%, respectively.
In communication stocks, Alphabet Inc. (GOOGL) gained 2.22%, Facebook, Inc. (FB) grew 1.45%, and The Walt Disney Company (DIS) gained 4.70%. In addition, the Comcast Corporation (CMCSA) and AT&T Inc. (T) ticked up 2.58% and 1.22%, respectively.
In the technology sector, Microsoft Corp. (MSFT) rose 2.24%, Salesforce.com Inc. (CRM) rose 1.30%, and Oracle Corporation (ORCL) gained 3.30%. Cisco Systems, Inc. (CSCO) and Intel Corporation (INTC) soared 1.40% and 1.11%, respectively.
Also Read: ALZN & AEZS: Two trending biotechnology stocks on Friday
Also Read: Five9 (FIVN), Zoom (ZM) stocks up after merger deal falls apart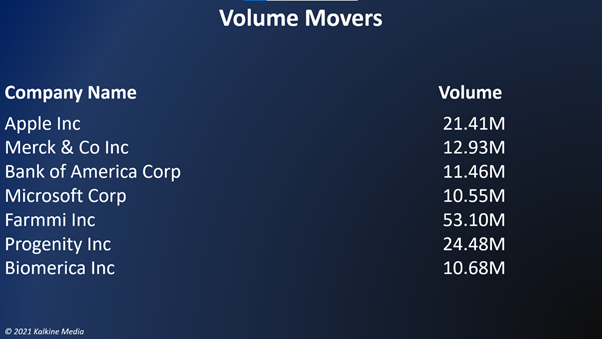 Also Read: Five cybersecurity stocks that gave over 19% return YTD
Futures & Commodities
Gold futures were up 0.18% to US$1,760.20 per ounce. Silver increased by 2.25% to US$22.543 per ounce, while copper rose 2.82% to US$4.2045.

Brent oil futures increased by 1.02% to US$79.11 per barrel and WTI crude was up 0.92% to US$75.72.
Bond Market
The 30-year Treasury bond yields was down 2.81% to 2.032, while the 10-year bond yields fell 4.17% to 1.463.
US Dollar Futures Index decreased by 0.18% to US$94.073.