The blue-chip S&P 500 and tech-heavy NASDAQ Composite closed lower on Thursday, July 15, weighed down by technology, energy, and consumer discretionary stocks after positive labor data.
The S&P 500 fell 0.33% to 4,360.03. The Dow Jones was up 0.15% to 34,987.02. The NASDAQ Composite dropped 0.70% to 14,543.13, and the small-cap Russell 2000 shed 0.55% to 2,190.29.
The economy-sensitive stocks saw modest gains after the labor department's latest data showed weekly jobless claims fell further last week, indicating a continued labor market recovery. The jobless benefit claims fell by 26,000 to a 16-month low of 360,000 in the week ended July 10.
Global Market Roundup || Asian shares find support as Jerome Powell shrugs off inflation
Meanwhile, Republican Senators have questioned Fed chair Jerome Powell's dovish economic outlook on the second day of the hearing in the Senate Banking Committee meeting on Thursday. Powell reiterated that inflation would gradually wane after monetary stimuli are rolled back.
However, a fresh spike in COVID-19 cases appeared to have dampened the investors' spirits as they feared the economy might take a hit if the situation doesn't improve.
Nine of the 11 critical segments of the S&P 500 remained in the red zone. Energy and technology stocks were the bottom losers, while the utility stocks were the top gainers.
The New York-based Morgan Stanley (MS) bank's second-quarter profits surged 10% to US$3.51 billion on revenue of US$14.76 billion. The stock was trading almost flat at 0.26% on Thursday.
Taiwan Semiconductor Manufacturing Company Limited's (TSM) earnings rose by 18% YoY for the quarter, beating analyst's expectations, while sales increased by 28% to US$13.29 billion. However, despite the positive earnings report, TSM shares plunged 5.53%.
Shares of American International Group, Inc. (AIG) rose 3.05% after it announced to sell around 10% stake, worth US$2.2 billion, in its life insurance business to Blackstone Inc.
In energy stocks, Exxon Mobil fell 0.95%, Chevron Corp (CVX) shed 0.70%, and Royal Dutch Shell (RDS-A) lose 2.29%. TotalEnergies SE (TTE) and BP (BP) also dropped 1.18% and 2.22%, respectively.
Apple Inc. (AAPL) fell 0.70%, Microsoft Corp (MSFT) rose 0.45%, and ASML Holdings N.V. (ASML) was down 2.22%. NVIDIA Corp (NVDA) and Oracle Corp (ORCL) dropped 4.39% and 1.85%, respectively.
In crypto stocks, Coinbase Global, Inc. (COIN) fell 3.06%, and Bitcoin (BTC) and Ethereum (ETH) dropped 3.62% and 3.17%, respectively.
Also Read: Why are these food delivery stocks on investors' radar?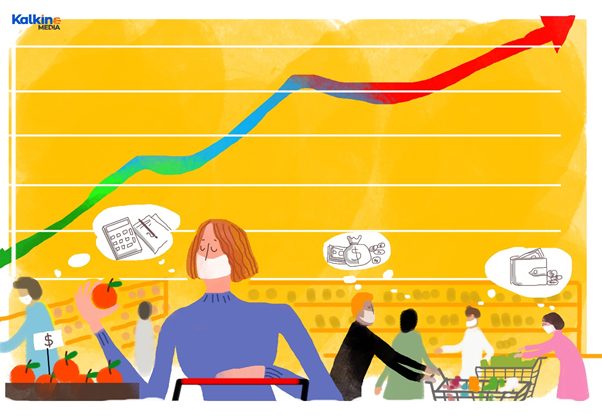 Copyright ©Kalkine Media 2021
Top Gainers
Top performers on S&P 500 included American International Group Inc (3.58%), US Bancorp (3.21%), Truist Financial Corp (2.63%), Eversource Energy (2.46%). On NASDAQ, top performers were Liquid Media Group Ltd (65.82%), Cinedigm Corp (37.96%), ATA Creativity Global (28.52%), Verb Technology Company Inc (28.51%). On Dow Jones, Honeywell International Inc (2.21%), UnitedHealth Group Inc (1.28%), Home Depot Inc (1.09%), Visa Inc (1.04%) were the leaders.
Top Losers
Top laggards on S&P 500 included Teleflex Inc (-9.84%), Biogen Inc (-6.79%), NXP Semiconductors NV (-4.49%), Western Digital Corp (-4.43%). On NASDAQ, IMV Inc (-28.85%), Marin Software Inc (-27.07%), Voxeljet AG (-26.08%), Dogness International Corp (-24.68%). On Dow Jones, Salesforce.Com Inc (-2.00%), Walgreens Boots Alliance Inc (-1.34%), Intel Corp (-1.26%), Johnson & Johnson (-1.20%) were the laggards.
Volume Movers
Top volume movers were Apple Inc (18.52M), Bank of America Corp (12.20M), Wells Fargo & Co (9.13M), General Electric Co (8.95M), Ford Motor Co (7.88M), Advanced Micro Devices Inc (7.59M), Microsoft Corp (7.42M), Verb Technology Company Inc (23.16M), Liquid Media Group Ltd (17.60M), Exela Technologies Inc (13.12M), Cinedigm Corp (11.42M), Sundial Growers Inc (9.00M), AstraZeneca PLC (7.23M).
Also Read: Johnson and Johnson stock (NYSE: JNJ): is it heading for a split?
Futures & Commodities
Gold futures were up 0.29% to US$1,830.35 per ounce. Silver increased 0.62% to US$26.433 per ounce, and copper rose 1.04% to US$4.3120.
Brent oil increased 0.08% to US$73.31 per barrel and WTI crude was down 2.27% to US$71.47.
Bond Market
The 30-year Treasury bond yields was down 3.31% to 1.923, while the 10-year bond yields decreased 4.09% to 1.301.
US Dollar Futures Index increased 0.19% to US$92.578.