Benchmark US indices closed mixed on Friday, May 20, as investors were concerned about the elevated inflation, sending S&P 500 into the bear-market territory in intraday session.
The S&P 500 was up 0.01% to 3,901.36. The Dow Jones rose 0.03% to 31,261.90. The NASDAQ Composite declined 0.30% to 11,354.62, and the small-cap Russell 2000 was down 0.17% to 1,773.27.
The stocks have extended their losses, with the Dow Jones Industrial Average marking its eighth consecutive week of losses since 1932. In addition, S&P 500 and Nasdaq are on their longest streak of weekly losses since 2001.
A bear market is when the securities fall below 20% or above from their recent highs. The S&P 500 falls below 20% from its recent highs, with Nasdaq already down nearly 30%.
The disappointing guidance from the retail giants has added concerns of the investors, as the recent earnings suggested that the rising costs have hit the business of the companies.
The consumer discretionary and technology sector were the laggards in the S&P 500 index on Friday. Ten of the 11 sectors of the S&P 500 index stayed in the negative territory, with the only real-estate and healthcare sectors as the top movers.
The discount store operator, Ross Stores, Inc. (ROST) declined 24.64% after the company trimmed its sales and profit forecast for fiscal 2022. The company, like the other retail firms, blamed the rising costs, elevated inflation, and labor market tightening for their decline in business.
Shares of Deere & Company (DE) plunged 15.23% after the manufacturing firm reported its first-quarter earnings that missed the Wall Street estimates for quarterly revenue. However, the company has raised its annual profit guidance.
On the other hand, V.F. Corporation (VFC) provided strong guidance for its 2023 revenue. Its stock value rose 5.12%.
In the healthcare sector, Johnson & Johnson (JNJ) surged 1.61%, UnitedHealth Group Incorporated (UNH) rose 1.27%, and Pfizer Inc. (PFE) soared 3.35%. Eli Lilly and Company (LLY) and Merck & Co., Inc. (MRK) advanced 4.20% and 1.39%, respectively.
In real-estate stocks, American Tower Corporation (AMT) increased by 4.94%, Crown Castle International Corp. (CCI) added 2.32%, and Equinix, Inc. (EQIX) gained 2.56%. Public Storage and Realty Income Corporation (O) ticked up 1.04% and 1.10%, respectively.
In the technology sector, Microsoft Corporation (MSFT) fell 1.02%, NVIDIA Corporation (NVDA) declined 3.85%, and Broadcom Inc. (AVGO) slumped 1.59%. Intel Corporation (INTC) and Advanced Micro Devices, Inc. (AMD) 1.76% and 4.53%, respectively.
In the crypto space, Bitcoin (BTC) and Ethereum (ETH) decreased by 2.60% and 1.69%, respectively. The global crypto market cap fell 1.93% to US$1.25 trillion at 4:15 pm ET on May 20.
Also Read: 5 penny stocks to watch in June: PVL, SNRG, GOFF. CHKR & FDOC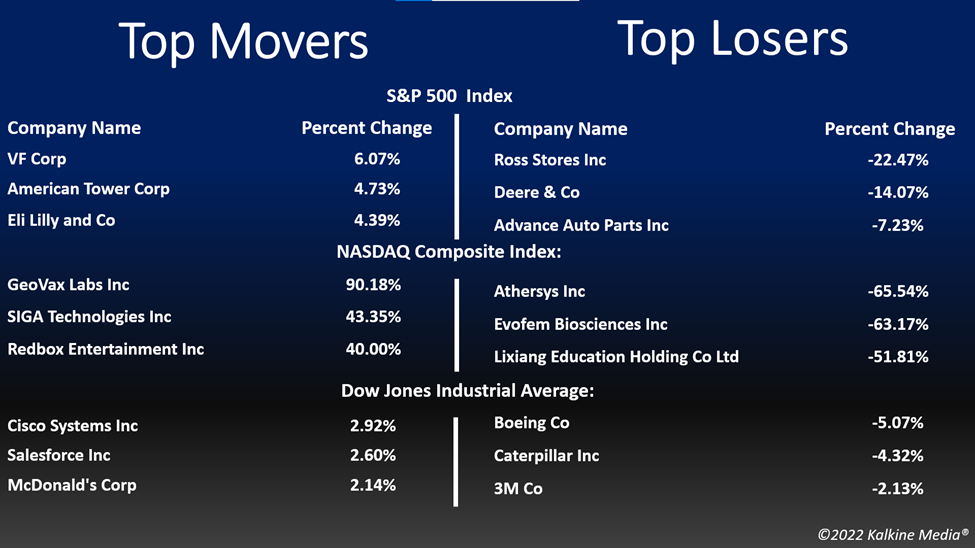 Also Read: Top S&P 500 industrial stocks to explore: DE, RTX, LMT, WM & RSG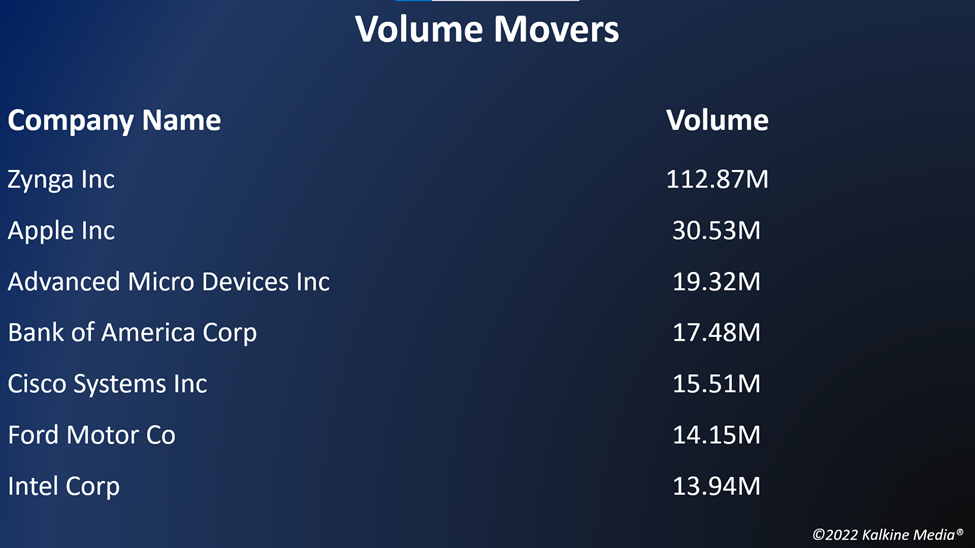 Also Read: GOOGL, FB, & AMD among top 5 growth stocks to explore
Futures & Commodities
Gold futures were up 0.16% to US$1,844.15 per ounce. Silver decreased by 0.72% to US$21.751 per ounce, while copper rose 0.44% to US$4.3020.
Brent oil futures increased by 0.58% to US$112.69 per barrel and WTI crude was up 0.35% to US$110.27.
Also Read: Saudi Aramco 'weighs' IPO for its trading unit as oil prices soar
Bond Market
The 30-year Treasury bond yields were down 2.06% to 3.002, while the 10-year bond yields fell 2.27% to 2.790.
US Dollar Futures Index increased by 0.29% to US$103.047.