Highlights:

Westrock Coffee is planning to go public through a SPAC merger in the US market.
It will merge with Riverview Acquisition Corp (RVAC).
The combined entity is expected to be valued at around US$1.09 billion.
Westrock Coffee Holdings LLC said on Monday that it plans to list in the US market through a merger with a special purpose acquisition company (SPAC).
The value of the combined entity is estimated to be around US$1.09 billion, including debt.
Westrock will merge with Riverview Acquisition Corp (RVAC), which went public in August 2021. Riverview raised around US$250 million in the IPO.
Also Read: Why is Aventus (AVT) crypto rising?
Deal details:
The transaction would value Westrock Coffee at around US$1.086 billion at US$10 per share, assuming there would be no redemptions by the Riverview stockholders.
The merger will generate around US$500 million in gross cash proceeds for the combined entity, including a US$250 million in common stock private investment in public equity (PIPE) commitments from NFC investments, LLC, Riverview and Westrock founders, among others.
Also Read: Is Pensando a public company? Know details ahead of AMD acquisition
The company will use the proceeds to expand its business overseas.
The deal is expected to happen in the third quarter of 2022, and the combined entity would be named Westrock Coffee Co. and start trading on Nasdaq under the ticker symbol "WEST".
Also Read: Hypebeast SPAC deal: When is Naomi Osaka-sponsored firm debuting in US?
Company details:
The Arkansas-based company was established in 2009 to provide services to the coffee farmers in Rwanda. Since then, it has evolved into a major producer of coffee products.
The company said it focuses on the supply chains for coffee, tea, and other beverages and is working with small-scale farmers globally for supplying products to Walmart, McDonald's, etc.
It claims to provide around 20 million cups of coffee daily through sustainable and digitally traceable supply chain management while improving the lives of 1.5 million small-scale farmers worldwide.
Also Read: Why is RAMP (RAMP) crypto grabbing attention?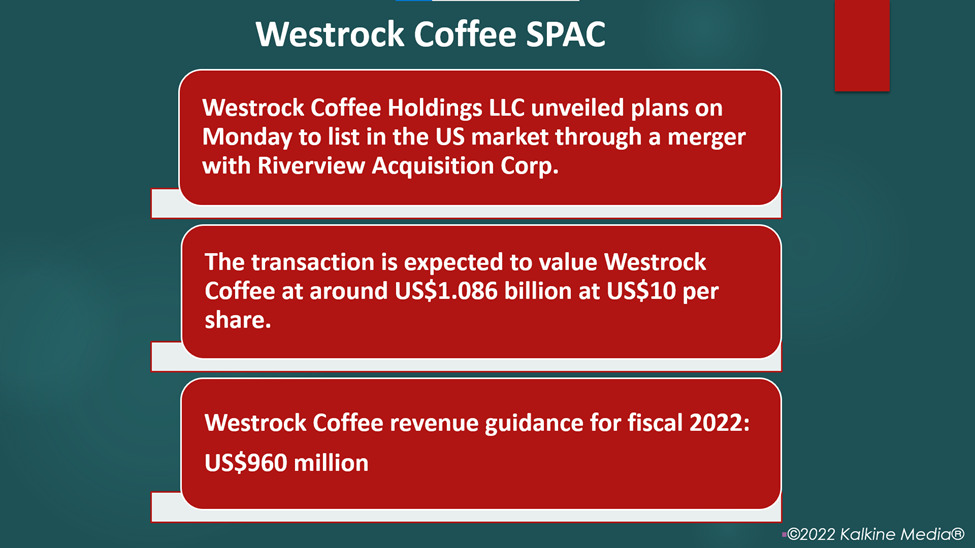 Bottom line:
Led by its Chief Executive Officer and co-founder Scott Ford, who has previously been the President and CEO of Alltel Wireless, the company has provided strong financial guidance for fiscal 2022. It expects its revenue to be around US$960 million in 2022, with an adjusted EBITDA of about US$75 million.
Also Read: What is Sologenic (SOLO) crypto? Know price and performance
When companies are withdrawing or delaying their SPAC agreements due to increased regulatory hurdles, Westrock's listing plans have lifted investors' sentiments. Companies like Syniverse Technologies, Essentium Inc., etc., have canceled their SPAC agreements recently.