Highlights

The company is offering 10 million units in the IPO.


The offering pricing is US$10 per share.


The underwriters have a 45-day buy option for 1.5 million units at the IPO price.
Taiwan-based special purpose acquisition company (SPAC) Evergreen Corporation was expected to debut in the US stock market on Wednesday, a day after announcing its IPO price.
The company has offered 10 million units in its initial public offering at US$10 per share. It will trade the shares on the Nasdaq Global Market (NASDAQ).
Also Read: Is Black Rifle Coffee Company going public?
Each unit comprises one Class A ordinary share and one redeemable warrant. Each whole warrant would entitle the holder to purchase one Class A ordinary share for US$11.50 per unit.
The Class A ordinary shares and warrants will trade under the ticker symbols EVGR and EVGRW, respectively. The company has granted a 45-day buy option for the underwriters to purchase an additional 1.5 million units at the offering price to cover over-allotments if any.
Also Read: Is ad-tech firm Aleph launching IPO soon? 2021 revenue climbs 86%
The book-running manager for the IPO is EF Hutton, a division of Benchmark Investments LLC. Evergreen's legal counsel is Loeb & Loeb LLP, while Hutton's counsel is Pryor Cashman LLP.
The offering is likely to close on February 11.
The company expects to raise gross proceeds of US$104.80 million if the over-allotment option is not exercised, and if implemented, the gross proceeds would be around US$120.325 million.
Also Read: Top real estate stocks on S&P 500 to explore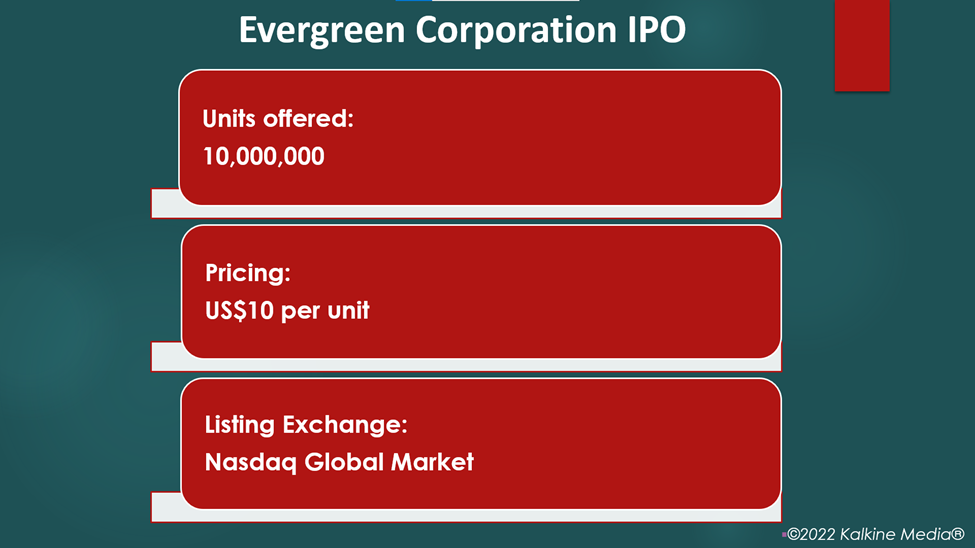 Also Read: Aluminum's record high price means a windfall for stocks?
Evergreen's area of interest
Evergreen is a blank-check company established to effect a merger, asset acquisition, or business combination with one or more businesses. The company has not declared any specific sector for the business combination yet.
But analysts said it might seek opportunities in sectors like AI, fintech, metaverse, e-commerce, or related sectors in the ASEAN region. The company is led by its Board Chairman and CEO, Liew Choon Lian.
Also Read: When is pet care company Wag Labs going public?
Bottomline
The US market witnessed a record number of IPOs in 2021, estimated at around 1,000. Over half of the offerings were from the blank check companies. The market has cooled off lately on Omicron and various macroeconomic concerns.