Highlights

Akanda Corp is offering four million shares in the IPO.


It will provide an additional 600,000 shares to shareholders to cover over-allotments.


The expected IPO price will be at the lower end of its previous guidance.
The UK-based cannabis firm Akanda Corp is gearing up for its debut in the US stock market.
In a recent filing with the US Securities and Exchange Commission (SEC), the company confirmed its plans to offer four million shares at US$4 per share in an initial public offering.
At that IPO price, Akanda Corp would be valued at about US$116 million.
Also Read: Top 9 energy ETFs: Can XLE, FENY protect against market volatility?
What is Akanda Corp offering?
The company had submitted a draft registration for the IPO in November 2021. At that time, it had set the IPO price range between US$4 and US$6.
The underwriters are offered a 45-day purchase option for an additional 600,000 shares at the IPO price to cover over-allotments if any.
Excluding the underwriters' option, Akanda Corp will have around 28.9 million outstanding shares after the transaction, bringing its valuation to about US$116 million.
Also Read: Top 5 defense stocks: LMT, BA NOC rise amid geopolitical tension
The company plans to trade its stocks on the Nasdaq exchange under the ticker symbol, "AKAN".
If approved by the SEC, Akanda Corp might start trading its shares on February 25.
The lead bookrunner for the Akanda Corp IPO is Boustead Securities.
Also Read: Why tech firm Fastly (FSLY) stock dropped over 30% today?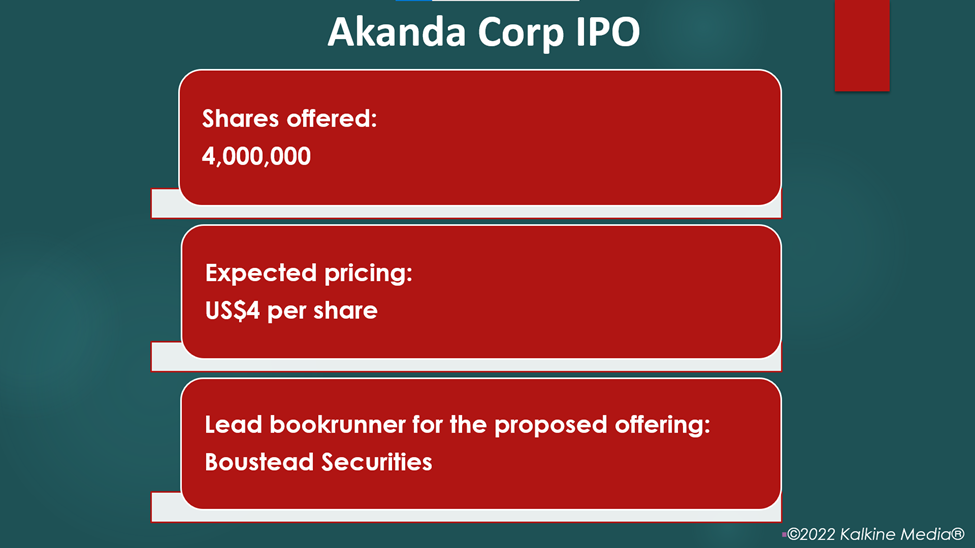 Also Read: Walmart (WMT) stock up after beating Q4 expectations, raises guidance
What's next for Akanda Corp?
According to its filing, the company plans to invest the gross proceeds in the business over the next two years. But if it falls short of the targeted funds, it will stop some of its planned operations.


Akanda Corp intends to spend around US$200,000 on expanding its "hoop-house and shade cloth" cultivation operations by about 2 hectares at its South Africa facility. In addition, it will build a one-hectare post-harvest drying facility for around US$5 million and spend about US$100,000 for acquiring the EU GMP certification for the facility.
Its main aim is to expand and bolster the distribution capabilities for cannabis-based medicinal products in the UK, which will cost around US$13 million.
Also Read: What did Charlie Munger say on cryptocurrencies? 5 things to know
Bottomline
Akanda Corp's total operating expenses were US$101,475 between July 16 and September 30, 2021. Its net and comprehensive loss were US$96,281. As of September 30, 2021, Akanda Corp had total assets worth around US$250,001.