Highlights:

The US CPI surged at an annual rate of 9.1% in June, the highest level in over 40 years.
It rose 1.3% from the previous month after rising 1% in May.
Higher gasoline and food prices pushed inflation up.
US inflation further accelerated in June to 9.1% annually, the highest since 1981. The persistent rise in prices suggests the US Federal Reserve would keep pushing the interest rates up to calm the disruptive inflation.
The largest annual increase in CPI since 1981:
US inflation climbed at an annual rate of 9.1% in June, the highest level in 40 years. In May, the CPI growth was 8.6%. According to the Labor Department, the CPI rose 1.3% in June after increasing 1% in the prior month, the highest MoM growth since 2005. The spike in inflation underscores the relentless pressure of increasing gasoline and food costs fuelled by the Russia-Ukraine war.
In June, US gasoline prices were at a record level, averaging over US$5 per gallon, Reuters reported citing motorist advocacy group AAA. However, the prices fell in recent days from last month's peak. On Wednesday, US gasoline prices were around US$4.6 per gallon.
Furthermore, the so-called core CPI, which excludes the volatile food and energy components, rose 0.7% in June from the previous month and 5.9% annually, topping analysts' estimates.
What's next?
Economists expected the shift in spending from goods to services might help calm inflation, but a tight labor market encouraged wage hikes, thus bumping the prices further up.
The US indices logged their worst first-half percentage drop in decades amid an array of negative macroeconomic factors. However, last week, the S&P 500 recovered some lost ground after rising around 2% from the prior week.
The indices closed the previous two sessions in red as investors traded cautiously amid inflationary pressures. On Wednesday morning, all the indexes traded in the negative territory after the CPI data.
The Federal Reserve is expected to repeat the rate hike by 75 basis points in July as prices continue to rise. However, there are also concerns that Fed's aggressive rate policy could tip the economy into a recession.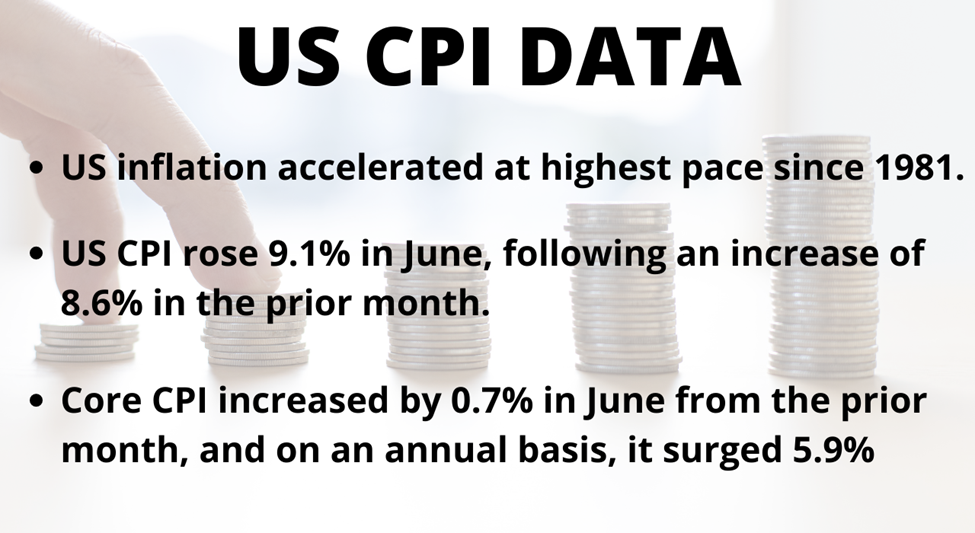 Image Source: ©Kalkine Media®; © 89Stocker via Canva.com
Bottom line:
The technology and consumer discretionary sectors, which comprise some of the biggest companies, suffered the most recently as sell-offs in the market continued. Microsoft Corp (MSFT) and Nvidia Corp (NVDA) lost 1.36% and 1.08%, respectively. Amazon.com Inc. (AMZN) and The Home Depot, Inc. (HD) plummeted by 0.73% and 1.09%.
However, not all faced the same challenges. Companies like PepsiCo (PEP) and Delta Air Lines, Inc. (DAL) profited despite rising costs. Investors will now keep a close watch on the earnings of several major banks this week.