Highlights:

SafePal is a crypto wallet that aids users in securing and growing their digital assets.
The token is available on exchanges like Binance, Bybit, etc.
The SFP token returned more than 51% gains over the past 30 days.
The crypto market rally lost some pace on Wednesday morning but remained above the US$2 trillion mark. Major cryptocurrencies like Bitcoin (BTC) and Ethereum (ETH) were trading lower.
The market was down 0.87% to US$2.14 trillion, while its one-day volume declined by 5.78% to US$118.92 billion, according to Coinmarketcap.com. BTC traded at US$46,923.52, down 1.56%, and ETH declined 2.20% to US$3,364.16.
However, despite the lacklustre trading, altcoins saw considerable gains. For instance, the SafePal (SFP) crypto, one of the altcoins, was trading higher.
Also Read: What is BORA (BORA) crypto and why is it rising?
What is SafePal (SFP) crypto?
SafePal, launched in 2018, is a crypto wallet that aids users in securing and growing their digital assets. It offers hardware and software wallets paired and operated through the SafePal Application. It claims to be the first hardware wallet invested by Binance.
Its wallets support a range of popular crypto-assets besides tokens like Ethereum, Binance Smart Chain (BSC), Tron blockchains, etc. Safepal claims its wallet users can store, manage, swap, trade, and grow their portfolios without compromising the security of the assets.
Also Read: Why did Stargate Finance (STG) rose over 98% in a week?
SFP is a BEP-20 token that can be transferred to wallets that support the Binance Smart Chain network. Also, it serves as a means of payment and can be exchanged for other assets.
SFP allows holders to create proposals and vote on new features on the SafePal protocol like adding new blockchains on its products, making it a governance token. The token is available on exchanges like Binance, Bybit, BingX, etc.
Also Read: Terra (LUNA) hits all-time high: Why is LUNA crypto rising?
Why is it rising?
The token's latest rally follows the company's new partnership with Boba Brewery for wallet holder offering (WHO). Wednesday's announcement may have drawn investors' interest in the token.
As part of the deal, Boba Brewery will help educate the SafePal community about new Layer 2 solutions and a brand new blockchain experience through a Wallet Holder Offering event.
Meanwhile, all the whitelist participants will share an exclusive 5 million BRE token reward pool and complete the tasks in the SafePal Wallet during the event. The number of participants in the event is 20,000. The program will end on April 1 at 12 pm UTC. These developments and the protocol's unique solutions may have helped gains in the SFP token.
Also Read: Why is Flux (FLUX) crypto rising?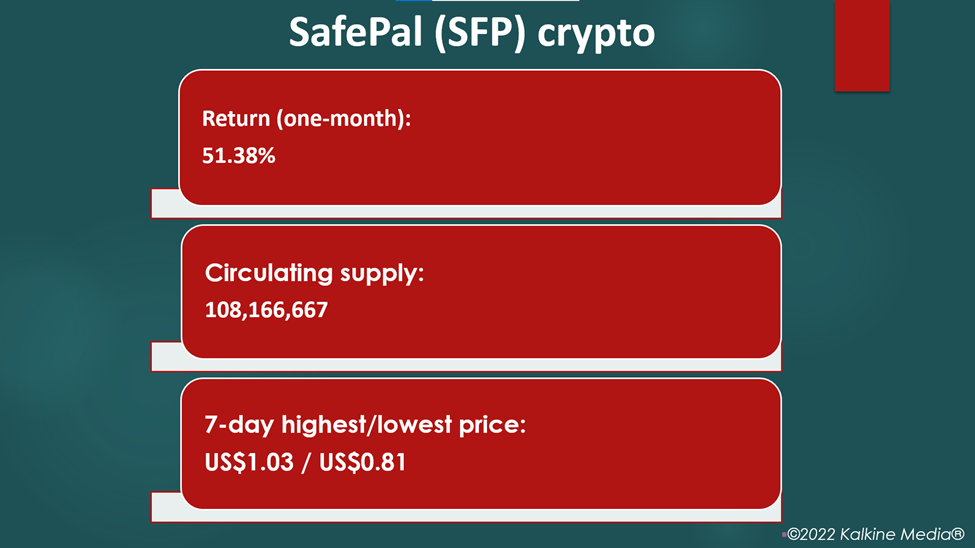 Source: *Data provided by CoinMarketCap.com
Bottom line:
The SFP token was priced at US$1.12 at 10:26 am ET on March 30, up 27.04%, while its volume for the last 24 hours skyrocketed 239.63% to US$66.25 million. Its total and max supply is 500 million, and its current circulating supply is 108.16 million.
It has a market capitalization of US$121.52 million, and its fully-diluted market capitalization is over US$561.74 million. The SFP token gave a return of 51.38% over the past 30 days.
Also Read: What is Dripto (DRYP) crypto and why is it rising?
Risk Disclosure: Trading in cryptocurrencies involves high risks including the risk of losing some, or all, of your investment amount, and may not be suitable for all investors. Prices of cryptocurrencies are extremely volatile and may be affected by external factors such as financial, regulatory, or political events. The laws that apply to crypto products (and how a particular crypto product is regulated) may change. Before deciding to trade in financial instruments or cryptocurrencies you should be fully informed of the risks and costs associated with trading in the financial markets, carefully consider your investment objectives, level of experience, and risk appetite, and seek professional advice where needed. Kalkine Media cannot and does not represent or guarantee that any of the information/data available here is accurate, reliable, current, complete, or appropriate for your needs. Kalkine Media will not accept liability for any loss or damage as a result of your trading or your reliance on the information shared on this website.