Highlights

It is the first Decentralized Social Metaverse that aims to interconnect all metaverses.
For using Gamium Metaverse, one needs to have an Avatar. So, users need to mint their Avatars to use its features.
The Gamium economy is powered by two tokens. GMM is the governance and exchange token, and the MST token is used as a utility and reward token.
The Gamium (GMM) token gained traction ahead of its "Broadening the Vision" event scheduled at 8:00 pm CET. However, the token was trading 9.91% lower at US$0.009454 at 9:04 am ET on Wednesday.
Gamium's co-founders will explain the company's next steps on the technical and marketing aspects during the event. The company's YouTube channel will also broadcast the online event.


What is Gamium - The center of the metaverse?
Gamium is a Web3 and Metaverse technology company. It is the first Decentralized Social Metaverse, with a mission to connect all Metaverses. With Web3.0, Gamium unites different virtual worlds through avatars and assets which are multi-metaverse compatible.
The project builds Avatars, a digital identity used across different Web3 and Metaverse applications with unique interoperability. It provides a Decentralized Social Metaverse for anyone to make whatever they want using Gamium SDK, its software development kit.
Avatars are the creators of the Gamium Metaverse.
Also Read: Why is Kyber Network Crystal v2 (KNC) crypto drawing attention?
Genesis city is the center of the Gamium world. It has Gamium buildings with unique applications like decentralized chats, DeFi applications, job portals, and 3D calling apps. Outside the Genesis city, there are 10 neighborhoods, with islands and districts, where avatars can live and build anything of their choice.
For using the Gamium Metaverse, one needs to have an Avatar. So, users must mint their Avatars to use its features.
Also Read: Is Polygon (MATIC) crypto gaining attention on Stripe news?
The Avatar can access any application on its metaverse in a 3D environment. One can create a community, interact with DeFi apps, build 3D assets, go shopping, have immersive communication with people worldwide, find jobs, and earn money.
Users get rewards for socializing with other avatars within Gamium.
The Gamium project earns income by customizing avatars, cosmetics, selling land, fees from users' NFT sales, fees for DeFi transactions and IMO, and advertising.
Also Read: What is Numeraire (NMR) crypto? All you need to know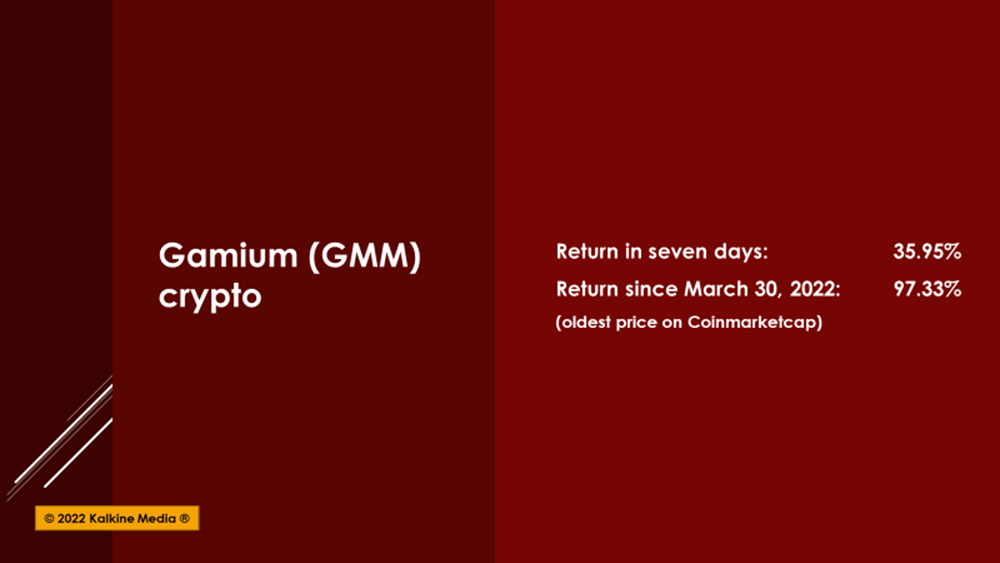 Data Source: coinmarketcap.com
Also Read: Why Hawksight (HAWK) crypto surged 100%?
GMM token:
Two tokens power the Gamium economy. GMM is the governance and exchange token, and another token is MST which is used as a utility and reward token.
The GMM token has a market capitalization of US$39.22 million. The token has a self-reported circulating supply of 4.17 billion GMM out of the total supply of 4.93 billion. It is available for purchase on MEXC, BitMart, Gate.io, and LBank, among other crypto exchanges.
Also Read: What is Dotmoovs (MOOV) crypto that zoomed over 1000% in 30 days?
Bottom line:
The crypto space is seeing the regular entry of new projects with earning potentials, such as play-to-earn (P2E), move-to-earn, watch-to-earn, etc. Gamium is a socializing-to-earn (S2E) project which allows users through their avatars to monetize social interactions.
Risk Disclosure: Trading in cryptocurrencies involves high risks including the risk of losing some, or all, of your investment amount, and may not be suitable for all investors. Prices of cryptocurrencies are extremely volatile and may be affected by external factors such as financial, regulatory, or political events. The laws that apply to crypto products (and how a particular crypto product is regulated) may change. Before deciding to trade in financial instrument or cryptocurrencies you should be fully informed of the risks and costs associated with trading in the financial markets, carefully consider your investment objectives, level of experience, and risk appetite, and seek professional advice where needed. Kalkine Media cannot and does not represent or guarantee that any of the information/data available here is accurate, reliable, current, complete or appropriate for your needs. Kalkine Media will not accept liability for any loss or damage as a result of your trading or your reliance on the information shared on this website.