Highlights:

Petoverse (PETO) is a multiplayer virtual reality role-playing game (MMORPG) in the metaverse.
The trailer of the P2E game is released now.
The PETO token returned over 58% gains since May 1.
Crypto products based on Web3, metaverse, and play-to-earn models are slowly taking root in the internet world. Amid these trends, a new project named Petoverse (PETO) is catching attention.
The PETO token soared over 10% on Tuesday morning, while its trading volume climbed to more than 122% in the last 24 hours. Let's explore more about this crypto.
Also Read: Pi Network (PI) crypto: What do we know about its price?
What is Petoverse (PETO) crypto and why is it rallying?
According to its whitepaper, Petoverse is a multiplayer virtual reality role-playing game (MMORPG) in the metaverse. It claims to help users generate income through its auto-staking and auto-compounding protocol.
The income sources, it says, are not limited to auto-staking and auto-compounding protocol but also through the non-fungible token (NFTs) trade facilitated in its marketplace.
Also Read: Why is Ethereum Name Service (ENS) crypto rallying?
Although there was no apparent reason for the crypto's rally, its unique services may have tempted the investors to explore the token. Its auto-staking and auto-compounding protocol is said to help multiply the token in a short time, thus, returning considerable profit to the token holders.
It also claims that the token is protected by its Petoverse Insurance Fund (PIF) and Inferno Pit.
Its whitepaper says the PIF ensures the token's price stability through a buyback program during a dip, while the Inferno Pit would burn the PETO tokens when their prices rise abruptly.
Also Read: MSFT to GME: Five top gaming stocks to explore in Q2
In addition, Petoverse is expected to launch a play-to-earn game in the coming days. It has already released the trailer of the P2E game, featuring NFT minting.
The project has also gained significant traction due to its marketing campaigns through popular YouTubers and other social media influencers.
Also Read: Five Chinese internet tech companies to watch: BABA, JD to WB
Petoverse has recently conducted several "Ask Me Anything" sessions to answer investors' doubts. It claims that trust and reliability are the hallmarks of the project.
Also Read: Why is Nexo (NEXO) crypto grabbing attention?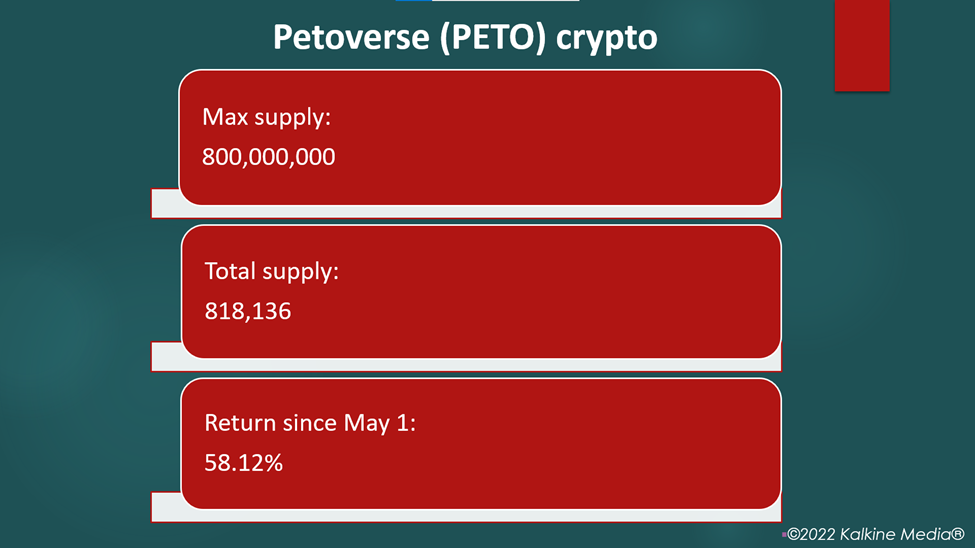 Data Source: CoinMarketCap.com
Bottom line:
The PETO token was priced at US$9.31 at 10:37 am ET on May 3, up 10.48%, while its volume for the trailing 24 hours rocketed 122.11% to US$2.46 million. Its fully-diluted market cap is US$7.44 billion.
It has a maximum supply of 800 million, and its total supply is 818,136. It returned 58.12% gains since May 1, when CoinMarketCap.com started tracking its performance. It saw the highest price of US$9.81 and the lowest price of US$5.88 since May 1.
Also Read: Will Quant (QNT) crypto see a price boost after website launch?
Risk Disclosure: Trading in cryptocurrencies involves high risks including the risk of losing some, or all, of your investment amount, and may not be suitable for all investors. Prices of cryptocurrencies are extremely volatile and may be affected by external factors such as financial, regulatory, or political events. The laws that apply to crypto products (and how a particular crypto product is regulated) may change. Before deciding to trade in financial instruments or cryptocurrencies you should be fully informed of the risks and costs associated with trading in the financial markets, carefully consider your investment objectives, level of experience, and risk appetite, and seek professional advice where needed. Kalkine Media cannot and does not represent or guarantee that any of the information/data available here is accurate, reliable, current, complete, or appropriate for your needs. Kalkine Media will not accept liability for any loss or damage as a result of your trading or your reliance on the information shared on this website.