Highlights:

Chainlink is a blockchain abstraction layer offering off-chain information for the proper functioning of smart contracts.
The LINK token can be traded on exchanges like Huobi Global, Coinbase Pro, etc.
It returned more than 13% gains in the last seven days.
The Chainlink crypto soared more than 13% in the last 24 hours to Wednesday morning, while its one-day volume skyrocketed by over 121% in the same period.
Let's find out more about the Chainlink crypto and why its price surged on Wednesday.
Also Read: Why is Polymath (POLY) crypto rising? know price & performance
What is Chainlink (LINK) crypto?
Chainlink is a blockchain abstraction layer offering essential off-chain information for the proper functioning of smart contracts. It allows blockchains to interact with external data feeds, events, and payment methods in a decentralized oracle network.


The network is led by a large open-source community comprising data providers, node operators, smart contract developers, security auditors, etc. Chainlink aims to ensure the decentralized participation of all node operators willing to contribute to the network.
Also Read: How is Ethereum (ETH) crypto performing amid a market downturn?
The project was founded by Chainlink Labs in 2017. Chainlink claims to be among the first networks that allowed the integration of off-chain data into smart contracts. Chainlink has attracted many data providers, like Alpha Vantage and Huobi, due to this facility over the years.
Data providers send their data directly to Chainlink and monetize the information.
The network's native token is LINK, ranked 21 in CoinMarketCap (CMC). It can be traded on exchanges like Huobi Global, Coinbase Pro, Kraken, etc.
Also Read: Why Saitama (SAITAMA) crypto fell? Is it worth exploring?
Why is it rising?
The LINK price gains could be due to its upcoming staking tasks in the network. According to its announcement on June 7, the "staking marks the start of Chainlink Economics 2.0".
Chainlink's updated roadmap envisions that staking would enable implementing a system of rewards and penalties. The goal is to incentivize the network's operations.
Also Read: Will Target Corp (TGT) stock rebound after right-sizing inventory?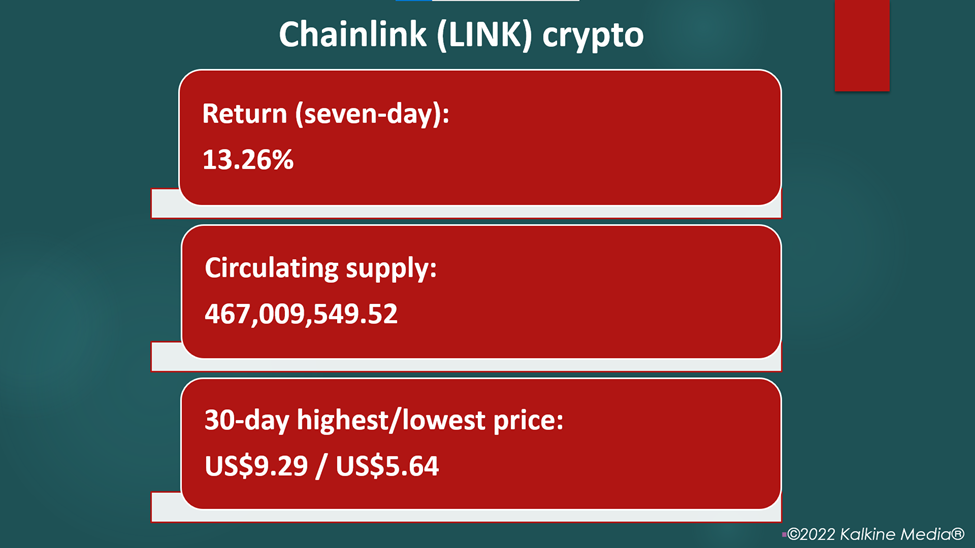 Data Source: CoinMarketCap.com
Bottom line:
The LINK token was priced at US$8.50 at 8:16 am ET on June 8, up 13.36%, while its volume for the trailing 24 hours rocketed 121.23% to US$1.00 billion. It has a market cap of US$3.96 billion, and its fully-diluted market cap is over US$8.48 billion.
The token has a maximum and total supply of 1 billion, and its current circulating supply is over 467.009 million. It returned gains of 13.26% in the last seven days.
The crypto saw the highest price of US$9.29 and the lowest price of US$5.64 in the last 30 days.
Also Read: US narrows record trade deficit as imports shrink 3.4% in April
Risk Disclosure: Trading in cryptocurrencies involves high risks including the risk of losing some, or all, of your investment amount, and may not be suitable for all investors. Prices of cryptocurrencies are extremely volatile and may be affected by external factors such as financial, regulatory, or political events. The laws that apply to crypto products (and how a particular crypto product is regulated) may change. Before deciding to trade in financial instruments or cryptocurrencies you should be fully informed of the risks and costs associated with trading in the financial markets, carefully consider your investment objectives, level of experience, and risk appetite, and seek professional advice where needed. Kalkine Media cannot and does not represent or guarantee that any of the information/data available here is accurate, reliable, current, complete, or appropriate for your needs. Kalkine Media will not accept liability for any loss or damage as a result of your trading or your reliance on the information shared on this website.