Rio Tinto Plc (RIO) is a London, the United Kingdom-based leading mining and metal company and it is listed on the London Stock Exchange. Its area of operations is categorised into three segments: finding, mining, and processing mineral resources. As per the company website, Rio employs around 47,000 workforces and operating in 35 countries across six continents. Rio Tinto is a globally renowned leader in Aluminium, one of the world's most omnipresent metals. From the last 110 years, the company is engaged in the Aluminium business. The company's main segments include Aluminium, Energy & Minerals, Copper & Diamonds, Iron Ore and Other Operations.
The Aluminium segment includes aluminium smelters, alumina refineries, and bauxite mines. But its bauxite mines operations are in Brazil, Australia, and Guinea.
The Energy & Minerals business involves the refining, mining, and marketing operations in across 10 countries, over six divisions: iron ore concentrate and pellets, titanium dioxide, uranium, borates, salt, and coal.
The Copper & Diamonds business has managed geographical operations in the United States, Australia, Mongolia and Canada, and non-managed geographical operations in Indonesia and Chile.
The iron ore segment provides the international seaborne iron ore trade and is situated in the Pilbara region, Australia.
Recent News
On 19th June 2019, the company announced an update on Iron Ore guidance. The group is presently undergoing mine challenges, mainly in the Greater Brockman hub in the Pilbara region of Western Australia. From this, there was a rise in the amount of certain lesser grade products, partially to protect the superiority of the leading Pilbara Blend.
In the first quarter of 2019, the company has sold about 1.5 million tonnes of these Iron Ore products. During 2019, the other sales of these Iron Ore products will be made.
Considering these challenges, there has also been a review of mine plans, resulting in guidance of Pilbara shipments of 100 per cent basis for 2019 being revised to be in the range of 320-330 million tonnes as compared with the earlier estimates of 333-343 million tonnes. The company said that "with the modification in the volume guidance, unit prices will be updated in the Q2 FY19 Operations Review (due on July 16, 2019).
On 12th May 2019, the group's giant copper project in Mongolia's Gobi Desert will be in the attention, when a long-running argument with a dissident shareholder comes to a head in Canada. Oyu Tolgoi is one of the company's most important development assets. The Anglo-Australian company is managing the construction of a $5.3 billion underground project aimed at lifting output to 550 thousand tonnes of copper per year. Once it gets finished, it will make Oyu Tolgoi as the world's third-largest source of copper. While the company operates the mine, it does not have a direct shareholding. Oyu Tolgoi is in fact 34 per cent owned by the Mongolian government and 66 per cent owned by Turquoise Hill Resources. The company owns a controlling 50.8 per cent stake in Toronto-listed Turquoise Hill, which has seen its market value becoming halve over the past year to $2.9 billion. But the company said that it will provide an update on the project in August alongside its interim results.
On 17th April 2019, Joanne Farrell, Group Executive has planned to retire later and spent almost 32 years with the company and will exit from the Rio Tinto at the end of September 2019.
Q1 FY2019 Operations Review
In the Q1 FY2019 period, the Pilbara iron ore of 69.1 million tonnes was shipped, which was 14 per cent lower than the Q1 2018 data and 21 per cent lower than the Q4 2018 data. Weather disruptions and fire at Cape Lambert A impacted the production. Due to slower ramping activities and shipping disruptions, Pilbara shipments guidance for 2019 had been revised to 333-343 million tonnes. Production of aluminium was 0.8 million tonnes and remained flat in Q1 FY19. Copper production surged by 3 per cent to 143.9 thousand tonnes in Q1 2019. Titanium dioxide slag was up by 1 per cent to 296 thousand tonnes against Q1 2018 data.
Financial Highlights (FY2018, US$ million)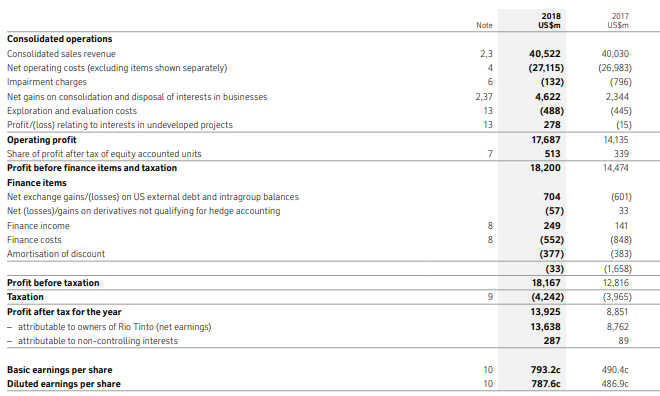 (Source: Annual Report, Company Website)
In FY18, the company reported consolidated revenue of $40,522 million, which was $492 million above the FY17 data. Underlying EBITDA during FY18 stood at $18,136 million and it was comparatively 2% lower than the 2017 data, on account of rise in energy cost and raw material cost. Net Profit after tax (attributable to common shareholders) for FY18 stood at $13,638 million and was significantly up by 55.6% against FY17 data.
Net Cash flow generated from operations stood at $11,821 million, down by 15% as compared to the FY17 data, particularly led by higher tax payments in connection to their FY17 profit and unfavourable movement in the working capital.
Capital expenditure for FY18 stood at $5,430 million and surged by 21% from last year, mainly due to crucial projects ramped up, including Amrun bauxite project in Queensland, You Tolgoi underground copper mine in Mongolia and completed implementation of Auto Haul, automation of their Pilbara train system. In FY18, the company generated free cash flow of $6,977 million, down by 27% against FY17 data.
The basic earnings per share surged by 62% to US 793.2 cents as compared to US 490.4 cents reported last year in FY17. In FY18, the company's ordinary dividend per share surged by 6% to US 307 cents.
Share Price Performance
Daily price chart (as on June 19, 2019), before the market close. (Source: Thomson Reuters)
At the time of writing (as on 19th June 2019, at 3:29 PM GMT), Rio Tinto Plc shares were quoting at GBX 4,676.00, down by 4.13 per cent against the previous day close. During the last one-year, shares have registered a 52w high of GBX 4,904.00 and a 52w low of GBX 3,460.00 and at current market price, the stock was trading 4.65 per cent lower against the 52w high level and 35.14 per cent above the 52w low level. Rio's outstanding market capitalisation of around GBP 82.98 billion ranks it among the large-cap stocks trading on the London Stock Exchange.
Stock's Beta of 1.37 makes it highly volatile against the benchmark index. Rio's dividend yield stood at 4.77 per cent, which was higher against its peers operating within the same line of business. In last one-year, the stock was up by 14.55 per cent and on three months basis, the stock price surged by 14.31 per cent.
At the time of writing, volume in the stock as traded on the LSE stood at 3,364,374. The 5-day average daily volume traded on the London Stock Exchange stood at 3,065,763.80, which was 0.22% below the 30-day average daily volume of 3,072,515.50.
At a simple moving average standpoint, shares were trading higher against the 30day, 60day and 200day simple moving averages by 5.77%, 6.54% and 18.79% respectively.
The 30-days, 14-days, 9-days, and 3-days RSI of the stock stood at 60.92, 66.35, 71.78 and 88.51, respectively.
For the next couple of years, it seems global growth likely to get weaken, unless US monetary policy normalises, and on-going trade tension put on rest. A surge in the commodity prices in FY19 will have a favourable impact on the financials of Rio.
The chairman of Rio Tinto, Simon Thompson said that the steel is important to human progress and there are no apparent substitutes for it in an array of applications.
Rio Tinto has a leading global presence in the aluminium and copper industry. However, the evolving regulatory standards can result in a higher litigation cost which can have an adverse effect on Rio Tinto's earnings and cash flows.