Summary

Sunrise is preparing for drilling at its Newark Gold Project in Nevada along with its Baker's Gold Project in Western Australia
CS Pozzolan-Perlite Project located in Nevada USA is set to commence its first commercial production in Spring 2021
Sunrise Resources shares have delivered a price return of 128.57 per cent in the last six-month period
FTSE AIM listed miner; Sunrise Resources grabbed the headlines as it shot up by 10 per cent early Tuesday on the London Stock Exchange; the company had announced updates on its project undertakings. The company's CS Pozzolan-Perlite Project located in Nevada USA, is set to commence its first commercial production in Spring 2021. Sunrise has assembled a commercial-scale plant for trial processing along with a 100-tonne bulk sample of perlite in the CS project; that is to be processed by the end of this week.
Also read: Rio Tinto looks for court approval to recover payment
The miner has made solid progress at its permitted CS Perlite-Pozzolan Project to deliver tonnage quantity test samples of perlite to a range of customers with circa. 20-30 tons of coarse horticultural grade raw perlite to be split between five different customers across the USA, as part of the offtake negotiations. The company is emphasising on more detailed engineering and financial planning at this point in time. The company is geared up for larger scale pozzolan grinding test and concrete pour and is preparing raw perlite fines.
UK based mining company, Sunrise Resources Plc (LON: SRES) is mainly involved in the exploration and development of diversified minerals from its deep assets located in the United States and Australia.
The miner had also announced the scheduled start of drilling on its Clayton Silver-Gold Project in Nevada this week (29 October) and the preparations for drilling at its Newark Gold Project in Nevada along with its Baker's Gold Project in Western Australia. The company might also scrutinise previous percussion drilling programmes where it hurtled in terms of reaching the target depth of seeking mineralisation.
Also read: Alien Metals Bags A New Exploration Licence in Greenland
The CS Project
This is an exciting time for Sunrise investors as they eagerly await updates on the CS Project and its Gold/Silver assets. The company is well-capitalised to carry out its work programmes as per schedule in the foreseeable future.
Last month, the UK based miner got the Air Quality Operating Permit by the Nevada Division of Environmental Protection for the operation of a mineral processing plant at its CS Project. Apart from this permit, a few other key permits were required to operate the CS Pozzolan-Perlite mine and start‑up mineral processing plant.
In June, the miner received a permit to operate CS mine by Federal Bureau of Land Management (BLM). The environmental assessor found 'no significant impact on the environment' and therefore, authorised the miner to commence operations. The company estimates production of up to 14,523,000 tons of natural pozzolan and 1,656,000 tons of perlite.
The company was expected to progress with the phased development of mining and mineral processing operations at the CS Project. The grant of the mining permit could be a major catalyst as it would provide the company to extract and process large scale samples to secure offtake agreements and customer development.
The permit to operate mine has come at a good time. Flying ash is used as a key ingredient in the cement industry. Pozzolan is a key replacement for fly ash, and its demand is growing in the cement industry. In addition, as the medicinal use of marijuana is gaining acceptance gradually across the world, the horticultural demand for perlite is increasing with the rising cultivation of CBD products. The permit is expected to add value to the company as it provides access to perlite deposits and high- quality natural pozzolan in the United States.
The company had also received its mine reclamation permit from the Nevada Bureau of Mining Regulation and Reclamation (BMRR) for its CS Project.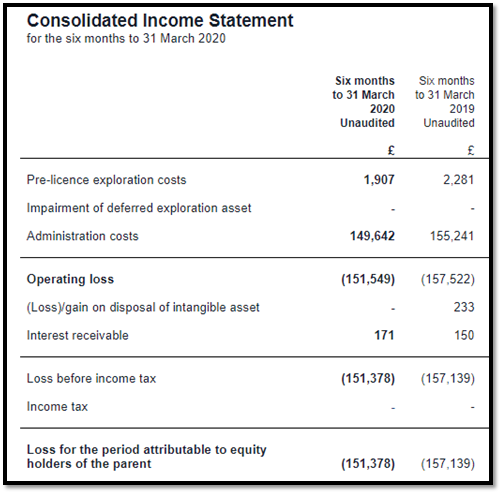 (Source: Company's filings, LSE)
The miner recorded a loss of £151,378 along with an interest income of £171 during the first half of 2020.
On 28 October, Sunrise Resources shares were trading at GBX 0.24 (GMT 01:06 PM +1), down by 4 per cent from the previous day closing price. The market capitalisation of Sunrise Resources stood at £9.19 million. In the last six-month period, Sunrise Resources shares have delivered a price return of 128.57 per cent.
Also read: Two FTSE Listed Small Cap Stocks Trending on LSE-Augmentum Fintech and Vast Resources
The onslaught of novel coronavirus has severely disrupted global supply chains. Countries are looking forward to revamping their supply chains. China is a major supplier of cement at a global level. The US-China trade tensions might influence other countries to shift away from China for cement supplies. Thus, input factors to cement industries are set to benefit as nations embark upon a journey to become self-reliant. In addition, mining has resumed as the lockdown was lifted at most of the places and remain a key sector for a lot of investors having higher risk appetite. However, geopolitical changes, currency fluctuations, and change in government policies may weigh down on the prospect of miners.