Summary

ECR Minerals Plc's primary focus at present is the exploration for gold in Victoria, Australia

Its Australian subsidiary MGA has full ownership of its two core exploration projects, namely the Bailieston and Creswick gold projects

Apart from the Victorian gold projects, the company also has interests in gold projects in Argentina and the Philippines.

The company is hopeful that the political climate for the industry in the Philippines will improve in the coming time
ECR Minerals Plc is the UK-domiciled company involved in mineral exploration and development. Listed on the AIM market of the London Stock Exchange, the company is active in the identification, acquisition, exploration and development of gold projects. Its primary focus at present is the exploration for gold in Victoria, Australia. The company is in the quest to produce the next multi-million-ounce gold resource in Australia.
The Victorian Gold Projects, Australia
ECR's main area of focus is Australia, and its aim is to deliver the next multi-million ounce gold resource in the country. ECR owns 100 per cent of its Australian subsidiary company Mercator Gold Australia Pty Ltd (MGA). It has full rights of its two core exploration projects, namely the Creswick and Bailieston gold projects in Australia's Central Victoria.
Creswick Drilling Progress
(Image Source- Company)
Bailieston Project
Located approximately 150 kilometres north of Melbourne, the Victorian state capital, the Bailieston project is situated at the epicentre of gold exploration boom in Victoria, being located close to one of the most successful modern gold mines: the Fosterville mine (approximately 50 kilometres away) owned by Kirkland Lake Gold. Location wise, the Bailieston exploration project is pursuing epithermal gold mineralisation zone of Melbourne.
From the reverse circulation (RC) drilling at the Blue Moon prospect in Q12019, within the Bailieston project area, MGA has reported noteworthy intersections including 2 metres @ 17.87 g/ton gold from 57 metres downhole in BBM007 within a zone of 15 metres @ 3.81 g/ton gold from 51 metres. Additionally, in hole BBM006, within a zone of 11 metres @ 2.42 g/ton gold from 169 metres an intersection 3 metres @ 3.88 g/ton gold from 170 metres borehole was reported. It was. Blue Moon has emerged as a new gold discovery within the Bailieston project area with the result of this drilling results.
Creswick Project
The Creswick project area hosted by the Dimocks Main Shale (DMS), is highly prospective for gold mineralisation. From the mining centre of Ballarat in the south, the area stretches out over a 15-kilometre (km) trend. Roughly 7 km of the trend is within the Creswick project area.
Shale comprising bedding and cleavage parallel gold-containing (auriferous) quartz veins spread in nearly 25 metres in the Creswick project area is the Dimocks Main Shale, which is the spring of much alluvial and fertile lead gold. In the belt from North Ballarat to Spring Hill (Creswick), around 1,500 shallow primary mining operations have been charted. DMS is the major contributor of the Creswick/Berry lead system, where the historical alluvial production is assessed at up to 2.5 million oz (ounces) and around 11 million oz in the Ballarat area.
At Creswick, MGA had completed 1,687 metres of RC (reverse circulation) drilling for seventeen holes in February 2019. Out of those, grades in nine holes ranging between 0.6 to 44.63 g/ton gold. The mineralisation does not have clarity and can lead to understated or overstated assays as it has been corroborated as nuggety. In view of this outcome, in the year 2019 a gravity concentration test on the RC drill samples was done through the process of whole-of-bag gravity concentration.
Apart from the Victorian gold projects in Australia, the company also has interests in gold projects in Argentina and the Philippines.
Creswick Drilling Progress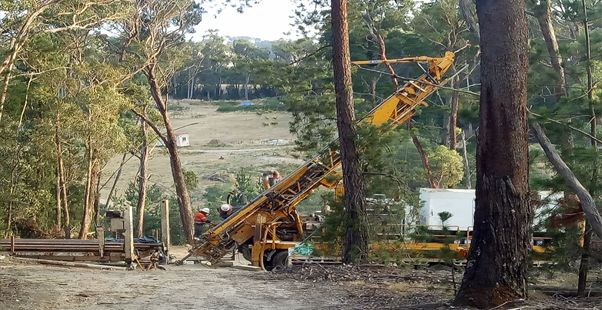 (Image Source- Company)
The SLM Gold Project, Argentina
ECR at the SLM gold project in La Rioja Province, Argentina, holds an NSR (net smelter return) royalty of up to 2 per cent to a maximum of US$ 2.7 million in respect of forthcoming production.
The SLM project is owned by the Ochre Mining SA, the ex-Argentine subsidiary of the company. Hanaq Argentina SA acquired Ochre from ECR in early 2020. It is a Chinese-owned company with a highly experienced management team, involved in precious metals exploration along with lithium, base metals in Northwest Argentina including Salta, Jujuy and La Rioja.
The SLM project, which is situated around 450 kilometres northeast of Santiago, Chile, and approximately 800 kilometres northwest of Buenos Aires, consists of several mesothermal quartz veins hosted gold possibilities, which have earlier been mined on a minor scale. Maestro Aguero, El Abra, and JV14 are the three main gold prospects discovered in the project area.
The Danglay Gold Project, Philippines
ECR has earned a 25 per cent interest in the Danglay gold project of Philippines, which is situated in a prolific copper and gold mining district in the north of the country and is an advanced exploration project. RC drilling at the Danglay project by ECR in 2014 returned numerous promising intersections, including 15 metres @ 3.29 g/t gold from 82 metres in ERC002 (inc. 2 metres @ 18.25 g/ton gold from 92m) and 30 metres at 1.63 g/ton gold from the surface in ERC004 (inc. 2 metres @ 7.08 g/ton gold from 0-2m).
The Philippine mining industry is presently going through a period of a major political and regulatory upheaval, which since June 2016 has been particularly intense and unpredictable. However, the company is confident that the political climate for the industry in the country will improve in future.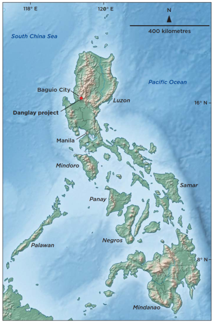 (Image Source- Company)
Stock Performance
ECR Minerals Plc (LON: ECR) stock last traded at GBX 2.13 on 24 August 2020, with a YTD return of over 193 per cent. The 52-week low/high price was GBX 0.45/2.35. It had a market capitalisation (Mcap) of £13.10 million.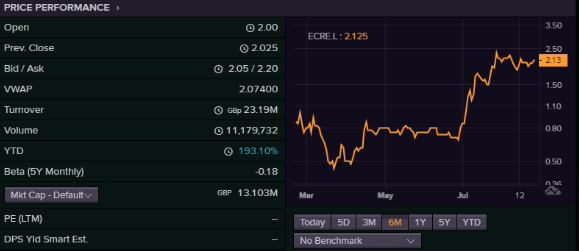 (Source: Thomson Reuters)
---
Disclaimer
The website https://kalkinemedia.com/uk is a service of Kalkine Media Ltd, Company Number 12643132. The article has been prepared for informational purposes only and is not intended to be used as a complete source of information on any particular company. The above article is sponsored but NOT a solicitation or recommendation to buy, sell or hold the stock of the company (or companies) or engage in any investment activity under discussion. We are neither licensed nor qualified to provide investment advice through this platform.
With Bank of England reducing the interest rates to a historic low level, the spotlight is back on diverse investment opportunities.
Amidst this, are you getting worried about these falling interest rates and wondering where to put your money?
Well! Team Kalkine has a solution for you. You still can earn a relatively stable income by putting money in the dividend-paying stocks.
We think it is the perfect time when you should start accumulating selective dividend stocks to beat the low-interest rates, while we provide a tailored offering in view of valuable stock opportunities and any dividend cut backs to be considered amid scenarios including a prolonged market meltdown.


CLICK HERE FOR YOUR FREE REPORT!