Summary

UK gold stocks have witnessed a recent spurt due to strengthening gold prices.
Gold prices rose due to the weakening dollar, volatility in bitcoin and other factors.
Wishbone shares soared just days after it received approval for its Red Setter project
UK's gold stocks have benefited recently with the rise in gold prices, as the precious metal is expected to rise considerably, fuelled by a weaker dollar, lower US treasury yields and volatility in the cryptocurrency Bitcoin in the passing few weeks.
Gold June 2021 future prices were trading at USD 1,884.15, up by 0.40 as of 24 May at 13:24 HRS GMT+1. Meanwhile, the GBP/USD pair was trading at 1.4161, up by 0.12 per cent as of 15:08 HRS GMT+1.
Cryptocurrency prices have dropped sharply recently owing to billionaire and Tesla (NASDAQ: TSLA) founder Elon Musk's comments on withdrawing the Bitcoin as a form of payment. Bitcoin was trading at US$ 37,674.50, up by 13.04 per cent as of 24 May at 15:06 HRS GMT+1.
Also Read: Cryptocurrencies Across the World Experience a Free-Fall over the Weekend
In this article, we would look at 2 FTSE AIM All-Share gold commodity stocks which surged over 5 per cent and were trending today:
Wishbone Gold PLC (LON: WSBN)
FTSE AIM All-Share listed company Wishbone Gold shares soared today, taking cues from gold price strength. The company last week reported that its Program of Works for Australian company Red Setter was approved by the Western Australian Government's Department of Mines, Industry Regulation and Safety (DMIRS).
The approval also included the testing of multiple magnetic targets for potential gold and copper mineralisation. The project is outlined to drill up to 100 drill holes with a maximum depth of up to 300 metres.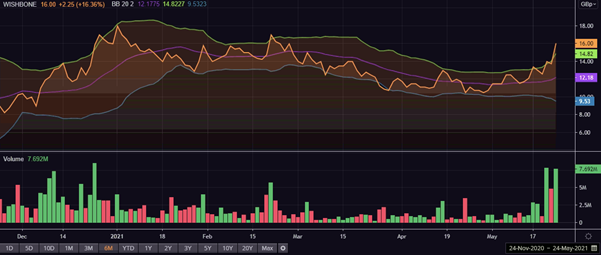 (Source: Refinitiv, Thomson Reuters)
WSBN's shares were trading at GBX 16.50, surging over 20.00 per cent, while the broader market index, the FTSE AIM All Share was trading flat at 1,249.25 as of 24 May at 14:20 HRS GMT+1. The company's market cap stood at £21.89 million, while its year to date returns were at 1.17 per cent.
Also Read: Gold slides as bond yield & US dollar strengthens, is this an opportunity?
Cora Gold Ltd (LON: CORA)
Another FTSE AIM All-Share constituent Cora Gold is a gold exploration company with operations focused in Mali and Senegal's gold regions. The company's shares surged today after reported strong drilling results from Sanankoro, including 19m at 4 g/t Au from 13m depth. The company's CEO Bert Monro said it was the best hole the firm had come across so far.
Moreover, the company aims to drill up to 35,000m by the July end of this year with a two pronged focus on targeting resource growth and infill drilling simultaneously.
(Source: Refinitiv, Thomson Reuters)
CORA's shares were trading at GBX 8.25, rising by 5.10 per cent while the precious metals sectoral index stood at 24,893.52, up by 0.10 as of 24 May at 14:15 HRS GMT+1. The company's market cap stood at £16.12 million, while its year-to-date returns were at 2.42 per cent.
Also Read: Quick Glance on Two Metals Mining Stocks - Sylvania Platinum & Cora Gold