Summary

Restaurants, cafes and pubs reopened today after the latest round of easing of lockdown restrictions.
The move is expected to be a boost for the hospitality and leisure sector as they can start trading again after almost four and half months shut down due to the third national lockdown.
Continued government support is needed in order to address long term challenges such as business rates kicking in April 2022, VAT rates rising back to 20 per cent next year and other factors.
The hospitality and leisure industry has been one of the worst affected sectors in the UK due to the pandemic. However, lockdown restrictions eased further on Monday for restaurants, cafes and bars allowing indoor dining. It is expected to provide some relief to the sector. According to the new rules, groups of six people or two households can be seated indoors at venues, allowing the sector to reopen and start trading after almost four and a half months of being shut.
Last week, IGD's Shopper's Confidence Index rose to its highest level in five years, touching -1 in April 2021 since 2016. The index had earlier reported confidence levels of -11 in April last year.
Moreover, concerns over an Indian variant of the coronavirus weighed on the market sentiments, as companies are worried that the UK government could impose newer restrictions due to smaller outbreaks.
For instance, popular UK based pub and beer chain Wetherspoons PLC (LON: JDW) shares were trading at GBX 1,324.00, down by 2.07 per cent after reopening indoor operations today. While the broader market index FTSE 250, which it is a part of, was trading at 22,284.86, down by 0.23 per cent on 17 May as of 14:28 hrs GMT+1.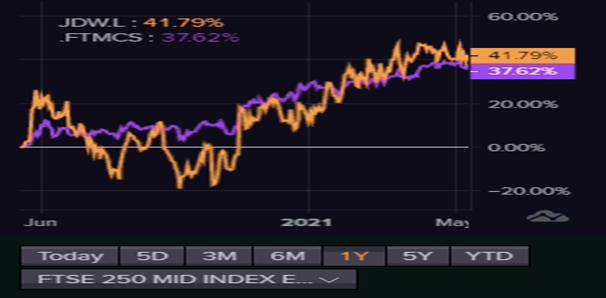 (Source: Refinitiv, Thomson Reuters)
The UK's third lockdown restrictions are scheduled to be completely lifted by June this year.
Also Read: Coronavirus effect: July sales in UK pub, bar and restaurant chains down at 50 per cent
Challenges continue to weigh
Despite the new easing of rules and high pent up consumer demand, industry leaders have warned the sector still faces challenges such as table service and social distancing, which will continue weighing on businesses.
According to the industry body, UKHospitality, 60 per cent of companies in the sector were unable to reopen in the second phase of easing of restrictions due to a lack of outdoor spaces.
Furthermore, industry leaders expect the sector to face an additional challenge in early 2022 when full business rates are expected to kick in again from April 2022, VAT rates are scheduled to jump back to 20 per cent from its current subsidised rate, and lower trading during the winter season is expected to put an additional burden on companies.
Also Read: Performance Of Pubs And Restaurant Stocks Amid Likely Total Social Lockdown Plans
Opportunities of growth
However, industry experts say there are still plenty of opportunities for the retail and food service sector to capitalise on in the following months. Businesses should focus on trading boost with additional spending from higher income shoppers. IGD's chief Simon Wainwight noted that ready to eat snacks, meal deals, and meal kits will become popular choices during the summer.
In addition to pent up demand, due to fewer summer foreign holidays options, the UK hospitality and leisure industry is expected to boost trading in businesses.
Industry leaders have also called on continued government financial support to weather the long-term challenges in the sector.