Highlights

Stagecoach Group Plc has received a new takeover bid by DWS Infrastructure.
The company's management has recommended the new takeover bid and has withdrawn its earlier support to the merger deal with National Express Group.
Stagecoach Group Plc (LON: SGC), which offers bus services in the UK through a fleet of more than 7,000 buses and coaches, has received a new takeover bid from an infrastructure fund managed by German-based DWS Infrastructure.
The new offer
The new offer by the DWS Infrastructure offers Stagecoach shareholders a 105p per share in cash, which is 37.2% above the closing price of 76.55p per share on 8 March 2022, valuing the company £594.9 million.
The UK stock market listed transport service provider Stagecoach Group's management has recommended the new takeover bid. It has withdrawn support to a merger deal with FTSE 250 listed National Express Group. The company's board feels the DWS bid offers better certainty to investors and employees.
The previous deal with National Express Group
In September 2021, Stagecoach agreed to an all-share deal with National Express Group, which valued the company at £437 million. However, the merger deal came under the scanner of the Competition and Markets Authority (CMA), who stopped the firms from combining their operations until the investigation was over.
The new takeover bid for the Stagecoach Group might intensify the bidding war and lead to a counter bid from National Express as both companies operate in a similar segment. A merger with National Express would lead to a strong fleet of vehicles and a transportation network.
About DWS Infrastructure
DWS Infrastructure is a German-based investment management company that makes long-term infrastructure investments and predominantly invests in transportation and essential infrastructure companies. It has invested in Belgian public bus operators, Hansea, Peel Ports, and Kelda.
Stagecoach Group's stock performance
After the announcement of a new takeover offer, the company's stock surged, moving up by over 36%, trading at GBX 104.20 on 09 March 2022 at 11.15 am GMT+1, with a day's high of GBX 105.40.
The company's year-to-date return is 16.43%, mainly due to today's 36% rise in share price. The current market cap stands at £421.36 million as of 09 March 2021.
However, the stock has not performed as per the investor's expectations in the past. It has given a negative return in 3-year and 5-year time periods.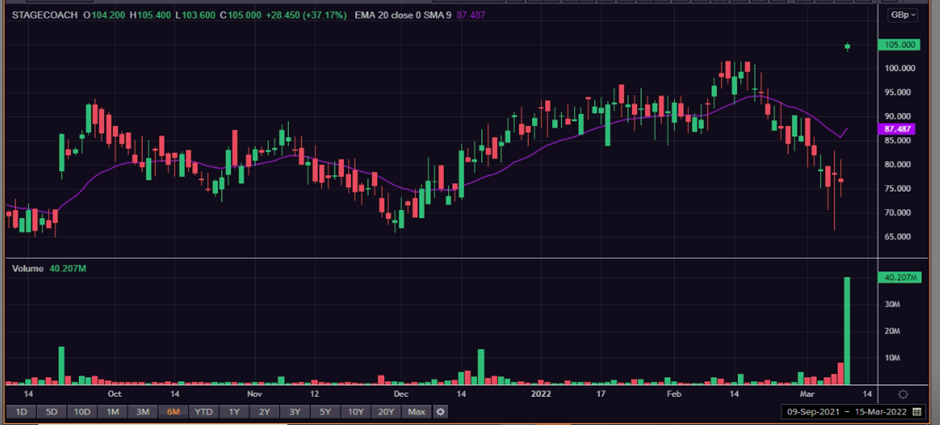 (Image Source: Refinitiv)
Nevertheless, if approved by the shareholders, the new acquisition deal might help boost the business performance of Stagecoach with the expertise and network offered by DWS Infrastructure and may revive the stock price.