Highlights

A new report by UK security regulator, the Financial Reporting Council, found several asset managers, pension funds, and insurance companies failed to meet UK's stricter ESG best practice code.
All 300 asset managers existing signatories to the older code had to reapply, of which the FRC has received 189 applications so far.
125 of the 189 companies met the new ESG investing standards, which included BlackRock, Fidelity, Legal & General and others, while 64 failed to meet the new standards
About 64 asset management firms, pension scheme funds and insurance companies failed to meet the new and stricter environment, social and governance (ESG) best practice standards, according to a new report published today by UK security regulatory body, the Financial Reporting Council (FRC).
The revamped ESG stewardship code was put in place in order to combat greenwashing practices in businesses. FRC revamped its ESG codes last year as the UK aims to become the hub of sustainable investment and financing.
Schroders, Morgan Stanley and Rothschild were the major companies that failed to meet the new stewardship code due to a lack of proper evidence.
Greenwashing is when an organisation puts a false or misleading marketing spin on their business practices to prove they are environmentally friendly to their consumers and other stakeholders.
FRC's report findings
The FRC stated it received only 189 applications from the 300 asset managers as all prior signatories to the earlier code had to reapply to ensure compliance with the new code. The 189 companies have a combined asset under management (AUM) of £32 trillion.
About 125 asset management funds met the new ESG standards, which includes private equity giant BlackRock, US based asset management company Fidelity, UK based life insurance and other investments provider Legal & General, British investment manager M&G and abrdn.
While 64 did not meet the new ESG standards due to a lack of proper evidence. Some of the big investment management companies which failed to meet the new ESG investment codes include British multinational asset management firm Schroders, global investment company Morgan Stanley and UK based legacy asset management firm, Rothschild.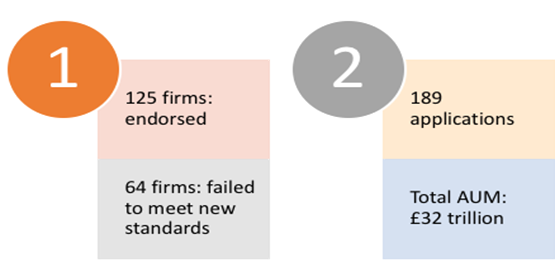 © 2021 Kalkine Media Ltd.
Related Video: How The UK Can lead The Way On Global ESG Standards?
Revamped ESG code
The stricter code includes 12 principles wherein companies had to provide evidence for the first time showing how fund managers exercised rights for listed equity assets and demonstrated how they integrate their ESG responsibilities with their investments.
The companies which failed to meet the new codes can reapply in the future after taking into consideration the feedback provided by the FRC.
Bottom Line
ESG investing has grown in recent years, and investors demand a more sustainable approach towards investing. As the climate emergency becomes an ever-nearing reality, sustainable investing and climate focused finance is expected to grow even further in the coming years.
Given the UK's aim of becoming a global hub in sustainable finance, ensuring greenwashing is stamped out from current business practices is a welcome move.