Tekcapital PLC (LON: TEK) is a United Kingdom-based Intellectual Property investment group, listed on the AIM All-Share market of the London Stock Exchange. Its primary focus is to create market value from university technology, aiming at introducing new technologies to the market in order to improve the quality of life. It also helps companies and research institutions with the discovery and evaluation of new technologies for commercialization.
Tekcapital PLC portfolio consists of several key companies, namely, Belluscura PLC, Lucyd Ltd, Salarius Ltd, Guident Ltd and Smart Food Tek Ltd, which helps Tekcapital in the broadening of its market.
Smart Food Tek Ltd.
Smart Food Tek Limited is wholly owned by Tekcapital PLC. As the name of the company suggests, it provides new and smart technology for preparing food. The company owns the exclusive rights to a food preparation technology focused on reducing fat in fried foods. Specifically, its technology is able to make any protein look and taste fried with a steam baking process. This has the nutritional benefit of reducing the fat content in the batter and breading coating by approximately 60 per cent whilst still retaining the look and taste of a fried product.
Working of the Technology
The process of frying transmits several critical and desirable product functionalities, such as it helps in developing the texture of the food and providing colour to it, and also mouth-feel and flavour. To-date, no one has duplicated all of the unique characteristics of fried proteins with a baking only process. The new technology uses the application of enzyme-modified starch as an oil delivery system in bake only protein to provide characteristics of fried items. This way, it preserves the desired attributes of fried products, improving the nutritional value of traditional fried foods by eliminating the frying process.
The invention of this new technology involves an improved composition and process which converts liquid oil into a powdered or wet batter coating for food products. Thus, when the coated products are baked, it gives the same taste, texture and appearance as those of the fried products; thereby reducing the fat content significantly in the finished product. On analyzing the baked and the fried samples, a peer-reviewed study published in the Journal of Food Science, Vol 79, #5, it was found that there was no critical distinction between them for every tested sensory attribute.
A starch-oil matrix was formed by hydrolyzing various native starches, by amyloglucosidase to a hydrolysis degree of 20 per cent to 25 per cent and plated with 50 per cent (w/w, dry starch basis) with canola oil. The matrix so created was further blended into a dry ingredient blend for the batter and breader components. Nuggets were prepared by coating it with predust, hydrated batter and breader, and the coated nuggets were then steam-baked until fully cooked and then frozen until texture and sensory analyses. There was no difference in the sensory attributes (such as crispness and mouth-coating) of baked-only nuggets which were made by using the enzyme-modified starches and the fried ones. The technology delivers a sufficient quantity of oil to create sensory attributes similar to those of partially fried chicken nuggets.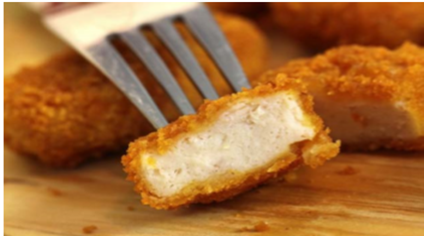 (Image Source: Tekcapital Plc website)
This procedure can be used into existing coating lines, in most cases, without modification, and uses all commercially available ingredients, and is applicable to traditional proteins and meat analogues.
Growing Scope of The Smart Food Tek's Technology in The Future
When we talk about food, there is a continuous sense of advancement, from dairy-free to plant-based alternatives, the food industry has been evolving in response to the health and wellness trends that have been emerging. For health-conscious customers, it's an ongoing quest to look for the right food that will be healthy as well as tasty, which will also satisfy the hunger while meeting the nutritional needs. The food industry is keenly focusing on providing its customers with healthier options. 175 million Americans consumed fried chicken in 2019, and the market opportunity is significant enough, even with a portion of consumers considering healthier choices. Additionally, there are large and growing markets for the technology for fried fish, shrimp and analogue meats in the US.
Intake of quick-serve restaurant food regularly may contribute to several health problems such as obesity, accompanying emotional and self-esteem issues and chronic illness later on in life. If we look at the statistics of obesity in the United Kingdom, 29 per cent of the adults and 20 per cent of the children are classified as obese. Hence, if quick-serve food can be made healthier, by baking the food products instead of frying them and reducing the fat content by approximately 60 per cent, the problem can be partially addressed.
Conclusion
Tekcapital is enthusiastic about its investment in Smart Food Tek Limited and has indicated that a number of companies are currently testing the product for potential inclusion as a better option for their line of products.
Stock Performance
As on 4 August 2020, Tekcapital PLC's stock price traded at GBX 10.30 (16:13 PM GMT), higher by approximately 100 per cent as compared to the last year's closing price. The 52 weeks high and low range has been recorded at GBX 20.00/4.00.
(Source: Refinitiv, Thomson Reuters)