Metro Bank PLC
Metro Bank PLC (MTRO) is a London-based financial institution which offers personal and business banking services to retail and small and medium-size commercial customers, with principal activities including the provision of banking and related services. It's business deposit accounts include Instant Access Deposit Accounts, Client Monies Deposit Accounts and Fixed Term Deposit Accounts, and the everyday banking products offered by the group include current accounts, and cash management and payments. It also provides solutions for business borrowing, including commercial loans, credit cards, asset finance, working capital and portfolio buy to let and provides a range of business banking products and services, from bank and deposit accounts to cash management and payment services.
Recent Development
The company on 23 October 2019 announced that Sir Michael Snyder was appointed as interim Chairman with immediate effect until a permanent successor is appointed as Vernon Hill had decided to step down from his role as Chairman with immediate effect. Vernon Hill established the bank ten years ago, and to recognise his extraordinary contribution to Metro Bank; he was offered the honorary position of Emeritus Chairman. He would remain with the company as a Non-Executive Director of the Board until 31 December 2019.
Trading Update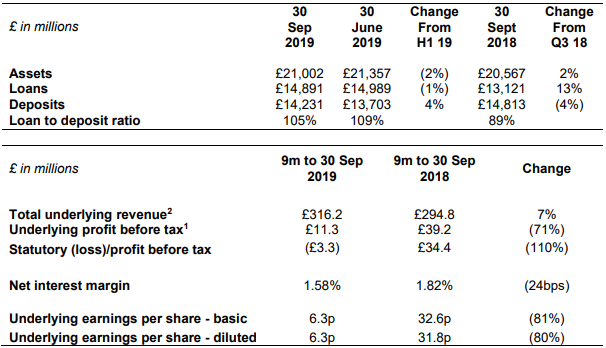 (Source: Company Filings)
Supported by the decision to elevate the price of fixed-term retail deposits during the quarter, the company recorded deposit growth of £528 million in Q3 2019 to £14.2 billion, along with a strong customer account growth of 106,000 in Q3 2019 (Q2 2019: 93,000) bringing the total to 1.9 million. Reflecting proactive management of the capital and liquidity positions, total net loans were £14,891 million (Q2 2019: £14,989 million), which were broadly flat quarter-on-quarter. The group continued to manage the loan to deposit ratio in a controlled way towards over 100% as the loan to deposit ratio was 105% at Q3 2019 (Q2 2019: 109%), though it declined quarter on quarter. Reflecting the £521 million loan portfolio disposal, an increase in fixed-term deposit costs and the sale of £1.5 billion non-LCR interest-bearing investment securities, the group reported an 11bps reduction in the net interest margin to 1.50% (Q2 2019: 1.61%) and net interest income in the third quarter was down 7% to £76.6 million (Q2 2019: £82.4 million). Supported by benefits from the recent roll-out of further value-added services and growth in the number of transacting customer accounts, fee and other income was up by 5% in Q3 2019 to £25.3 million (Q2 2019: £24.0 million). The group reported a slow-down in the pace of the cost growth due to the cost transformation programme, as it recorded a reduction in costs quarter-on-quarter, lowering from £100.3 million in Q2 2019 to £99.7 million in Q3 2019 despite opening new stores, while underlying cost/income ratio was 100% for Q3 2019 (Q2 2019: 92%). Statutory loss before tax was £6.7 million in Q3 2019 (Q2 2019: loss of £0.9 million) and underlying loss before tax was £2.2 million in Q3 2019 (Q2 2019: £6.7 million profit). Reflecting the loan portfolio disposal and continued rebalancing of the loan book, risk-weighted assets at 30 September 2019 were £9,242 million (Q2 2019: £9,559 million), and the group completed £350 million senior non-preferred debt issuance in October.
Share Price Commentary
On 24 October 2019, at the time of writing (before the market closed, at 3:14 GMT), MTRO shares were trading at GBX 204.6, up by 5.68 per cent against the previous day closing price. Stock's 52 weeks High and Low is GBX 2,452.00/GBX 155.20. The company's stock beta was 0.15, reflecting less volatility as compared to the benchmark index. The outstanding market capitalisation was around £332.67 million.
Outlook
In the fourth quarter, as the company seeks the right balance between growth, cost of deposits and capital efficiency, it expects deposit growth to moderate, while margin trends experienced in Q3 2019 are expected to continue into Q4 2019. The company would aim to optimise capital, continue to progress with its cost efficiency programme and target further income diversification as it further evaluates future growth plans to maximise returns, including future expansion, cost initiatives and optimising capital efficiency, which will be communicated in conjunction with the full year results. In the UK, the increasing cards and payments channel may deliver growth prospects for the bank. Introduction of new services and products will enable the bank to expand organically and enhance its client base. The company expects the cost growth to moderate with low single-digit growth in the second half of FY19 as compared with the first half. In spite of the challenges in the first half of 2019, the company will continue to build a robust point of the model to deliver on the strategic initiatives outlined in early 2019, through initial delivery of cost efficiencies and continued growth in capital-light fee income.
Boeing Co
Boeing Co (BOE) is a Chicago, the United States-headquartered largest aerospace company in the world, which supports airlines and governments customers in more than 150 countries, and its broad range of capabilities includes creating new members of its commercial aeroplane family, building and integrating military platforms and defence systems, and many more. Its products and tailored services include commercial and military aircraft, performance-based logistics and training, advanced information and communication systems, launch systems, electronic and defence systems, and satellites, and is a leading manufacturer of commercial jetliners, defence, space and security systems, and service provider of aftermarket support. The operations of the group are differentiated in four operating segments, namely Boeing Capital Corporation, Boeing Global Services, Defence, Space & Security, and Commercial Aeroplanes.
Financial Highlights (Q3 2019, in $m)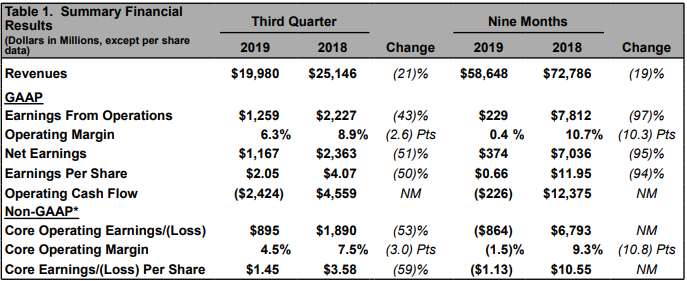 (Source: Company Filings)
Reflecting lower 737 deliveries and higher defence and services volume, revenues in the third quarter declined by 21% over the year to $19,980 million against $25,146 million reported in the prior year, while the corresponding figure for nine months declined by 19% to $58,648 million. Commercial Airplanes third-quarter revenue was $8.2 billion reflecting lower 737 deliveries, while driven by higher volume on satellites, weapons, and T-7A Red Hawk, Defence, Space & Security third-quarter revenue increased to $7.0 billion. Fall in the sale of 737 reflected in the cost of sales as well, which declined to $14,674 million during the third quarter to $18,882 million in the prior year, while total costs and expenses reduced to $16,930 million from $21,040 million in the previous year. GAAP earnings from operations were recorded at $1,259 million, which reported a fall of 43% with an operating margin of 6.3%, while non-GAAP core operating earnings declined by 53% to $895 million, which core operating margin of 4.5%. Due to the lower 737 deliveries partially offset by higher defence and services volume, GAAP earnings per share was $2.05 and core earnings per share was $1.45, which declined by 50% and 59% respectively. Reflecting a 20% increase in dividends per share compared to the same period of the prior year, the company paid $1.2 billion of dividends, and due to the lower 737 delivery and advance payments as well as the timing of receipts and expenditures, operating cash outflow was $2.4 billion in the quarter. Due to the issuance of new debt, debt was up from $19.2 billion at the beginning of the quarter to $24.7 billion and compared to $9.6 billion at the beginning of the quarter, cash and investments in marketable securities totalled $10.9 billion. Including net orders of $16 billion, backlog at quarter-end was $470 billion.
Share Price Commentary
On 24 October 2019, at the time of writing (before the market closed, at 3:15 GMT), BOE shares were trading at USD 338.83, down by 0.38 per cent against the previous day closing price. Stock's 52 weeks High and Low is USD 446.01/USD 292.47. The company's stock beta was 1.27, reflecting more volatility as compared to the benchmark index. The outstanding market capitalisation was around $191.60 billion, with a dividend yield of 2.41 per cent.
Outlook
While for the purposes of the third-quarter results, the company has assumed that regulatory approval of the 737 MAX return to service begins in the fourth quarter of 2019, the carrier has still not got the required approval from various agencies, and the company continues to work with global civil aviation authorities to complete remaining steps toward certification. In addition to the $2.7 billion in extra costs it announced earlier this year, production costs for the 737 Max rose by $900 million in the third quarter, suggesting that the grounding of the plane has had a severe financial impact on the company.
Â
Comparative chart of Metro Bank PLC and Boeing Co

 (Source: Thomson Reuters)