Mitie Group Plc (MTO) was founded in 1987 and is a provider of facilities management, project management, consultancy services and a wide range of specialized services. It was first in the industry to introduce the technology of "Connected Workspace". It deploys smart analytics, which provides important insights and mitigates inefficiencies to create better workplaces. The group provides a wide range of services which include mechanical electrical engineering and maintenance, property services, cleaning, catering, landscape services, pest control, security, business services and non-equity involvement in PFI schemes. Their focus is on large businesses, where they offer differentiated products and superior technology, with regular investments being made in improving customer service to create value for shareholders. The company employs around 52,500 people across the country.
Financial Highlights for FY2019 (£, million)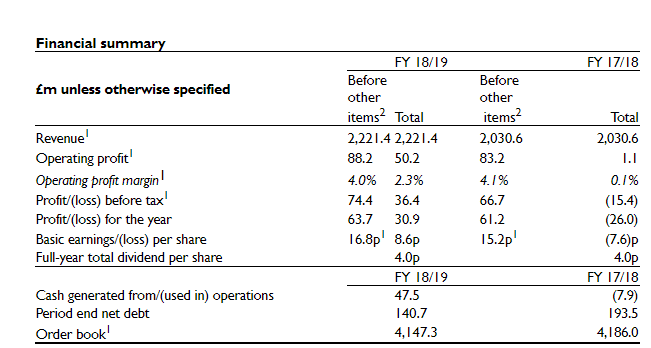 (Source: Annual Report, Company's website)
Revenue was up by 9.4 per cent to £2.2 billion
this year as compared to £2.0 billion in FY18. This increase can be attributed to a contract win in Care & Custody, the acquisition of Vision Security Group (VSG) in Security and significant growth in the Engineering accounts and in Security and Cleaning.
Operating profit before other items was up by 6.0 per cent to £88.2 million in FY19
as compared to £83.2 million in the previous year. This surge reflects sound growth in various accounts and projects in Engineering plus the significant contract win in Care & Custody, followed by a significant growth in the Security and the impact of the acquisition of VSG.
Operating profit surged to £50.2 million this year
against £1.1 million in FY 2018. The company
has recommended a final dividend of 2.67 pence, taking total annual dividend to 4.0 pence per share
, which was the same as the previous year. The
Basic EPS stood at 8.6 pence in FY 2019
against a loss per share of 7.6 pence in FY2018.
This year the Group's net debt reduced by £52.8 million to £140.7 million
against £193.5 million in FY2018.
In FY2019, the consolidated EBITDA stood at £105.9 million and adjusted consolidated EBITDA stood at £103.6 million. MITIE Group PLC is also one of the main contributors of revenues to the UK treasury. It paid £529.3 million this year
against £481.2 million in FY2018.
Share Price Performance
Daily Chart as at June-07-19, before the market close (Source: Thomson Reuters)
On June 7, 2019, at the time of writing (before the market closed, at 12:02 PM GMT), Mitie Group PLC shares
were trading at GBX 152.7
,
up by 4.23
per cent
against the previous day closing price.
Stock's
52 weeks High and Low is GBX 211.02 /GBX 105.80
. At the time of writing, the share was trading 27.63 per cent lower than the 52w High and 44.32 per cent higher than the 52w low.
Stock's average traded volume for 5 days was 381,350.40; 30 days- 297,337.03 and 90 days – 422,776.08.
The average traded volume for 5 days was up by 28.26 per cent as compared to the 30 days average traded volume. The
company's stock beta was 1.06
, reflecting slightly higher volatility as compared to the benchmark index.
The outstanding market capitalisation was around £535.47 million, with a dividend yield of 2.73 per cent.
With Bank of England reducing the interest rates to a historic low level, the spotlight is back on diverse investment opportunities.
Amidst this, are you getting worried about these falling interest rates and wondering where to put your money?
Well! Team Kalkine has a solution for you. You still can earn a relatively stable income by putting money in the dividend-paying stocks.
We think it is the perfect time when you should start accumulating selective dividend stocks to beat the low-interest rates, while we provide a tailored offering in view of valuable stock opportunities and any dividend cut backs to be considered amid scenarios including a prolonged market meltdown.


CLICK HERE FOR YOUR FREE REPORT!