US Markets: Broader indices in the United States traded in green - particularly, the S&P 500 index traded 93.18 points or 3.25 per cent higher at 2,956.88, Dow Jones Industrial Average Index expanded by 852.96 points or 3.60 per cent higher at 24,538.38, and the technology benchmark index Nasdaq Composite traded higher at 9,250.94, up by 236.38 points or 2.62 per cent against its previous day close (at the time of writing, before the U.S market close at 11:30 AM ET).
US News: Wall Street soared with reopening of economies amid the slow COVID-19 infection rate. Meanwhile, the US Oil price jumped over USD 31 a barrel, as it was supported by output cuts from major producers along with demand revival post the lockdown easing. Among the gaining stocks, Hertz jumped over 14 per cent after announcing Paul Stone as its new Chief Executive Officer. Uber climbed over 5.8 per cent since they are planning additional job cuts. Apple jumped over 1.7 per cent as they prepare to reopen 25 stores in the US. Following the two-month high in oil price, Exxon Mobil and Chevron Corp gained over 6.5 per cent and 5.8 per cent, respectively. Likewise, Delta Airline rose over 10.9 per cent as they plan to resume suspended routes in June. Moderna grew over 22.9 per cent post receiving a positive result from its first human trial for potential COVID-19 vaccine.
S&P 500 (SPX)
Top Performers*: Host Hotels & Resorts Inc, L Brands Inc, and Royal Caribbean Cruises Ltd shares increased by 17.40 per cent, 17.31 per cent and 17.30 per cent, respectively.
Non Performers*: Kronger Co, Campbell Soup Co and Citrix Systems Inc shares decreased by 2.49 per cent, 2.45 per cent and 2.43 per cent, respectively.
NASDAQ Composite (IXIC)
Top Performers*: ALJ Regional Holdings Inc, Marine Petroleum Trust and Oasis Midstream Partners LP shares expanded by 71.91 per cent, 54.05 per cent and 36.09 per cent, respectively.
Worst Performers*: Centric Brands Inc, Midatech Pharma Plc and Diffusion Pharmaceuticals Inc shares plunged by 57.49 per cent, 37.65 per cent and 22.29 per cent, respectively.
Top Performing Sectors*: Energy (+7.54 per cent), Industrials (+4.58 per cent), and Basic Materials (+4.25 per cent).
Dow Jones Industrial Average (DJI)
Top Performers*: Dow Inc, Raytheon Technologies Inc and Boeing Co shares climbed significantly by around 11 per cent, 8.95 per cent and 8.62 per cent, respectively.
Non Performer*: Merck & Co Inc shares decreased by 0.20 per cent.
European Markets: The London's broader equity benchmark index FTSE 100 traded at 248.82 points or 4.29 per cent higher at 6,048.59, the FTSE 250 index snapped at 569.26 points or 3.63 per cent higher at 16,230.03, and the FTSE All-Share Index ended 131.69 points or 4.13 per cent higher at 3,320.21, respectively. Another European index STOXX 600 ended up by 13.35 points or 4.07 per cent, at 341.59. Among other major European indices, DAX index closed the session at 11,058.87, up by 593.70 points or 5.67 per cent; CAC 40 index increased by 220.71 points or 5.16 per cent and ended the trading session at 4,498.34.
European News: London and European markets surged with gradual economic recovery in major economies from COVID-19 led lockdown. Meanwhile, the Bank of England is discussing negative interest rates to revive the economy from the coronavirus mayhem. In other economic news, IHS Markit Household Finance Index grew from 34.9 in April to 37.8 in May, reflecting a further deterioration of financial health of British households. Among the gaining stocks, Total SA, BP PLC, and Royal Dutch Shell PLC jumped over 6 per cent, with oil prices surged and supported by demand recovery, output cuts. Similarly, Accor SA rose over 3 per cent post securing a credit facility. Among the decliners, Catenae dipped over 4 per cent post releasing COVID project update. Norwegian Air Shuttle tumbled over 20 per cent after completing a new equity issuance.
London Stock Exchange
Top Performers*: LAMPRELL PLC (LAM), HAMMERSON PLC (HMSO) and ON THE BEACH GROUP PLC (OTB) accelerated significantly by 19.29 per cent, 18.87 per cent and 16.82 per cent, respectively.
Worst Performers*: PORVAIR PLC (PRV), INTERNATIONAL PERSONAL FINANCE PLC (IPF) and ARROW GLOBAL GROUP PLC (ARW) plunged by 6.21 per cent, 5.36 per cent and 5.17 per cent, respectively.
FTSE 100 Index Performance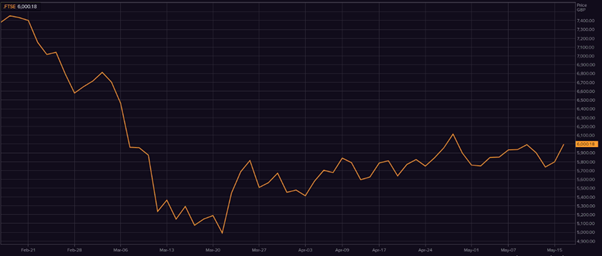 3 months FTSE 100 Index Performance (May-18-2020), before the market closed (Source: Refinitiv, Thomson Reuters)
Best Gainers*: CARNIVAL PLC (CCL), ANGLO AMERICAN PLC (AAL) and INTL CONSOLIDATED AIRLINES GROUP SA (IAG) expanded by 10.30 per cent, 10.04 per cent and 9.15 per cent, respectively.
Non Performers*: OCADO GROUP PLC (OCDO), ADMIRAL GROUP PLC (ADM) and MORRISON(WM.)SUPERMARKETS PLC (MRW) traded in red zone and were down by 2.61 per cent, 0.61 per cent and 0.42 per cent, respectively.
Active Stocks (traded with high volume)*: (LLOY) LLOYDS BANKING GROUP PLC; (VOD) VODAFONE GROUP PLC; (GLEN) GLENCORE PLC.
Top Sectors traded in the positive zone*: Technology (+7.11 per cent), Basic Materials (+7.11 per cent), and Consumer Cyclicals (+3.65 per cent).
Crude Oil Prices*: WTI crude oil (future) price was tilting at $31.56 per barrel, and Brent future crude oil (future) price was nudging at $34.83 per barrel.
Forex Rates*: GBP to USD and EUR to GBP were hovering at 1.2177 and 0.8955, respectively.
Bond Yields*: U.S 10-Year Treasury yield was tilting at 0.701 per cent, and the UK 10-Year Government Bond yield was hovering at 0.241 per cent, respectively.
*At the time of writing