UK Market News: The UK stock market slipped on Tuesday, with the blue-chip index edged higher as strong results from oil major BP Plc helped counter worries in global markets due to a flare-up in US-China tension. On the other hand, annual house price growth in the UK accelerated to 11% in July, with average house prices now costing £271,209. According to Nationwide Building Society, the house prices increased by 0.1% month-on-month, which is the 12th consecutive monthly increase.
BP Plc (LON: BP.): The share of British oil and gas company, BP Plc jumped by around 3.5%, with a day's high of GBX 411.10. The company's second quarter profit soared to a 14-year high of US$8.45 billion as strong refining margins and oil trading helped it boost its dividend and share repurchases.
Travis Perkins Plc (LON: TPK): The share of builders' merchant and home improvement retailer, Travis Perkins fell by around 9%, with a day's low of GBX 914.20. The company performed broadly in-line with first-half expectations and said its Toolstation business swung to a loss in the first half of 2022, as the pandemic boost for do-it-yourself projects fell away.
Revolution Beauty Group Plc (LON: REVB): The share of beauty and personal-care products company, Revolution Beauty fell by around 56%, with a day's low of GBX 25.30. The company said it expects to make a first-half loss due to low revenue growth as inflation, war in Ukraine and supply chain issues pose short term challenges.
US Markets: The US market is likely to get a negative start, as suggested by the future indicies. S&P 500 future was down by 18.91 points or 0.43% at 4,100.71, while the Dow Jones 30 futures was down by 0.86% or 281.16 points at 32,517.24. The technology-heavy index Nasdaq Composite future was down by 0.44% at 12,930.01 (At the time of writing – 9:45 AM ET).
US Market News:
The share of heavy equipment marker, Caterpillar (CAT) fell by 3.7% in the premarket trading session after it reported better than expected quarterly earnings, but revenue was slightly short of consensus. Its sales were affected by its exit from Russia as well as supply chain issues.
The share of American transport company, Uber Technologies (UBER) rallied by 10.8% in the premarket trading session after it reported a quarterly loss of US$1.33 per share including the impact of a US$ 1.7 billion headwind from a drop in the value of its investments.
European Indices Performance (at the time of writing):
FTSE 100 Index One Year Performance (as on 2 August 2022)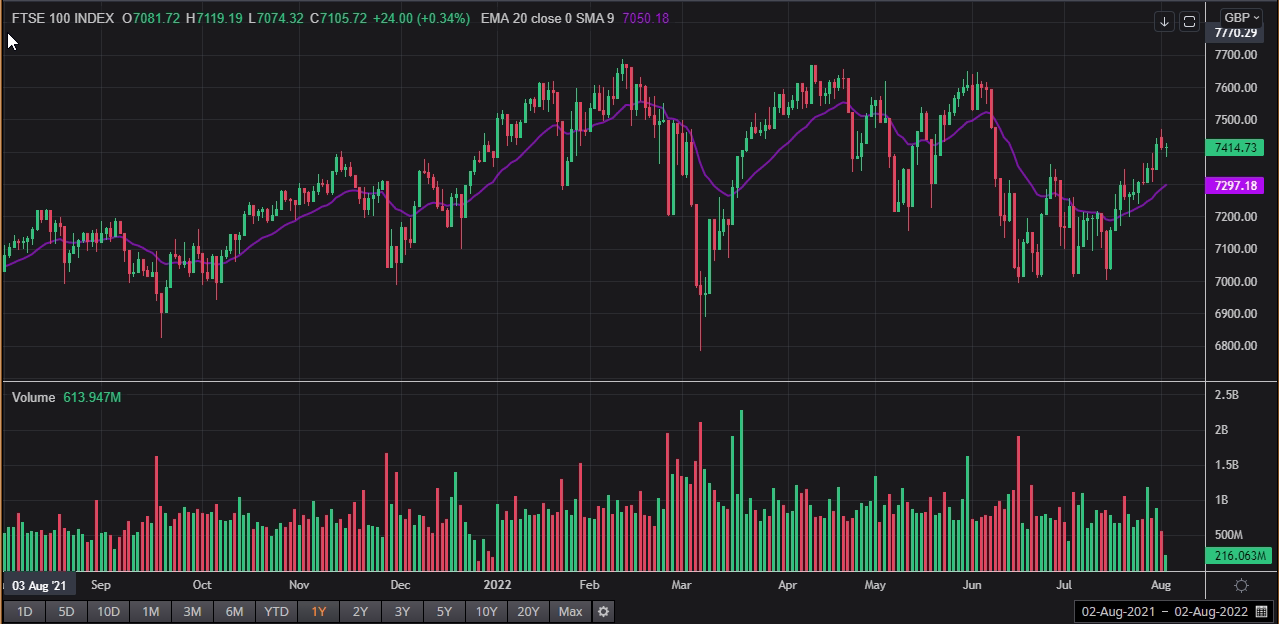 (Source: Refinitiv)
Top 3 Volume Stocks in FTSE 100*: Lloyds Banking Group plc (LLOY), HSBC Holdings Plc (HSBA), Shell Plc (SHEL).
Top 3 Sectors traded in green*: Energy (2.10%), Utilities (1.79%) and Healthcare (0.73%).
Top 3 Sectors traded in red*: Basic Materials (-1.73%), Consumer Cyclicals (-1.66%), Real Estate (-0.69%)
London Stock Exchange: Stocks Performance (at the time of writing)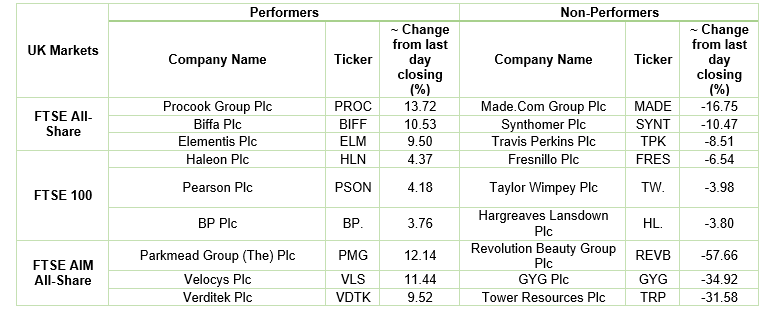 Crude Oil Future Prices*: Brent future crude oil (future) price and WTI crude oil (future) price were hovering at $100.05/barrel and $93.94/barrel, respectively.
Gold Price*: Gold price was quoting at US$ 1,795.65 per ounce, up by 0.44% against the prior day closing.
Currency Rates*: GBP to USD: 1.2216; EUR to USD: 1.0224.
Bond Yields*: US 10-Year Treasury yield: 2.559%; UK 10-Year Government Bond yield: 1.7440%.
*At the time of writing