UK Market News: The UK stock market made a strong bounce back on Friday, tracking an upbeat mood in Asian markets after China announced a cut in its key lending rate. A sharper than expected 15 basis points cut is expected to support the slowing economy. Back home, the Blue-chip FTSE 100 index was up by almost 2%, driven by oil & gas and banking stocks. Meanwhile, UK retail sales jumped unexpectedly by 1.4% in April, but the outlook for consumer spending remained resolutely downbeat with the increase in inflationary pressure.
Sainsbury (J) Plc (LON: SBRY): The shares of the second-largest supermarket chain in the UK, Sainsbury (J) Plc, fell by around 1.5%, with a day's low of GBX 232.10. The supermarket said that Online Sales Tax would help to revive the struggling high street, while its competitor Mark & Spencer argues that it will overburden the retailers.
THG Plc (LON: THG): The shares of the e-commerce retailer THG Plc surged by around 30.5%, with a day's high of GBX 24.26%. The company announced that it had abandoned a proposal of 170 pence per share from King Street Capital Management and Belerion Capital.
M&C Saatchi Plc (LON: SAA): The share of the international advertising agency, M&C Saatchi jumped by almost 31%, with a day's high of GBX 227.00. The company accepted a £310 million takeover by Next Fifteen.
US Markets: The US market is likely to have a positive start today, as suggested by the trading in futures indices. S&P 500 future was up by 32.46 points or 0.85% at 3,934.50, while the Dow Jones 30 futures was up by 0.59% or 183.20 points at 31,436.33. The technology-heavy index Nasdaq Composite future was also up by 1.11% at 11,992.23 (At the time of writing – 9:23 AM ET).
US Market News:
The shares of the athletic shoes and apparel retailer Foot Locker (FL) surged by 1% in the premarket trading session after the company reported an adjusted quarterly profit of US$ 1.60 per share, beating the forecast by 5 cents. However, its revenue was slightly below the estimates, and same-store sales were down by less than half of estimates.
The shares of the heavy equipment manufacturer Deere (DE) fell by 4.4% in the premarket trading session after its quarterly revenue missed estimates. The company's earnings beat estimates by 10 cents, reporting US$6.81 per share, as a rise in crop prices helped spur demand.
European Indices Performance (at the time of writing):

FTSE 100 Index One Year Performance (as on 20 May 2022)
(Source: Refinitiv)
Image Description- 1 Year FTSE 100 Chart
Top 3 Volume Stocks in FTSE 100*: Lloyds Banking Group plc (LLOY), BP Plc (BP.) and Shell Plc (SHEL).
Top 3 Sectors traded in green*: Technology (2.66%), Basic Material (2.40%) and Real Estate (2.40%).
London Stock Exchange: Stocks Performance (at the time of writing)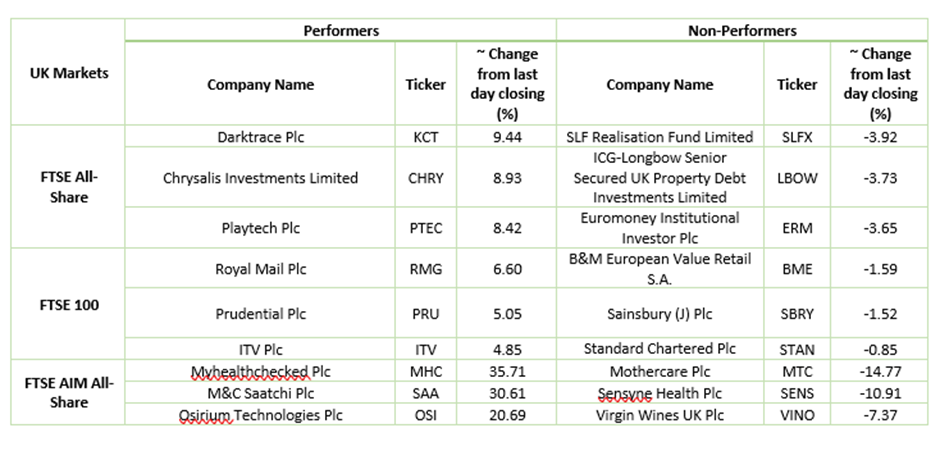 Crude Oil Future Prices*: Brent future crude oil (future) price and WTI crude oil (future) price were hovering at $112.66/barrel and $110.25/barrel, respectively.
Gold Price*: Gold price at the time of reporting was quoted at US$ 1,840.66 per ounce, down by 0.01% against the prior day's closing.
Currency Rates*: GBP to USD: 1.2470; EUR to USD: 1.0568.
Bond Yields*: US 10-Year Treasury yield: 2.873%; UK 10-Year Government Bond yield: 1.9315%.
*At the time of writing