US Markets: Broader indices in the United States traded in green - particularly, the S&P 500 index traded 4.32 points or 0.11 per cent higher at 3,805.51, Dow Jones Industrial Average Index expanded by 6.59 points or 0.02 per cent higher at 31,075.28, and the technology benchmark index Nasdaq Composite traded higher at 13,121.60, up by 49.16 points or 0.38 per cent against the previous day close (at the time of writing, before the US market close at 10:30 AM ET).
US Market News: The major indices of Wall Street traded in the green as the investors were cheerful about the rollout of Covid-19 vaccine. The Labour Department had reported the consumer price index increase of 0.4% in December 2020 compared to November 2020. Among the gaining stocks, Shares of KB Home grew by about 5.30% after the company reported higher quarterly earnings than the consensus estimate. Regeneron Pharmaceuticals shares gained about 2.24% after the US government had decided to purchase 1.25 million additional doses of Covid-19 antibody cocktail. Shares of Nio went up by 1.08% after the company had fixed the price of its offering in convertible notes. Among the declining stocks, Urban Outfitters shares fell by about 7.62% after the company had reported a decline in comparable holiday season sales. Shares of Walt Disney slipped by around 0.61% after Nielsen had released consumer video streaming data in December 2020.
US Stocks Performance*

European News: The London and European markets traded in the mixed territory due to ongoing investor worries regarding Covid-19 pandemic. Among the gaining stocks, Shares of STV Group had increased by 14.58% after it expected operating profit to be ahead of market expectations. Howden Joinery Group shares soared by 3.06% after the company had raised its profit guidance. William Hill shares grew by 0.22% although it reported a revenue drop due to closures during Covid-19 pandemic. Among the decliners, Just Eat Takeaway.com shares went down by 6.02% although it had expected an increase of more than 50% in revenues. Shares of Persimmon went down by 4.20% after the company had reported a decline in its full-year sales. Shares of PageGroup fell by 3.45% after it had reported a fourth-quarter drop in profit.
European Indices Performance (at the time of writing):
FTSE 100 Index One Year Performance (as on 13 January 2021)
1 Year FTSE 100 Chart (Source: Refinitiv, Thomson Reuters)
Top 3 Volume Stocks in FTSE 100*: Lloyds Banking Group Plc (LLOY); International Consolidated Airlines Group SA (IAG); Vodafone Group Plc (VOD).
Top 3 Sectors traded in green*: Real Estate (+0.96%), Healthcare (+0.66%) and Utilities (+0.32%).
Top 3 Sectors traded in red*: Basic Materials (-0.82%), Financials (-0.72%) and Consumer Cyclicals (-0.43%).
London Stock Exchange: Stocks Performance (at the time of writing)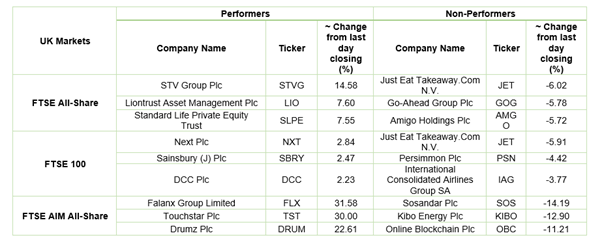 Crude Oil Future Prices*: Brent future crude oil (future) price and WTI crude oil (future) price were hovering at $55.99/barrel and $52.90/barrel, respectively.
Gold Price*: Gold price was quoting at US$1,859.00 per ounce, up by 0.80% against the prior day closing.
Currency Rates*: GBP to USD: 1.3649; EUR to GBP: 0.8917.
Bond Yields*: US 10-Year Treasury yield: 1.080%; UK 10-Year Government Bond yield: 0.306%.
*At the time of writing