UK Market: The UK stock market started the month in red and hit a six-month low on Thursday as investors continue to exercise caution over recession fears. At about 1 pm GMT+1, the benchmark FTSE 100 index was down over 1%, while the FTSE 250 slipped over 1.7%. Meanwhile, the pound sterling slumped to the lowest levels against the US dollar since March 2020 as the energy crisis continued to trouble businesses. In August, the sterling fell 4.5% against the US dollar, the biggest fall since October 2016.
Pearson PLC (LON: PSON): Shares of the multinational publisher rose over 2% after JP Morgan Cazenoven reinstated the company's performance with an overweight rating. The investment bank also said that the company is progressing well in delivering its strategy.
British Land Company PLC (LON: BLND): Shares of the UK's leading property development business fell over 4% after analysts downgraded the ratings from 'buy' to 'hold' and reduced the price target.
IXICO Plc (LON: IXI): Shares of the clinical research firm rallied over 10% after it affirmed that its underlying profits this year to September-end will surpass its previous outlook of £1.2 million.
US Markets: The US market is likely to start in red, as indicated by the futures indices. S&P 500 future was down by 31.16 points or 0.78% at 3,955.00, while the Dow Jones 30 future was down by 0.88% or 280.44 points at 31,510.43. The technology-heavy index Nasdaq Composite future was also down by 0.56% or 66.93 points, at 11,816.20. (At the time of writing – 8:32 am ET).
US Market News:
Shares of the food processing company Hormel Foods (HRL) plummeted 4.2% in the premarket trading session after its earnings fell short of forecasts. The company's quarterly revenue also surpassed the projections. Hormel expects higher operational costs to remain.
Shares of the processed food and snack maker Campbell Soup (CPB) slipped 2.4% in the premarket trading session after its three-month profit and revenue matched market expectations. The company posted an upbeat forecast amid expectations of higher product demand.
European Indices Performance (at the time of writing):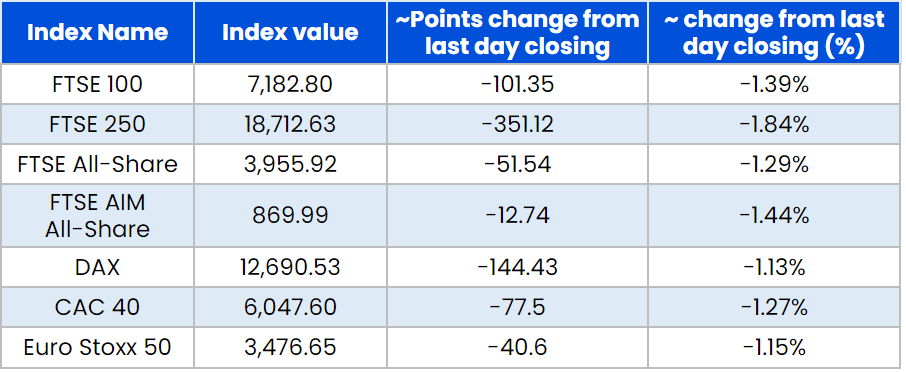 FTSE 100 Index One Year Performance (as on 1 September)
(Source: Refinitiv)
Top 3 Volume Stocks in FTSE 100*: Lloyds Banking Group plc (LLOY), Rolls-Royce Holdings Plc (RR.), Vodafone Group Plc (VOD)
Top 3 sectors traded in green*: N/A
Top 3 sectors traded in red*: Basic Materials (-3.76%), Real Estate (-3.36%), Consumer Cyclicals (-2.01%)
London Stock Exchange: Stocks Performance (at the time of writing):
Crude Oil Future Prices*: Brent future crude oil (future) price and WTI crude oil (future) price were hovering at $93.97/barrel and $88.28/barrel, respectively.
Gold Price*: Gold price was quoting at US$1,712.35 per ounce, down 0.8% against the prior day closing.
Currency Rates*: GBP to USD: 1.1572; EUR to USD: 1.0015.
Bond Yields*: US 10-Year Treasury yield: 3.20%; UK 10-Year Government Bond yield: 2.8555%.
*At the time of writing