Global Markets*: Amid escalating trade tension, stocks in the United States took a nosedive in the first trading session of September 03, 2019, with the broader index S&P 500 slumped 27.96 points or 0.95% to 2,899.70, the Dow Jones Industrial Average Index plunged 364.72 points or 1.38% to 26,038.56, and the Nasdaq Composite Index dipped by about 103.45 points or 1.30% to 7,859.23, respectively.
Global News: The U.S. President Donald Trump warned on Tuesday that his administration would get tougher in negotiations with China if the trade dispute drags on until his second term, though he said that the current talks between the two countries were going well, without providing any further details. The Institute for Supply Management reported that as new orders and hiring declined as trade tensions weighed on business confidence, manufacturing activity in August contracted for the first time in three years, as its index of national factory activity declined to a reading of 49.1 last month, reporting its fifth straight monthly decline. This led to a fall in U.S. equity on Tuesday.
European Markets: The London's broader equity benchmark index FTSE 100 traded at 13.75 points or 0.19% lower at 7,268.19, the FTSE 250 index snapped 17.41 points or 0.09% lower at 19,464.14, and the FTSE All-Share Index ended 7.18 points or 0.18% lower at 3,982.63 respectively. Another European equity benchmark index STOXX 600 ended at 379.81, down by 0.88 points or 0.23 per cent.
European News: After Phillip Lee, one of the Tory lawmakers, defected to the pro-European Union Liberal Democrats on Tuesday, British Prime Minister Boris Johnson lost his working majority of one M.P. in parliament. Senior officials in the current administration said that the prime minister could call for a snap election on October 14 if lawmakers on Tuesday try to stop Boris Johnson from pursuing a no-deal exit, as he tried to prevent a further extension. As potential buyers remained wary of the market amid Brexit crisis, construction companies suffered the sharpest drop in new orders last month since the financial crisis, as IHS Markit/CIPS UK Construction Purchasing Managers Index (PMI) declined to 47.4 in August.
London Stock Exchange (LSE)
Top Performers*: THOMAS COOK GROUP PLC (TCG), BARR(A.G.) PLC (BAG) and MEDICA GROUP PLC (MGP) were the gainers for the day (at the time of writing) and expanded by 25.04%, 9.34% and 6.88% respectively.
Worst Performers*: RESTAURANT GROUP PLC (RTN), INTU PROPERTIES PLC (INTU) and HALFORDS GROUP PLC (HFD) were the top three laggards of the day and down by 11.22%, 11.04% and 9.77% respectively.
FTSE 100 Index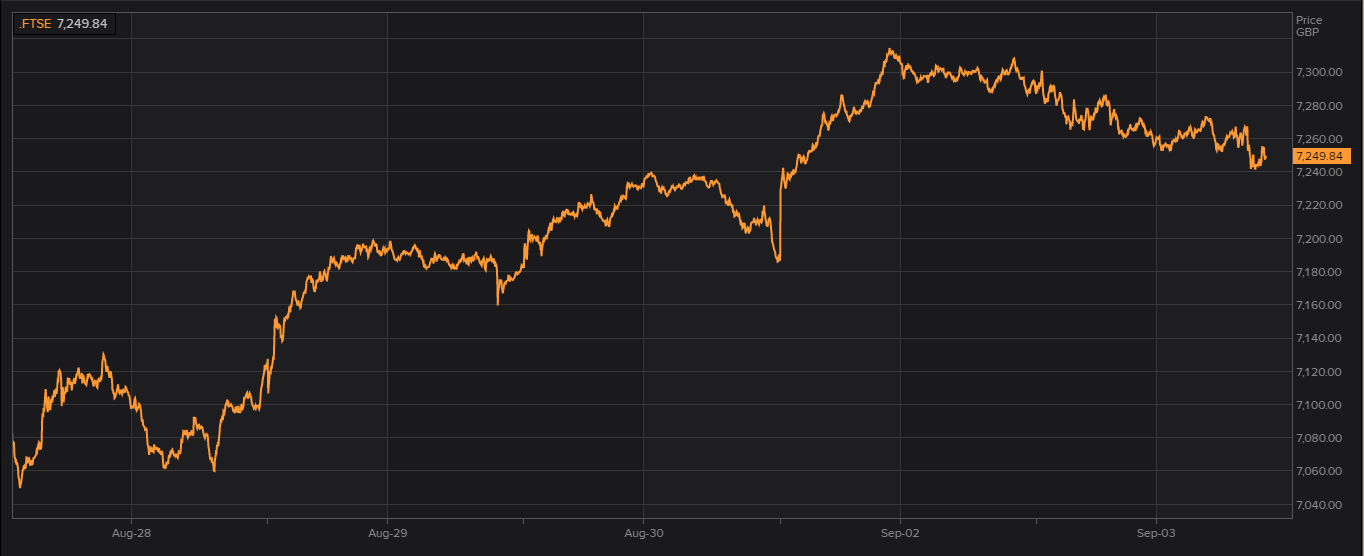 5-days Daily Price Chart (as on September 03, 2019, before the market close). (Source: TR)
Performers*: MICRO FOCUS INTERNATIONAL PLC (MCRO), FERGUSON PLC (FERG) and FRESNILLO PLC (FRES) were the top gaining stocks in today's session and surged by 2.65%, 2.21% and 1.45% respectively.
Laggards*: AUTO TRADER GROUP PLC (AUTO), SMITH (DS) PLC (SMDS), and JUST EAT PLC (JE.) were the losers for the day (FTSE 100 index) and contracted by 5.14%, 5.01% and 3.40% respectively.
Volume Movers*: LLOYDS BANKING GROUP PLC (LLOY), VODAFONE GROUP PLC (VOD), and BP PLC, (BP.) were the top volume movers for the day (at the time of writing).
FTSE 100 Sectors Cues
Performers*: Consumer Non-Cyclicals (+0.36%), Telecommunications Services (+0.21%), and Utilities (+0.19%).
Laggards*: Technology (-1.18%), Energy (-0.83%) and Healthcare (-0.73%).
Foreign Exchange and Fixed Income
F.X. Rates (at the time of writing): GBP/USD and EUR/GBP were quoting at 1.2104 and 0.9065 respectively.
10-Year Bond Yields (at the time of writing): US 10Yr. Treasury and UK 10Yr. Bond yields were quoting at 1.464% and 0.415% respectively.
* At the time of writing 
With Bank of England reducing the interest rates to a historic low level, the spotlight is back on diverse investment opportunities.
Amidst this, are you getting worried about these falling interest rates and wondering where to put your money?
Well! Team Kalkine has a solution for you. You still can earn a relatively stable income by putting money in the dividend-paying stocks.
We think it is the perfect time when you should start accumulating selective dividend stocks to beat the low-interest rates, while we provide a tailored offering in view of valuable stock opportunities and any dividend cut backs to be considered amid scenarios including a prolonged market meltdown.


CLICK HERE FOR YOUR FREE REPORT!