UK Market: The UK stock market traded in positive territory on Friday despite the latest numbers showing an economic contraction. In the afternoon, the benchmark FTSE 100 was trading 0.30% higher, while the FTSE 250 was 0.25% higher. This came as the Office for National Statistics reported a 0.1% contraction in the Gross Domestic Product (GDP) between April and June. In June alone, the GDP shrank by 0.6%. On a quarterly basis, the output declined for the first time since last year.
Flutter Entertainment PLC (LON: FLTR): The Irish bookmaking holding firm was among the top gainers at the FTSE 100 after it reported an adjusted EBITDA of £476 million for the first half of 2022. The firm generated revenue of £3.4 billion during the period.
Kingfisher PLC (LON: KGF): Shares of the FTSE 100-listed home improvement company slipped over 2% after its rating was downgraded by investment bank UBS following weak industry data.
Dunelm Group PLC (LON: DNLM): Shares of the British home furnishings retailer came under pressure after its rating was also downgraded by UBS. As of 1:37 pm GMT+1 on Friday, the shares were down 1.90%.
US Markets: The US market is likely to get a flat start, as indicated by the futures indices. S&P 500 future was down by 2.97 points or 0.07% at 4,207.27, while the Dow Jones 30 future was up by 0.08% or 27.16 points at 33,336.67. The technology-heavy index Nasdaq Composite future was also down by 0.58% or 74.89 points, at 12,779.91. (At the time of writing – 9:03 am ET).
US Market News:
Shares of the American digital-first consumer goods firm Honest Company (HNST) climbed 1.6% in the premarket trading session despite its higher-than-expected quarterly loss. The firm also expects a wider loss than the earlier forecast for the full year due to the cost pressures.
Shares of the American electric vehicle automaker Rivian Automotive (RIVN) tumbled 1% in the premarket trading session after it raised its loss estimate for this year. The firm also affirmed its previous production guidance.
European Indices Performance (at the time of writing):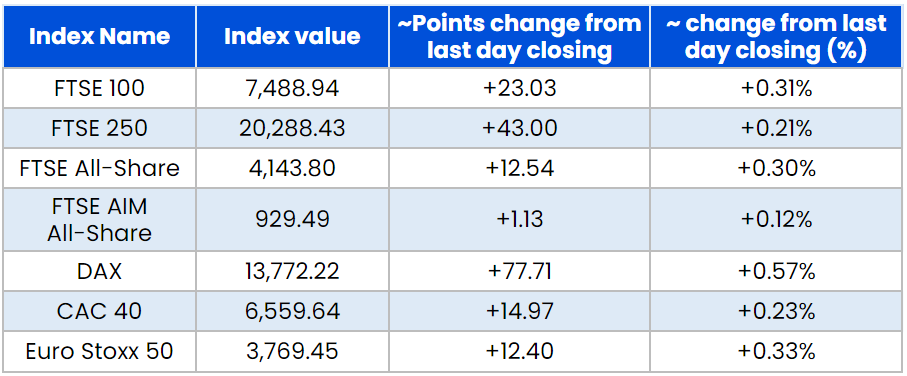 FTSE 100 Index One Year Performance (as on 12 August)
(Source: Refinitiv)
Top 3 Volume Stocks in FTSE 100*: Lloyds Banking Group plc (LLOY), Centrica Plc (CNA), Haleon Plc (HLN)
Top 3 sectors traded in red*: Basic Materials (-0.45%), Industrials (-0.30%) Technology (-0.23%)
Top 3 sectors traded in green*: Healthcare (1.90%), Consumer Cyclicals (1.28%), Utilities (0.90%)
London Stock Exchange: Stocks Performance (at the time of writing):
Crude Oil Future Prices*: Brent future crude oil (future) price and WTI crude oil (future) price were hovering at $98.16/barrel and $92.88/barrel, respectively.
Gold Price*: Gold price was quoting at US$ 1,803.70 per ounce, down by 0.19% against the prior day closing.
Currency Rates*: GBP to USD: 1.2141; EUR to USD: 1.0285.
Bond Yields*: US 10-Year Treasury yield: 2.862%; UK 10-Year Government Bond yield: 2.0875%.
*At the time of writing