US Markets: Broader indices in the United States traded marginally in green - particularly, the S&P 500 index traded 7.10 points or 0.16 per cent higher at 4,418.90, Dow Jones Industrial Average Index inclined by 21.63 points or 0.06 per cent higher at 35,083.18, and the technology benchmark index Nasdaq Composite traded higher at 14,842.10, up by 5.10 points or 0.03 per cent against the previous day close (at the time of writing – 11:55 AM ET).
US Market News: The major indices of Wall Street traded on a mixed note due to ongoing fears regarding rising Covid-19 cases worldwide. Among the gaining stocks, Hasbro (HAS) shares surged by about 12.60% after the Company reported quarterly earnings and revenue more than the consensus estimates. Otis Worldwide (OTIS) shares went up by about 0.64% after the Company's quarterly earnings came out to be more than the consensus estimates. Among the declining stocks, Tencent Music Entertainment Group (TME) shares went down by about 5.38% after the Company was barred by regulators from holding exclusive rights to online music. Didi Global (DIDI) shares dropped by around 1.80% after the Company was downgraded to "neutral" by Atlantic Equities.
UK Market News: The London markets traded on a mixed note as investors waited for the flurry of corporate results to be released this week. Moreover, Bitcoin witnessed a jump of around 13%, riding on the speculation that Amazon might be venturing into digital currencies.
Food Producer Cranswick shares grew by about 2.45% after the Company reported a rise in the first quarter revenue boosted by robust retail business and strong poultry sales.
Budget Airline Ryanair Holdings shares surged by around 4.32% after the Company lifted the traffic forecast due to a significant increase in the bookings in recent weeks.
B&M European Value Retail was downgraded to "sector perform" by RBC Capital Markets. Furthermore, the shares went down by around 2.42%.
Kanabo Group shares climbed by around 8.33% after the Company announced a proposed acquisition of the leading European Medical Cannabis Producer & Distributor, Materia.
European Indices Performance (at the time of writing):

FTSE 100 Index One Year Performance (as on 26 July 2021)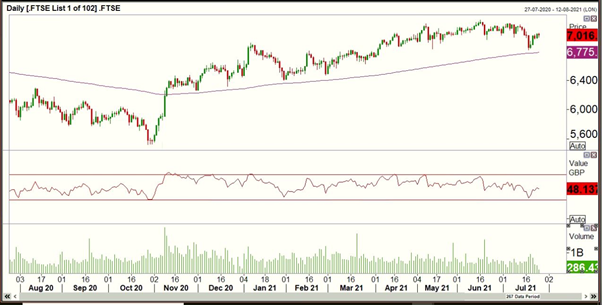 1 Year FTSE 100 Chart (Source: Refinitiv)
Top 3 Volume Stocks in FTSE 100*: Lloyds Banking Group Plc (LLOY); Vodafone Group Plc (VOD); International Consolidated Airlines Group S.A. (IAG).
Top 3 Sectors traded in green*: Energy (+2.43%), Basic Materials (+2.15%) and Financials (+0.02%).
Top 3 Sectors traded in red*: Healthcare (-2.04%), Consumer Non-Cyclicals (-1.15%) and Technology (-1.01%).
London Stock Exchange: Stocks Performance (at the time of writing)
Crude Oil Future Prices*: Brent future crude oil (future) price and WTI crude oil (future) price were hovering at $73.50/barrel and $71.92/barrel, respectively.
Gold Price*: Gold price was quoting at US$ 1,796.65 per ounce, down by 0.29% against the prior day closing.
Currency Rates*: GBP to USD: 1.3815; EUR to GBP: 0.8545.
Bond Yields*: US 10-Year Treasury yield: 1.271%; UK 10-Year Government Bond yield: 0.5780%.
*At the time of writing