US Markets: Broader indices in the United States traded in red - particularly, the S&P 500 index traded 31.99 points or 0.75 per cent lower at 4,214.60, Dow Jones Industrial Average Index dipped by 314.18 points or 0.92 per cent lower at 33,985.15, and the technology benchmark index Nasdaq Composite traded lower at 13,978.96, down by 93.89 points or 0.67 per cent against the previous day close (at the time of writing - 2:30 PM ET).
US Market News: The major indices of Wall Street traded in red amid inflation worries and a much-anticipated Federal Reserve meeting. In the latest update, Federal Reserve kept interest rate steady and no change to the monthly bond buying program of $120 billion. Benchmark rate remained unchanged between 0% to 0.25%. However, the Federal Reserve hinted two rate hikes possible by 2023. Among the gaining stocks, Kindred Biosciences (KIN) shares climbed by about 44.95% after the Company agreed to be taken over by Elanco Animal Health in a lucrative deal. Dish Network Corp (DISH) shares rose by about 3.42% after Pivotal Research had upgraded the Company from "Hold" to "Buy". Among the declining stocks, Roblox (RBLX) shares dropped by around 7.37% after the Company had shown a month-on-month drop in daily active users during May 2021. Oracle (ORCL) shares plunged by about 5.52% after the Company had forecasted the current-quarter profit below consensus as it increased investment related to the cloud computing operations.
Global Market Round Up || Why Did US Stocks Dip But FTSE 100 Up 0.17%?
UK Market News: The London markets traded in a green zone after the release of the UK inflation data. Moreover, the UK inflation had breached the Bank of England's target for the first time as the Consumer Price Index ("CPI") had shown a year-on-year growth of around 2.1% during May 2021. Furthermore, the Office for National Statistics had shown a year-on-year growth of approximately 8.9% in the UK average house price during April 2021.
Tullow Oil shares went down by about 0.08% after stating that the production figures till the end of May 2021 remained in line with the expectations.
Helios Towers had announced the successful pricing of a share placing activity. Moreover, the shares dropped by approximately 3.83%.
Hipgnosis Songs Fund shares went down by around 1.45% after the Company had planned to raise 150 million pounds in a share placing to fund a significant pipeline of songs.
Online Furniture retailer Made.com Group had opened 7% lower on the first day of trading on the London Stock Exchange as it had priced the IPO at 200 pence per share.
European Indices Performance (at the time of writing):
FTSE 100 Index One Year Performance (as on 16 June 2021)
1 Year FTSE 100 Chart (Source: Refinitiv)
Top 3 Volume Stocks in FTSE 100*: Lloyds Banking Group Plc (LLOY); Vodafone Group Plc (VOD); BP Plc (BP.).
Top 3 Sectors traded in green*: Healthcare (+1.15%), Consumer Cyclicals (+0.83%) and Industrials (+0.81%).
Top 3 Sectors traded in red*: Real Estate (-0.61%), Energy (-0.55%) and Basic Materials (-0.05%).
London Stock Exchange: Stocks Performance (at the time of writing)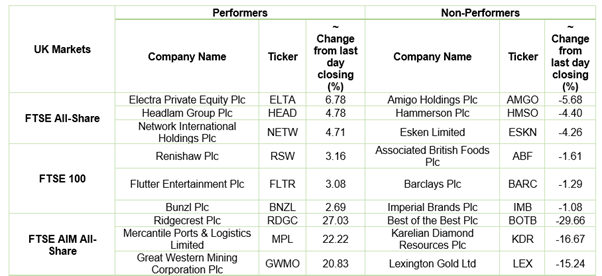 Crude Oil Future Prices*: Brent future crude oil (future) price and WTI crude oil (future) price were hovering at $74.25/barrel and $72.07/barrel, respectively.
Gold Price*: Gold price was quoting at US$ 1,840.40 per ounce, down by 0.86% against the prior day closing.
Currency Rates*: GBP to USD: 1.4022; EUR to GBP: 0.8585.
Bond Yields*: US 10-Year Treasury yield: 1.546%; UK 10-Year Government Bond yield: 0.7430%.
*At the time of writing