Source: Copyright © 2021 Kalkine Media Pty Ltd.
US Markets: Broader indices in the United States traded in green - particularly, the S&P 500 index traded 7.05 points or 0.17 per cent higher at 4,080.99, Dow Jones Industrial Average Index surged by 6.62 points or 0.02 per cent higher at 33,436.86, and the technology benchmark index Nasdaq Composite traded higher at 13,719.30, up by 20.92 points or 0.15 per cent against the previous day close (at the time of writing - 02:10 PM ET).
US Market News: The major indices of Wall Street traded in a green zone amid hopes of accelerated economic recovery. Among the gaining stocks, Moderna shares went up by approximately 0.23% after the UK started using its Covid-19 vaccine. Among the declining stocks, Li Auto shares dropped by about 8.87% after it announced a USD 750 million convertible senior note offering. Genworth Financial shares fell by around 4.84% after it terminated a merger agreement with China-based Oceanwide. Beyond Meat shares went down by approximately 0.96% after it announced the opening of the new manufacturing facility in China.
US Stocks Performance*

UK Market News: The London markets traded in a green zone after witnessing a growth in the UK services sector during March 2021. FTSE 100 traded higher by around 0.91% as the UK is prepared to reopen the economy. The IHS Markit/CIPS services PMI ("Purchasing Managers Index") had increased to 56.3 during March 2021, while it was 49.5 in February 2021.
Cryptocurrency Miner, Argo Blockchain shares, went down by around 1.50%, even after it had mined 165 Bitcoin or Bitcoin Equivalent ("BTC") during March 2021 as compared to 129 BTC mined during February 2021.
FTSE 250 listed Hilton Food Group had reported a jump in profitability and announced a higher dividend benefitted by eating at home during the Covid-19 pandemic. Thus, the shares jumped by around 3.22%.
Oil Giant Royal Dutch Shell had expected to hit first-quarter adjusted earnings by up to USD 200 million due to the extreme weather in Texas during February 2021. However, the shares went up by around 1.19%.
Flutter Entertainment shares dropped by about 1.68% after it confirmed a legal dispute with Fox regarding an option to buy an 18.6% stake in the sports betting group FanDuel.
European Indices Performance (at the time of writing):

FTSE 100 Index One Year Performance (as on 7 April 2021)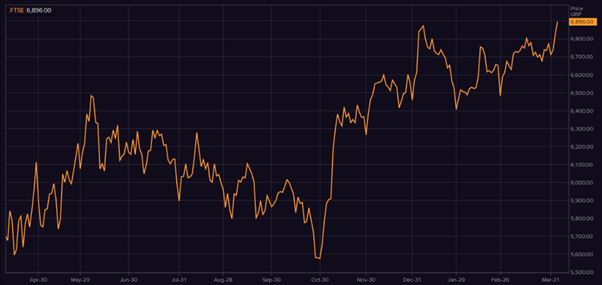 1 Year FTSE 100 Chart (Source: Refinitiv, Thomson Reuters)
Top 3 Volume Stocks in FTSE 100*: Lloyds Banking Group Plc (LLOY); Barclays Plc (BARC); Vodafone Group Plc (VOD).
Top 3 Sectors traded in green*: Basic Materials (+2.11%), Technology (+1.80%) and Energy (+1.48%).
Top Sector traded in red*: Healthcare (-0.30%).
London Stock Exchange: Stocks Performance (at the time of writing)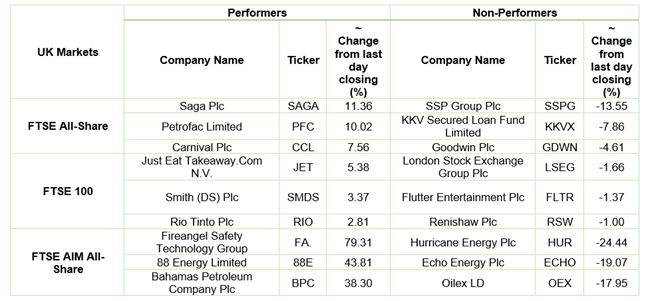 Crude Oil Future Prices*: Brent future crude oil (future) price and WTI crude oil (future) price were hovering at $63.11/barrel and $59.73/barrel, respectively.
Gold Price*: Gold price was quoting at US$1,742.55 per ounce, down by 0.03% against the prior day closing.
Currency Rates*: GBP to USD: 1.3747; EUR to GBP: 0.8643.
Bond Yields*: US 10-Year Treasury yield: 1.651%; UK 10-Year Government Bond yield: 0.777%.
*At the time of writing