Source:Copyright © 2021 Kalkine Media Pty Ltd.
US Markets: Broader indices in the United States traded in green - particularly, the S&P 500 index traded 81.55 points or 2.14 per cent higher at 3,892.70, Dow Jones Industrial Average Index surged by 679.73 points or 2.20 per cent higher at 31,612.10, and the technology benchmark index Nasdaq Composite traded higher at 13,478.44, up by 286.09 points or 2.17 per cent against the previous day close (at the time of writing, before the US market close at 10:30 AM ET).
US Market News: The major indices of Wall Street traded in the green zone after the U.S. House approved the Covid-19 relief package. Among the gaining stocks, Perrigo Company shares went up by approximately 12.14% after it had announced the disposal of Generic Rx Pharmaceuticals business. Johnson & Johnson shares surged by approximately 2.13% after the U.S. approved its single-dose Covid-19 vaccine. Netflix shares jumped by about 1.42% after the Company dominated the Golden Globe Awards. Among the declining stocks, shares of Logitech International SA went down by about 0.7% after the Company warned regarding the FY22 outlook.
US Stocks Performance*

UK Market News: The London markets traded in the green zone due to positive investor confidence regarding the US stimulus package and vaccine-led economic recovery. FTSE 100 traded higher by around 1.39%, primarily driven by homebuilders and mining stocks. The UK Manufacturing Purchasing Managers' index was said to be 55.1 during February 2021 as compared to 54.1 during January 2021. The UK mortgage approvals had declined slightly to around 98.99 thousand during January 2021 as compared to 102.81 thousand during December 2020.
FTSE 100 listed Persimmon and Taylor Wimpey surged by around 4.98% and nearly 4.85%, respectively, driven by a media report that Rishi Sunak would announce a mortgage guarantee scheme along with the budget announcement on 03 March 2021.
Covid-19 vaccine provider AstraZeneca went up by approximately 0.72% after media reports that the Company had sold its stake in Moderna for more than USD 1.0 billion.
Gaming firm, Entain had raised the offer for Sweden-based Enlabs to approximately USD 438.50 million. Moreover, the shares rose by about 1.31%.
Distribution Group Bunzl shares jumped by around 0.31% after demonstrating a significant rise in FY20 profit and robust dividend growth.
Media Company Reach reported a 12.8% decline in the annual profit. Subsequently, the shares dropped by approximately 6.71%.
European Indices Performance (at the time of writing):
FTSE 100 Index One Year Performance (as on 1 March 2021)
1 Year FTSE 100 Chart (Source: Refinitiv, Thomson Reuters)
Top 3 Volume Stocks in FTSE 100*: Lloyds Banking Group Plc (LLOY); International Consolidated Airlines Group SA (IAG); Tesco Plc (TSCO).
Top 3 Sectors traded in green*: Industrials (+1.87%), Real Estate (+1.72%) and Basic Materials (+1.60%).
London Stock Exchange: Stocks Performance (at the time of writing)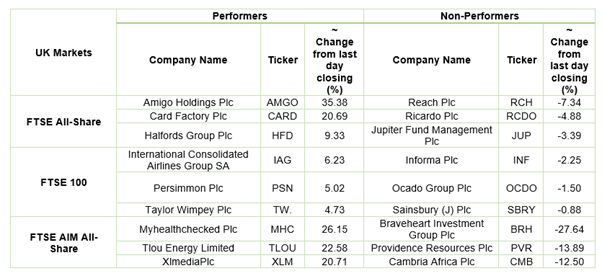 Crude Oil Future Prices*: Brent future crude oil (future) price and WTI crude oil (future) price were hovering at $63.73/barrel and $60.48/barrel, respectively.
Gold Price*: Gold price was quoting at US$1,720.75 per ounce, down by 0.47% against the prior day closing.
Currency Rates*: GBP to USD: 1.3911; EUR to GBP: 0.8652.
Bond Yields*: US 10-Year Treasury yield: 1.455%; UK 10-Year Government Bond yield: 0.749%.
*At the time of writing