Highlights

UK based digital bank Starling Bank plans to launch an IPO by 2023, according to its CEO Anne Boden.
Starling now plans to compete against its main rival Barclays and overtake it in the next 5 years in the business banking segment; increase its market share by 2x from 7 per cent.
UK based digital bank Starling Bank is likely to launch its initial public offering (IPO) in the coming two years, according to its CEO, Anne Boden.
Starling Bank's IPO plans
Earlier this month, the bank had said it would likely list in London, which also happens to be Starling's headquarters. However, last week, Starling said that it could be tempted to choose a non-UK IPO.
In March, the challenger bank reached a valuation of £1.1 billion (or US$ 1.5 billion), thus achieving the coveted unicorn status in the fintech space.
It reached the valuation after a series D funding round of £272 million (US$ 367 million), which was led by financial services company Fidelity Management & Research Company. The funding helped the bank become one of the biggest unicorn firms in Europe.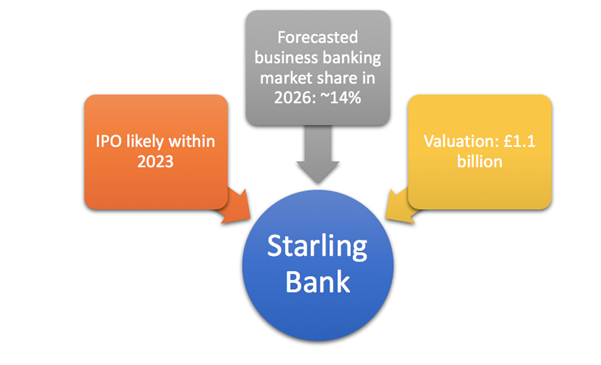 © 2021 Kalkine Media
Some of the bank's other investors include investment banking firm Goldman Sachs, Qatar's sovereign wealth fund, Qatar Investment Authority, British pension scheme Rallpen.
The bank, which was founded in 2014, plans to use the funds from its last funding round to help with its European expansion plans and for funding potential mergers and acquisitions.
Banking major Barclays (LON: BARC) and financial services company JP Morgan Chase were reportedly planning to acquire Starling, but the bank declined their interests.
Starling's financial performance
The company's revenues rose by almost 600 per cent to £97.6 million, for 16 months period ending 31 March.
Its business accounts rose to 374,000, compared to 180,000 accounts in the year before, thus continuing to be one of the bank's main growth drivers.
Starling's total accounts thus rose to 2.1 million, and its lending stood as £2.2 billion for the period. It also narrowed its losses, reporting a loss after tax of £23.3 million, compared to £52.1 million in the year before.
Also, the bank has remained profitable on a monthly basis for 11 months, since October 2020.
Starling to compete with Big Five bank Barclays
The bank stated it aims to overtake banking major and one of the Big Five banks in the UK, Barclays, in the next five years in the business banking segment.
Ms Boden stated it is a very realistic time period for Starling to overtake Barclays and to increase Starling's market share by 2x in the small business market.
Boden had stated Starling now considers mainstream banking groups Lloyds (LON: LLOY) and Barclays to be its competitors, especially after Starling's stellar 2020 performance.
Barclays has a market share of 15 per cent, while Starling increased its market share from less than 3 per cent in June 2020 to its current 7 per cent in less than 18 months.
Online bank Monzo was earlier considered Starling's main rival. Monzo's founder Tom Blomfield had controversially left Starling previously.
Bottom Line
Fintech firms have gained popularity since the pandemic as customers increasingly adopted new technology and online banking services.
Another fintech giant Wise went the direct listing route to debut on the LSE earlier this year in July. Wise had a market valuation of about £8 billion.