Summary

Britain's economic output displayed a positive growth rate during May 2020, over the same period in 2019
This growth was led by manufacturing and construction components, both of which grew by more than 8 per cent for the month
Employment outlook remains bleak due to the slow economic recovery
According to the latest figures from the UK's Office of the National Statistics (ONS), the British economy grew at the modest rate of 1.8 per cent during May 2020, after displaying a sharp GDP (Gross Domestic Product) contraction of 20.3 per cent during April 2020.
However, economic experts had predicted that the British output would grow by at least 5 per cent in May 2020. Hence, this growth is a bit slower than expected.
Let us now take a closer look the monthly GDP numbers.
GDP and its components' growth rates by month for the UK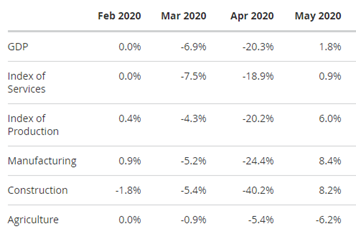 (Source: Office for National Statistics, UK)
The table above shows that since February 2020, the British economy has been displaying dismal performance. February was the month when the coronavirus outbreak struck the nation and was declared a serious health threat. GDP grew by zero per cent during the month of February 2020, over the same month last year. The construction output fell by 1.8 per cent for the same month, and it was the worst performing GDP constituent during February.
For March 2020, the UK economic output shrunk by 6.9 per cent overall; and sharpest output fall for the month came from the components of 'index of services' (-7.5 per cent), construction (-5.4 per cent) and manufacturing (-5.2 per cent). It is pertinent to note here that the British Prime Minister Boris Johnson had imposed a nationwide lockdown on 23 March 2020.
April 2020 was the record worst performing month when the total output shrunk by 20.3 per cent, construction output dropped by 40.2 per cent, and the manufacturing output depicted a negative growth rate of 24.4 per cent. It was also the first complete month of lockdown across Britain.
May was also yet another month of the lockdown with mild lifting up of the ongoing restrictions. Government allowed people to go to their offices, in case they could not work from home, beginning 11 May 2020. With this, some economic activity resumed at construction and manufacturing sites as well. While the economic output started to rise gradually, the manufacturing component showed a growth of 8.4 per cent while the construction activity grew by 8.2 per cent for the month. The only GDP component that exhibited a negative growth rate in output for May 2020 was agriculture (-6.2 per cent).
It was only on 15 June 2020 that the non-essential shops were permitted to re-open, along with outdoor markets and car showrooms. Hence, the forthcoming GDP data for June should be more encouraging than May 2020.
So, with a slow economic recovery witnessed during the month of May 2020, what kind of impact is expected on the pace of employment generation in the United Kingdom? Let's try and explore this very critical topic which is related to the livelihoods of people.
Employment outlook continues to remain bleak
Rishi Sunak, UK Treasury's Chancellor had rolled out a £30 billion plan on 8 July 2020 to retain the existing jobs and generate new ones across the nation. This has put the total UK public borrowings figure at a whopping £322 billion.
Also read: Sunak Announces Mini Budget 2020; Special Focus Given To Employment Generation
Despite this, many companies are still laying off workforce, since they continue to struggle with the devastating effects of the corona-led pandemic. Supply chains are disrupted around the world, due to which production is badly affected. On the other hand, consumer demand is extremely low across good and services, which had forced the British economy into a recessionary phase.
More than 6 million jobs have been made redundant in the UK post the lockdown imposed during the last week of March 2020.
The Office for Budget Responsibility (OBR) has warned that British unemployment rate could increase to the high jobless levels witnessed by the country during the 1980s.
The UK economy had an unemployment rate of 3.9 per cent for the period between February to April 2020, but with the onset of the coronavirus pandemic, this level is projected to fall sharply to 9.1 per cent for the year 2020, under the worst-case scenario projection of the OBR. For the next year 2021, this number could further go up to 11.6 per cent, as per OBR estimates.
The OBR has also forecasted GDP growth rates under three different scenarios (upside, central, and downside). It has projected that Britain's GDP will range between (-10.6) to (-14.3) per cent for the year 2020. It will be hovering between the positive growth rates of 4.6 to 14.5 per cent for the next year 2021, as per the OBR estimates.
Data from UK's department of work and pensions reveals that the jobless claimant count shot up to 2.8 million during May 2020, a rise on 23.3 per cent over the last month of April. This dismal situation exists despite the fact that government has put more than 9 million people under its furlough scheme, which is paying for up to 80 per cent of the staff salaries of companies under distress. Once this furlough scheme gets over in October 2020, it is feared that the unemployment levels could rise further.
Tej Parikh, Chief Economist, Institute of Directors said that both wages and vacancies are expected to fall further, with companies trying to minimize their costs during these testing pandemic times. Latest government statistics revealed that real pay levels had fallen by 0.4 per cent during February to April 2020.
As a summary, the UK economy's GDP grew by a meager 1.8 per cent during May 2020, as compared to the same month one year ago. It is feared that this slow recovery could put additional pressure on the already rising unemployment numbers in the country. Businesses are struggling to survive as a result of the coronavirus pandemic, and could further lay off staff and lower the salaries to cut their costs. While the government is trying its level best by providing various stimulus packages, a complete recovery is fully dependent on the course of the pandemic in the near future. Unless consumer demand picks up and production levels resume fast, a sluggish pace of the economic recovery is expected to continue.
---
Disclaimer
The website https://kalkinemedia.com/uk is a service of Kalkine Media Ltd, Company Number 12643132. The article has been prepared for informational purposes only and is not intended to be used as a complete source of information on any particular company. Kalkine Media does not in any way endorse or recommend individuals, products or services that may be discussed on this site. Our publications are NOT a solicitation or recommendation to buy, sell or hold the stock of the company (or companies) or engage in any investment activity under discussion. We are neither licensed nor qualified to provide investment advice through this platform.
With Bank of England reducing the interest rates to a historic low level, the spotlight is back on diverse investment opportunities.
Amidst this, are you getting worried about these falling interest rates and wondering where to put your money?
Well! Team Kalkine has a solution for you. You still can earn a relatively stable income by putting money in the dividend-paying stocks.
We think it is the perfect time when you should start accumulating selective dividend stocks to beat the low-interest rates, while we provide a tailored offering in view of valuable stock opportunities and any dividend cut backs to be considered amid scenarios including a prolonged market meltdown.


CLICK HERE FOR YOUR FREE REPORT!