BT Group Plc (BT) is a London, the United Kingdom-based telecommunications services company that offers voice and data services. The company's services portfolio comprises managed networked IT services, fixed voice and data, mobility, television, connectivity, and broadband services. It also offers copper and fibre connections between exchanges and homes and businesses.
BT caters to large corporate firms, small and medium-sized enterprises, start-ups, wholesale customers, commercial premises, homes, and public sector organisations. It offers its services under the brand names: BT, Openreach, PlusNet and EE. The company has a business presence across Asia-Pacific, Europe, the Middle East, Africa and the Americas.
BT has strong R&D capabilities that help it to improve the performance of existing products and develop new products and services in the areas of 5G, FTTP, IoT and cybersecurity. In FY2018, the company's R&D initiatives included converged network development, application of AI and big-data, connected entertainment, connected world, and cybersecurity. Its R&D division focuses on implementing new ideas such as generating 3D Printed Cab Needle to add new circuits in the roadside cabinet, and a Flexi Drill to clear blockages in the underground duct network. It performs co-innovations with start-ups through BT Infinity Lab.
The group is exploring the revenue of its geographical segment in Spanish as part of its strategic plan to update operations as it accelerated the investment in the fibre broadband. The telecommunications sector giant has begun talks with possible buyers of BT España business.
As per the analyst, potential bidders are anticipated to include infrastructure investors and buyout firms rather than Spain's key telecommunication firms such as Orange, Telefonica, Vodafone and MasMovil.
The company's three-year turnaround plan was executed by the former CEO (chief executive), Gavin Patterson, who was stepping down in June. Subsequently, stockholder lost confidence in his skill to overhaul the company.
On 5th June 2019, Wednesday, BT Group Plc announced that it will be reducing its property footprint to 30 sites from 300 current office including its head office in St Paul's, London by 2023. The move was taken to reduce its cost by £1.5 billion. The company is further planning to reduce its workforce to about 75,000 professionals and will be placed in groups 8 key locations which include Manchester, Belfast, Birmingham, Bristol, Ipswich, Edinburgh, London and Cardiff.
On 9th May 2019, the current CEO, Philip Jansen, announced the first result of the financial year 2019 and taking over the reins from the former CEO of the company in February. The company's board agreed to leave its dividend per share unchanged and also announced the plans to raise investment in progressing the United Kingdom's broadband segment. The company's target is to expand superfast fibre broadband build connections (FTTP) from 3 million to 4 million homes by March 2021 and the FTTP ambition surged from 10 million to 15 million by mid of the financial year 2020, subject to market conditions.
On 24th April 2019, the company is considering bids for its Irish business as it continues to unwind its International Services. In the Italian unit, the company was finding very difficult to find the buyer. Ofcom opened an enquiry this month due to the BT's behaviour in Northern Ireland after a grievance from Eir that it discriminated against its competitor, post winning the major public sector contract.
Financial Highlights (FY2019, £ million)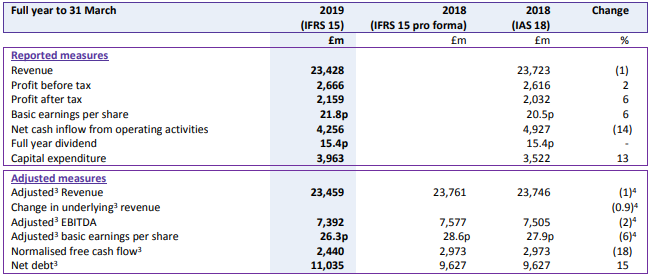 (Source: Full Results, Company Website)
BT's reported revenue stood at £23,428 million for the period FY19 and was reduced by 1 per cent as compared with the previous financial year, on account of regulated price reduction in Openreach and fall in their enterprise business.
Reported profit before tax surged by 2 per cent to £2,666 million. The reported profit after tax increased by 6 per cent to £2,159 million against the £2,032 million in FY18.
Adjusted EBITDA for the financial year 2019 climbed to £7,392 million, due to an increase in the revenue from its consumer business but the surge in consumer business was offset by the decrease in the revenue from its Enterprise and Openreach business.
Capital expenditure during the period surged by £441 million to £3,963 million, driven by a surge in BDUK grant funding deferral and increased investment in FTTP.
The net debt rose by £1,408 million to £11,035 million against the previous financial year. Adjusted FCF (free cash flow) declined to £2,440 million.
Reported basic earnings per share increased by 6 per cent to 21.8 pence as compared with the financial year 2018 of 20.5 pence.
The company had proposed a final dividend of 10.78 pence per ordinary share and the full year payout remained unchanged at 15.4 pence as compared to the last year.
Share Price Performance

Daily price chart (as on June 26, 2019), before the market close. (Source: Thomson Reuters).
At the time of writing (before the market close, at 3:59 PM GMT), shares of the BT Group PLC were quoting at GBX 196.48 and decreased by 0.02 per cent against the previous day close. The outstanding market capitalisation of the company stood at around £19.56 billion, with a dividend yield of 7.84 per cent, which ranks it among the large-cap companies listed on the London Stock Exchange and a constituent of FTSE 100, FTSE 350, and FTSE All-Share.
52w H/L price range
In the past year, shares of the BT Group Plc have registered a 52w high of GBX 268.60 (as on November-05-2018) and a 52w low of GBX 190.68 (May-31-2019), and at the current trading level, shares were quoting around 26.85 per cent lower against its 52w high price level and approximately 3.04 per cent above the 52w low price level. This indicates the stock has witnessed steep plunge and oscillating in down-trend, that could go for a longer period of time.
Volume Standpoint
The 5-day average daily trading volume in the stock stood at 26,818,202.80, which was around 12.63 per cent above the 30-day average daily volume of 23,810,125.40 traded on the London Stock Exchange.
Simple Moving Average (SMA)
From the simple moving average standpoint, shares of the BT Group Plc were trading considerably below its 200-day, 60-day and 30-day simple moving average prices, a technical measure that indicates a long-term downtrend in the stock.
Price Performance (%)
On a YoY basis, the stock of BT Group Plc has delivered a price return of negative 9.38 per cent, on a year-to-date basis, it was down by 17.46 per cent, and in the past three months, the stock has fallen off by approximately 11.28 per cent. Also, the stock was down by approximately 5.97 per cent in the past five trading sessions.
Relative Strength Index (RSI)
From the RSI standpoint, the 30-day, 14-day, and 9-day relative strength of the stock stood at 37.69, 35.79 and 32.88, and the stock has entered an oversold zone.
RSI is a leading technical indicator that measures recent price change magnitude to estimate the overbought or oversold direction in the stock price or other asset classes. If an RSI of an asset class stood at 70 or above, it indicates the stock is hovering in an overbought zone and could pull-back or correct in near-term and in case RSI quoting at 30 or below, it reflects an oversold condition in the asset.
Some key risks of the company include Competition and technology changes, Communications industry regulation, Political risk, Pensions risk, Financial risk, Significant financial control failure, Privacy, data protection and data governance, Health, safety and wellbeing, Ethical Culture, Cyber and information security, and change management.
The company's growth prospects look favourable with an increase in the profit and surge in the margins in the current financial year. The company's board expects to hold the dividend per share unchanged in respect of the present financial year 2020 as given in the outlook for cash flow and earnings. From March 2021, FTTP's target increased to 4 million premises (from 3 million). In FY19/20, capex guidance stood between £3.7-3.9 billion.
Ambition to pass 15 million premises with FTTP technology by the mid-2020s (an increase from 10 million previously) is still left conditional. In FY19/20, EBITDA will be in between £7.2-7.3bn and Normalised FCF will be in between £1.9-2.1 billion. The market competition, cost inflation and a fall in its legacy products will impact BT's short-term performance.
The Board is convinced that the BT Group will earn extra value from more or faster investments in the near term with new customer propositions; fair, predictable and competitive pricing; accelerating migration from ADSL; a step change in customer service; accelerating FTTP build, and accelerating 5G coverage.
As per the Philip Jansen (Chief Executive Officer), the company is well positioned to face the challenges and competition in the UK market, but they had lot of unfinished work to do to remain positive and deliver long term growth to the shareholders.