United Kingdom-based Avacta Group Plc is a Biotechnology and Medical Research Company. The company offers products that include optim and sensipod. It also develops UCB celltech that is an analytical instrument. Avacta's sensipod is an in-clinical blood testing system that delivers ELISA tests. The company offers intellectual property relating to an alternative to antibodies.
Affimer technology is an alternative to antibodies with significant commercial and technical benefits that provide major competitive advantages in drug development and diagnostics. Avacta is targeting long-term, significant value generation through in-house and partnered Affimer therapeutic development programmes. The Group is also generating near and longer-term revenues from Affimer reagents for research and diagnostics with the aim of establishing a profitable and potentially stand-alone business unit with substantial royalty-based income.
Recent News
The company announced that Dr Amrik Basran, who is currently serving as CSO (Chief Scientific Officer), will be presenting on the benefits of using Affimer technology to generate bispecific drug molecules at the Next Generation Protein Therapeutics & Bioconjugates conference in San Francisco, California on 19 June 2019.
There were major developments as in partnership and license agreement with LG Chem Life Sciences (LG Chem) potentially worth over $300m plus future royalties on product sales. The agreement included an upfront payment of $2.5 million, short-term milestone payments of up to a further $5.5 million plus payment of Avacta's research costs to develop Affimer therapeutics for oncology and the treatment of inflammatory diseases.
The company continues to build the in-vivo pharmacology data packages for their lead immune checkpoint programmes – PD-L1 and LAG3 antagonists; aiming to initiate first-in-human clinical studies for the Affimer drug platform in 2020.
The marketing campaign for Affimer reagents (anti-idiotypic) had helped to grow the size of the custom Affimer sales pipeline to its largest value to date. This includes multiple pharma and biotech, several global diagnostic and life sciences reagents companies.
 The company reached to an agreement (commercial license) with New England Biolabs (NEB-a global leader in the discovery and production of enzymes for molecular biology applications) for commercialising products using the Affimer technology in life science research and diagnostics assays. The company strongly focuses on making more license deals during 2019 arising from multiple ongoing technology evaluations.
There is good progress in building a proprietary pipeline of Affimer reagents against specific diagnostic targets with the aim of generating two diagnostic assets with the supporting data packages during 2019 for future licensing.
Also, Dr Jose Saro who was appointed in December 2018 as Chief Medical Officer, was supposed to lead the pre-clinical and clinical development of the Affimer therapeutic platform. Dr Saro previously worked at Roche Innovation Center (Zurich) as a Senior Translational Medicine Leader.
Alan Aubrey, Non-executive Director retired from the Board at the recent Annual General Meeting following 12 years of service to the Group. Dr Sam Williams was appointed to the Board as a Non-executive Director.
The Group has recently reported a substantial collaboration and license agreement with LG Chem and the exercise of a commercial license option by Moderna with whom the Group has been collaborating with since 2015. This combination of the growing technical and commercial progress is expected to help catalyse further significant partnerships in due course.
Financial Highlights (H1 FY2019, £'000)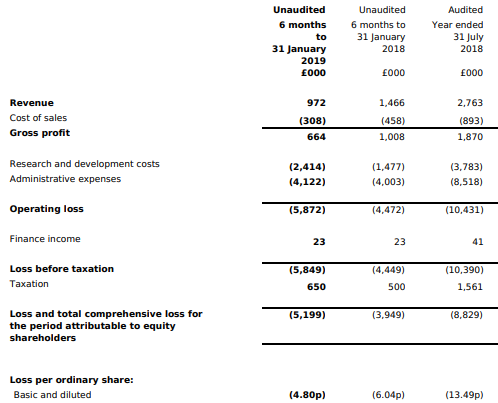 (Source: Interim Report, Company Website)
For H1 FY19, the group has reported a revenue of £0.97 million as compared to £1.47 million reported during the corresponding period of the previous financial year. Revenue from the company's Affimer business and Life Science business reduced to £0.29 million vs revenue of £0.69 million in H1 FY18. Revenue from Avacta Animal Health and the allergy and diagnostic business reduced marginally to £0.69 million from £0.77 million in H1 FY18.
The company's operating loss surged to £5.87 million during the H1 FY19 as against the operating loss of £4.47 million during the H1 FY18 and reported loss post-tax surged to £5.20 million from £3.95 million in the H1 FY18. However, basic loss per share reduced to 4.80 pence as compared with the basic loss per share of 6.04 pence in H1 FY18.
The First up-front milestone payment ($2.5 million) is received from LG Chem Life Sciences. Applying the new IFRS15 Revenue Recognition standard to the payment requires that this income will be spread over the length of time that certain services are provided under the agreement, which will be over an initial period of three years. The group was able to raise funds (£11.6 million gross) in August 2018. The cash balances stood at £11.8 million as on 31 Jan 2019 as against £5.2 million on 31 July 2018. The revenues of £1.0 million for H1 FY19 (£1.5m FY18), reduced due to the absence of research services revenue from the Moderna collaboration; those assets have been transferred into their development pipeline. The research services work which commenced in February 2019 was funded by LG Chem, these services will contribute to H2 figures. The research and development costs surged to £2.4 million in H1 FY19 as against £1.5 million in H1 FY18. Administration costs, which include costs associated with business development, operational delivery, administration, facilities, depreciation and share-based payment charges have increased marginally to £4.12 million (2018: £4.00 million).
There was an outflow of cash from operations of £2.90 million (31 January 2018: £3.60 million) and an outflow from investing activities of £1.42 million on capital expenditure and capitalised development costs (31 January 2018: inflow £2.66 million). Net proceeds from the issue of shares amounted to £10.89m (31 January 2018: £0.04 million). The Group ended the period with £11.79 million net cash (31 July 2018: £5.22 million).
Avacta Group PLC Share Price performance

Daily Chart as at June-18-19, before the market close (Source: Thomson Reuters)
At the time of writing (as on June 18, 2019, at 03:21 PM GMT), shares of Avacta Group Plc were quoting at GBX 30.00 per share, down by 1.63 per cent against the yesterday's closing price level.
The outstanding market capitalisation of the company stood at around £35.59 million.  In the last 52-weeks, shares of Avacta Group Plc have registered a high of GBX 51.00 (as on Jul 24, 2018) and a low of GBX 21.00 (as on Nov 21, 2018). At the current trading level, as quoted in the price chart, its shares were trading 41.17 per cent below the 52-week high price level and 42.85 per cent above the 52-week low price level.
Today's volume in the stock (before the market close, at the time of writing) stood at 10,004. Stock's average traded volume for 5 days was 71,732.40; 30 days – 124,889.97 and 90 days – 168,365.77. The average traded volume for 5 days was down by 42.56 per cent as compared to the 30 days average traded volume.
From the SMA standpoint, shares of the Avacta Group Plc were quoting slightly below its 60-days and 200-days SMA prices, which is a bearish technical indicator and indicates that the stock might fall further from the current trading level.
In the past 1 year, shares of Avacta Group Plc have delivered a negative price return of 4.69 per cent. In addition, on a year-to-date basis, the stock was flat i.e. there was no change and declined by 18.67 per cent in the past three months. The company's stock beta was 0.06, reflecting significantly lower volatility as compared to the benchmark index.
Share's RSI for the 30-days, 14-days and 9-days stood at 46.01, 50.86 and 54.04 respectively. However, 3-days RSI of the stock stood at 35.18.
With Bank of England reducing the interest rates to a historic low level, the spotlight is back on diverse investment opportunities.
Amidst this, are you getting worried about these falling interest rates and wondering where to put your money?
Well! Team Kalkine has a solution for you. You still can earn a relatively stable income by putting money in the dividend-paying stocks.
We think it is the perfect time when you should start accumulating selective dividend stocks to beat the low-interest rates, while we provide a tailored offering in view of valuable stock opportunities and any dividend cut backs to be considered amid scenarios including a prolonged market meltdown.


CLICK HERE FOR YOUR FREE REPORT!