Gross Domestic Product (GDP) growth in rolling three months narrowed to 0.3% in April 2019, post-recording an increase of 0.5% in the first quarter of 2019 (January to March). A gigantic fall in the car production and increase in the stockpiling by the car producers led the UK's economy shrank in April, as per data revealed by the Office for National Statistics (ONS).
Last month, the auto industry recorded that on account of factory shutdowns, which was designed to deal with March Brexit related uncertainties has to pull down car manufacturing in April 2019.
Luxurious carmaker BMW announced its maintenance shutdown in April, this year for its Mini Factory located in Oxford, to deal with any March Brexit related disruptions. Also, other car manufacturers brought forward their annual stoppage.
Rob Kent-Smith, Head of GDP at ONS commented on the GDP figures that, "Economy growth narrowed in the latest three months to April was primarily driven by a steep decline in Car manufacturing, with hovering fickleness ahead of Brexit' original scheduled date leading to planned shutdowns.
Manufacturing was also mostly weaker, as imminent pressure for early completion of the orders ahead of Brexit original departure date, he added.
However, despite two months of back-to-back negative monthly growth in March and April, this year, rolling three-month recorded a surge in the UK's economy. On a month-on-month basis, GDP growth in March stood at negative 0.1% and in April, it was at negative 0.4%. However, regardless of negative growth recorded in the past two months, GDP stood firm in green in the rolling three months ended in April.
All main sectors stood in green in the three months ended to April 2019.
Source: Office for National Statistics – GDP Monthly estimates
In the rolling three months ended in April, service sector contributed positively and recorded an increase of 0.2%, production sector recorded a growth of 0.7%, manufacturing grew by 1.2%, and construction grew by 0.4%. However, manufacturing was the second-largest contributor in the rolling three-month growth.
UK economy witnessed contraction in April, this year by 0.4%.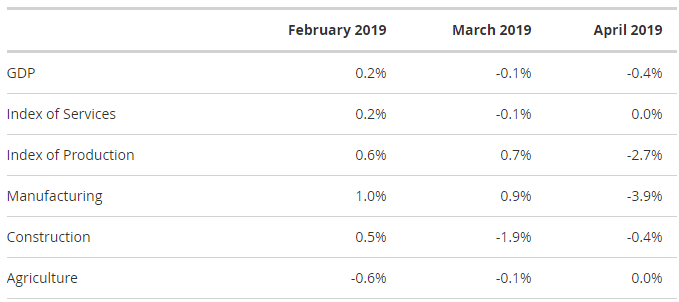 Source: Office for National Statistics – GDP monthly estimates
Monthly growth in the British economy stood at negative 0.4% in April 2019, on account of degrowth in the production sector and manufacturing sub-sector.
However, monthly growth rate exhibited in the table was bit volatile, so one should pay close attention before using and should pay attention to the other measures as well, such as the three-month growth rate, when gauging a longer-term trend in the economy. However, this is imperative to assess the one-off charges masked by the quarterly rates.
Production sector grew by 0.7% in the rolling three-month to April, this year.
During February to April, acceleration in the production sector stood at 0.7%, while manufacturing gained 1.2%. However, within the manufacturing industry, food products and pharmaceuticals products were the most significant positive contributors.
Although, the production sector recorded a negative growth in April, largely driven by 3.9% contraction in the manufacturing sector.
In April 2019, Under the production segment, manufacturing of transport equipment was the major laggard. This segment took a nosedive and contracted by 13.4% in April and stood at the lowest level since October 2018. The sub-sector was the extreme outlier and dragged the overall production output.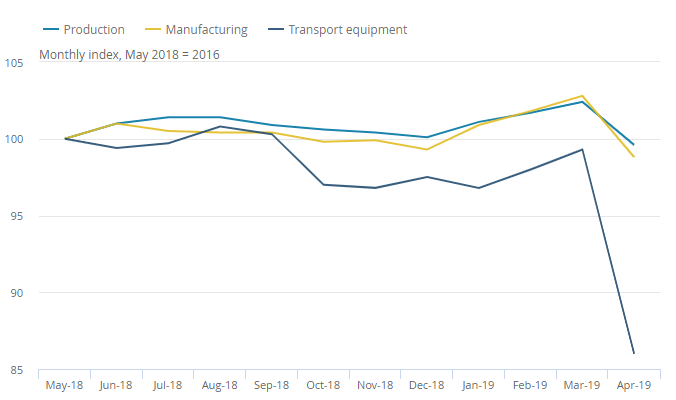 Source: ONS
The recorded contraction in the transport equipment was primarily due to the fall of 24% in the car manufacturing, as companies scheduled shutdowns around the previously scheduled Brexit date. Also, The Society of Motor Manufacturing and Traders (SMMT), stated that on a YoY basis car production declined by 44.5% in April 2019.
However, manufacturing of Pharmaceutical products, basic materials and chemicals were also remarkably negative in April 2019.
Service Sector during the February-April grew at the slowest pace since April 2018.
During the February to March period, the service sector recorded a growth of 0.2%. It was the lowest growth pace since April 2018. Recorded growth in rolling three months to April, was primarily driven by growth in wholesale and retail trade. Within the wholesale and retail segment, retail registered an increase of 0.09% points to the headline GDP growth. However, information and communication were significant drivers of growth.
On a month-on-month basis, recorded growth in the service sector stood at par in April, this year. Information and communication recorded a substantial favourable growth in April, although this growth was partially offset by negative growth in professional, scientific and technical activities.
The construction sector grew by 0.4% in rolling three months to April 2019.
In the month-on-month basis, construction was down by 0.4%. This was largely driven by private housing repair and maintenance.
Yael Selfin, the chief economist at KPMG UK, said that "trend that's followed the EU divorce earlier deadline is stronger than forecasted." The UK's economy could have more subdued growth in the remaining 2019, as it was badly jolted by Brexit related disruptions, he added.
Several businesses were expecting that Brexit could cause a temporary headwind, so they had been increasing their reserves of finished goods to prevent them over, and now they are using up those reserves rather producing more.
One UK based economist commented that, the data revealed by the ONS reflects that, "Our growth rate is quite laggard."
He also, added that, as the global economy is weakening and Brexit uncertainties hovering around the UK, we assume UK's GDP would not grow more than 1.5% or so on in 2019 as a whole. He also assumes that; interest rate would remain the same till mid-2020.
As per the latest estimation revealed by the Society of Motor Manufacturing and Traders, they estimated a 10% decline in the car manufacturing on a YoY basis. It also added sales could pick-up if there is decent divorce deal between the UK and EU bloc.
In a no-deal or hard Brexit, could worsen the situation even bigger and could plunge well below the 10 per cent, SMMT added.
One spokesperson of the British Prime Minister commented that, "Our fundamentals are strong enough to record growth in the coming time and it is recording improvement in the GDP ever since 2010." He also quoted that the labour market is at a record high.
However, this claim is paradox, because many companies are hiring people as a part of their contingency planning, in the wake of Brexit.
Conclusion
Despite humungous uncertainties related to the Brexit, the UK's economy recorded growth. However, future growth in the economy depends upon the important political developments and nature of Brexit, which will be held on October 31, 2019. In the wake of hard Brexit agreement, it could dent the economy further.