Summary

British economy's growth fell by 20.4 percent in April 2020
Construction led the downfall in overall numbers with a negative growth of 40.1 percent for the month
Bank of England expects Britain's GDP to fall by 25 percent during Q2 2020
The production data of the Government shows that the UK economy has shrunk by its lowest levels ever, during the first whole month of the lockdown, April 2020.
Latest figures released by the Office for National Statistics (ONS) UK on June 12, 2020 suggested that the country's GDP growth fell by worst ever recorded rate of 20.4 percent in April 2020, as compared to the same month in 2019. The economic output fell during the earlier month of March as well, when the lockdown just began, on March 23, to be precise. During March 2020, GDP dropped by 5.8 percent as compared to the same month last year.
The British Prime Minister Boris Johnson remarked that there is no denying the fact that the country's economy has been hit severely by the impact of the coronavirus pandemic, but Britain will surely emerge from the crisis in times to come. Government is working out detailed plans so that the economy can gradually get back on track, as fast as possible. These plans are aimed at boosting business and consumer confidence, pushing job growth and taking economic growth upwards.
This is the biggest monthly collapse in economic production since the year 1997, since the start of the new series in Britain.
Bank of England ready to support the economy
Andrew Bailey, the Governor of Bank of England, Britain's central bank, has commented that the bank is fully committed, on its part, to support growth in the economy as well as employment, and will take every step in its capacity to support the same.
However, Bank of England had earlier predicted the Gross Domestic Product (GDP), the primary measure of an economy's health, to fall by 25 percent during April to June 2020 quarter, which is the second quarter of the country's financial year. This scenario is seen as the country's deepest recession in the last three centuries. By definition, if a country's GDP continues to fall for two consecutive quarters, it is said to have entered an economic recession. UK's GDP had fallen by 2 percent during Q1, 2020.
Breakdown of Britain's GDP by its components
The Office for National Statistics calculates GDP under the broad component heads of Index of Services (which fell by 19 percent in April 2020), Index of Production (-20.3 percent), Manufacturing (-24.3 percent), Construction (-40.1 percent) and Agriculture (-5.5 percent). As one can notice, the biggest hit was taken by the construction sector, followed by manufacturing.
Britain's GDP and its components' growth rates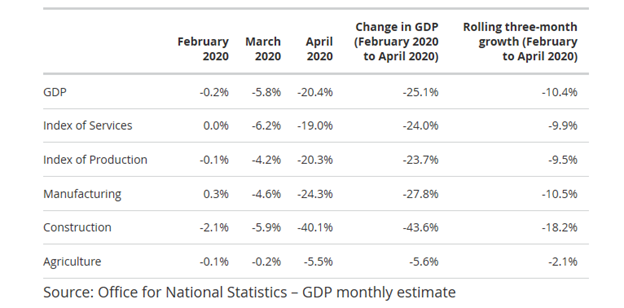 These ONS figures have essentially revealed that the GDP downfall is broad-based and the fall has taken place across all sectors. All the sectors of the industry have been badly affected with people remaining indoors, and unable to go out and work, many put on furlough and companies facing bankruptcies.
Within the Index of Services, the sectors displaying sharpest drop in production were education, scientific and technical services, retail, administrative services, entertainment, and recreation services.
The sectors which led the fall in the Manufacturing component of GDP were transport equipment, metals, rubber, plastics, machinery, wood, paper, computers, electronics, textiles and leather.
Economic activity is subdued not just on the domestic front, Britain's trade with other nations is also negatively affected, with minimal imports and exports. Demand has dried up all over the world, as the corona pandemic is still spreading in many nations.
Being fully aware of the economic downfall, the British government has been supporting the different industries through various concessional loan and borrowing schemes. It has also extended a helping hand to employees of struggling companies by offering 80 percent of their salaries, through its furlough scheme. Presently, a total of close to 9 million workers are covered by the furlough scheme of the government. Schemes to help self-employed people are running in the UK. It is feared that if these Government support schemes were not there, the household consumption levels across the UK would have fallen further, with economic activity taking place at very low levels.
Similar falls experienced across many other countries
Rishi Sunak, Chancellor of the Exchequer, stated that this global health emergency had impacted many other countries as well, with their GDP figures plummeting to worrisome levels, similar to the situation Britain is undergoing in recent times. In Japan, GDP fell by 3.4 percent for Q1, 2020, while in Germany this drop was 2.2 percent during the same period. The economy shrank by 5.8 percent in France during the first quarter of this year. It is pertinent to note here that Britain is one of the few countries that publish GDP numbers on a monthly basis. Most of the countries in the world still publish these figures on a quarterly basis only.
Governments in other countries, where the virus has drastically hit their lives, are also struggling to revive their economies through similar steps. For instance, Germany has reduced its VAT (Value Added Tax) levels substantially. France has offered aid to handhold its ailing car and airlines sectors.
Tej Parikh, Chief Economist, Institute of Directors, UK, while commenting on the confidence tracker stated that COVID-19 pandemic has led to an unprecedented economic turmoil, and Britain will take a long time to come out of it. In fact, no one can predict even the short-term future of UK's economy as it is dependent heavily on the unknown variable – when will a vaccine be invented against the deadly and infectious coronavirus.
To sum it up, the UK's GDP has shrunk by a historic rate of 20.4 percent this April. While no one knows when a vaccine is actually going to be available to save humankind from this deadly virus and when the COVID-19 infections would come to an end in the UK, but one thing is for sure that Britain's economic recovery is going to be a long-drawn process and will depend, a lot more than before, on the kind of stimulus the Government is able to provide to its industries, so that the entire gamut of market forces are able to align themselves suitably and industrial growth comes back.
---
Disclaimer
The website https://kalkinemedia.com/uk is a service of Kalkine Media Ltd, Company Number 12643132. The article has been prepared for informational purposes only and is not intended to be used as a complete source of information on any particular company. Kalkine Media does not in any way endorse or recommend individuals, products or services that may be discussed on this site. Our publications are NOT a solicitation or recommendation to buy, sell or hold the stock of the company (or companies) or engage in any investment activity under discussion. We are neither licensed nor qualified to provide investment advice through this platform.
With Bank of England reducing the interest rates to a historic low level, the spotlight is back on diverse investment opportunities.
Amidst this, are you getting worried about these falling interest rates and wondering where to put your money?
Well! Team Kalkine has a solution for you. You still can earn a relatively stable income by putting money in the dividend-paying stocks.
We think it is the perfect time when you should start accumulating selective dividend stocks to beat the low-interest rates, while we provide a tailored offering in view of valuable stock opportunities and any dividend cut backs to be considered amid scenarios including a prolonged market meltdown.


CLICK HERE FOR YOUR FREE REPORT!