Summary

Amidst uncertainties, global investors need to consider companies with robust fundamentals capable of withstanding headwinds.
Ms Justine Smyth Resigns from the Board of PPH.
Over the time span of 6 months, S&P/NZX All Information Technology witnessed a rise of 4.50% while S&P/NZX50 fell by 2.03%.
The cases of coronavirus are still on a rise on a global scale, thus, global investors fear about its impact on their portfolio.
The markets are highly volatile, and people are selling off their holdings out of anxiety. In the present situation, no one can guarantee how long it would take for the markets to recover.
However, the situation would not be the same always, and things will come back on track. The only thing required during this period is to remain calm and positive. During these unprecedented times, investors need to consider companies having potential to withstand global economic shocks.
In this article, we would discuss one sector which is expected to improve the investors' portfolio in the upcoming future. There are expectations that technology sector might help global investors in sailing through these uncertain times.
Pushpay Holdings Limited (NZX: PPH)
Director Resigns from the Company
Pushpay Holdings Limited has accepted the resignation of Ms Justine Smyth as an Independent Director of the Company, effective 20 July 2020.
The company is looking for a suitable replacement who will further strengthen the Board's breadth of talent as well as background.
Strong Growth in Total Revenue
The company reported revenue of US$129.8 million, an increase of 32 per cent and operating revenue was up by 33 per cent to US$127.5 million, for the year ended 31 March 2020. The company's gross margin increased by 5%, from 60 per cent to 65 per cent. NPAT fell by US$2.8 Mn over the year to March 31, 2020, from US$18.8 Mn to US$16.0 Mn, reflecting a fall of 15 percent.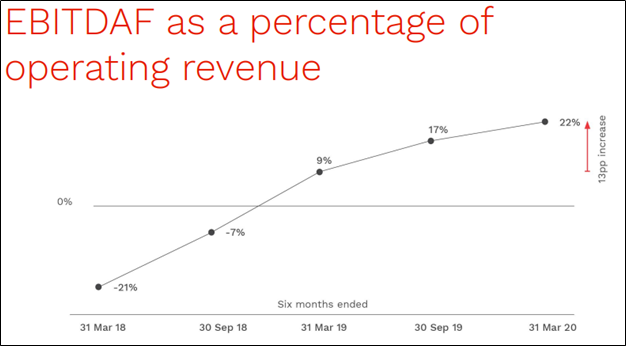 Key Data (Source: Company Reports)
Serko Limited (NZX: SKO)
Full Year Results Impacted by COVID-19
Total Operating Revenue for the year to 31 March 2020 rose 11% to $25.9 million from $23.4 million in the same period a year ago, substantially lower than initial guidance range of 20% to 40% for the year. Total income from all sources was up by 9 per cent from previous year to $26.8 million. Net loss after tax stood at $9.4 million, down from profit of $1.6 million in FY19 and EBITDAF decreased to a loss of $6.1 million as compared to the profit of $2.6 million in the previous year.
The first 3 quarters of FY20 were characterised by monthly growth in revenue and the accomplishment of various crucial milestones. However, the company's performance was impacted in the 4th quarter as a result of Covid-19 pandemic and significantly affected booking volumes.
The company is well financed after the completion of oversubscribed capital raise of $45 Mn in the month of November 2019, with cash balances up from $15.7 Mn in the prior year. As per the release, net funds received post capital raising costs were $43.2 Mn. Excluding these funds, the company's net cash burn for the year, including capitalised development, amounted to $16.5 Mn. Cash balances, as at March 31, 2020, were $42.4 Mn.
Summary (Source: Company Reports)
Vista Group International Limited (NZX: VGL)
The company has undertaken a thorough review of its businesses against future scenarios to determine the extent to which further cost reduction actions need to be implemented. The result of this review is that the company has started the consultation with its staff over a proposed new structure for core Vista Group companies (i.e. Vista Group, Vista Cinema, and Movio).
EROAD Limited (NZX: ERD)
ERD Well Positioned for FY 2021
Despite economic uncertainty across all markets, the company remains well placed for FY21 indicating robust customer value proposition, future contracted income as well as diverse customer base throughout regions, business size and industry.
While ambiguity results in longer sales lead-times, the company remains confident in continued unit growth throughout all 3 markets, even though it is likely to be less than delivered in FY 2020 as well as previously expected for FY 2021.
Plexure Group Limited (NZX: PLX)
PLX Reported Double Digit Revenue Growth
In the release dated 19th May 2020, the company stated that, for year ended 31 March 2020, it recorded its best trading result to date, which continues the robust forward momentum it has achieved in the last 3 years. Strong revenue growth of 50% from FY19 resulted in a total revenue from customers of $25.3 million as well as a cash position of $14.2 million. During the year, the company also added 13 new markets and customers. In April 2019, McDonald's purchased a 9.9% equity stake in the company.
As a result of that investment, the company's relationship with McDonald's continued to strengthen across FY 2019 with PLX now operating in 60 McDonald's markets worldwide.
FY20 Highlights (Source: Company Reports)