Highlights

Penny stocks are generally enticing for small traders and investors.
Plexure Group's acquisition of TASK completed on 1 October.
Geo enters a trading halt for a bookbuild process.
Penny stocks, with their minimal pricing, are often taken by beginners and new investors. Though being volatile, these stocks carry the possibility of offering high returns to their investors as they are issued by relatively small companies, which are in their growing stage.
That said, let us explore the five NZX penny stocks from the tech space.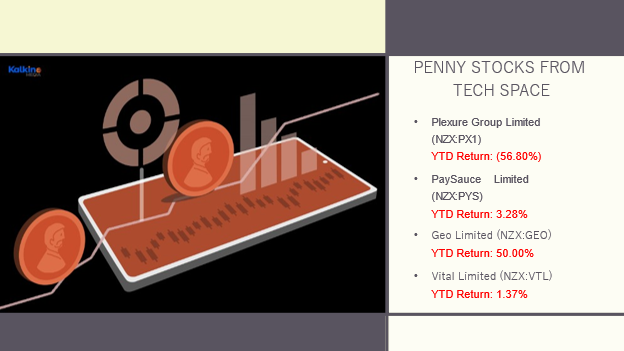 Image source: © 2021 Kalkine Media New Zealand Ltd, data source- Refinitiv
Plexure Group Limited (NZX:PX1)
Plexure Group Limited designs mobile engagement software for its customers.
It had recently held a special meeting of its shareholders, wherein most of its shareholders voted in favour of the Company's takeover of TASK Retail Pty Limited and its subsidiaries, thereby demonstrating faith in its future growth strategies.
Related Read: Why did Plexure (NZX:PX1) hold a special shareholders' meeting?
The acquisition worth AU$120 million was due to be completed by 1 October.
On 1 October, at the closing bell, Plexure Group fell by 1.61% at NZ$0.610.
PaySauce Limited (NZX:PYS)
Wellington-based PaySauce Limited creates work-related software solutions like payrolls, roasters, etc.
The Company had recently announced the results of its Annual Meeting, with a resolution being passed for the re-election of Gavin Thompson as PYS' director and empowering the Board to fix its auditor, Grant Thornton's remuneration.
Must Read: Which are 5 NZX technology stocks with healthy 6-month returns?
At the market close, PaySauce traded flat at NZ$0.310, on 1 October.
Geo Limited (NZX:GEO)
Functioning as a provider of smart tech solutions for mobile businesses, Geo Limited has a customer base in over 30 countries. For smooth conduct of its bookbuild process, the Company has been put under a trading halt since 30 September.
The said halt would be lifted by 4 October.
Related Read: Geo (NZX:GEO): How is its operating atmosphere amid lockdown?
The shares of GEO remained unchanged at NZ$0.158, at the closing bell, on 1 October.
Vital Limited (NZX:VTL)
Vital Limited is NZ's leading provider of telecommunication services.
On 1 October, the Company has announced to hold a virtual Annual Meeting on 19 October, wherein resolutions related to the election and re-election of directors, remuneration of auditors, and general businesses are intended to be passed.
Can't Miss Reading: 5 Popular NZX telcos to look at in October 2021
At the market close, Vital traded flat at NZ$0.690, on 1 October.
Southern Charter Financial Group Limited (NZX:SNC)
Southern Charter Financial Group Limited offers mobile and web development services to its customers.
The Company had organised its 2021 Annual Meeting on 30 September. The re-election of John Cilliers as a director and authorizing the Board to determine its auditor's fees were the two resolutions which were passed in the meeting.
On 1 October, Southern Charter Financial Group remained constant at NZ$0.008, at the end of the trading session.
Also Read: Which are the 11 popular software stocks on NZX?
Bottom Line
Being inexpensive and having vast potential for growth, investing a certain portion in penny stocks can be considered as they aren't much taxing on the pockets.