Highlights

Banks play a crucial role in every economy.
The NZ banking system is highly structured.
BNZ, ANZ, Westpac, ASB and Heartland are some of the popular banks of NZ.
Banks are financial institutions or organisations where people can invest/borrow money. Banks are majorly regulated by the government or the central bank of that country.
New Zealand has a highly regulated and concentrated banking system and constitutes the majority of lending to the non-financial private sector.
Amid this backdrop, let's have a look at some of the popular banks and their performance in New Zealand.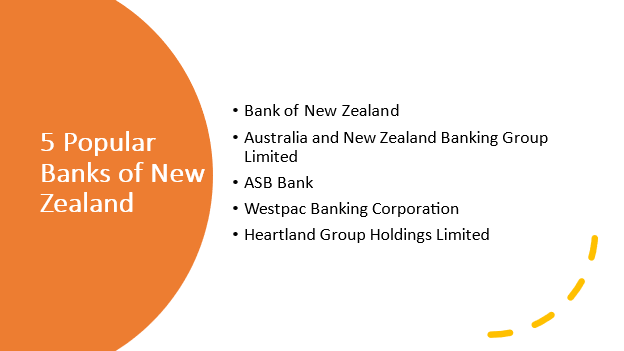 Image source: © 2021 Kalkine Media New Zealand Ltd, Data source- Refinitiv
Bank of New Zealand
BNZ had an encouraging Q3 with strong momentum across the Australian and NZ business. The bank's cash earnings increased 10.3% in the quarter compared to Q3 2020 due to substantially better credit impairment outcomes.
RELATED READ: Do these 5 NZX financial stocks have healthy YTD returns?
The bank also hired Dan Huggins as Managing Director and Chief Executive Officer of BNZ last month.
BNZ recently increased its 1-year classic loan rate to 2.85% and a 2-year classic loan rate to 3.25%. BNZ remains optimistic about the long-term outlook for Australia and NZ.
Australia and New Zealand Banking Group Limited (NZX:ANZ)
ANZ recently reported that it had agreed to switch its customers from the ANZ Share Investing platform to the CMC Markets-branded platform. The step is in line with the bank's approach to make banking operations simpler and easier.
The Bank suffered a dip of $300 million in its books in the June quarter with the loan book slipping by 1% in July to $261.8 million. ANZ CEO in an ESG briefing on 20 September stated that there was a need to tighten lending standards amid a high household debt and operating concerns for small businesses.
ASB Bank
ASB reported a cash NPAT of $1.29 billion for the year ended 30 June 2021, up 34% on the previous year. The bank witnessed a 10% growth in total lending amid a stronger-than-anticipated recovery from COVID-19.
The bank had to pay $9 million to its customers after Commerce Commission warned the bank of overcharging its customers on early repayment adjustment (ERA) fees in June.
ASB increased its fixed mortgage rate by nearly 30 bps in the last week.
Westpac Banking Corporation (NZX:WBC)
One of the largest banks operating in NZ, Westpac, announced a 1 for 9 accelerated entitlements offers to eligible shareholders at $13 per share. The bank has requested trading suspension for this series of Westpac SFIs until the market opens on 24 September.
Westpac has also given a major priority to climate change in its recent ESG update.
Related Read: What are the top 10 NZX-listed financial companies?
The bank has also increased its 1-year rate by 30 bps, 18-month rate increase by 24bps and an increase of 30bps.
Heartland Group Holdings Limited (NZX:HGH)
Heartland Group announced that its annual meeting would be held online and in-person on 28 October amid NZ's COVID-19 Alert level.
ALSO READ: Look at the 5 attractive financial stocks listed with NZX
The Group reported a rise of 20.9% in NPAT to $87 million for the year ended 30 June 2021. HGH declared a final dividend of 7cps in FY21, bringing the total dividend to 11cps for FY21.
Bottom Line
Banking sector of New Zealand has fared well despite COVID-19 challenges.
(NOTE: Currency is reported in NZ Dollar unless stated otherwise)