Source: jittawit21, Shutterstock
Generally, investors are drawn towards those companies, which distribute dividends to its shareholders on a regular basis. Before investing, they carefully and wisely study the history of company's payouts and its financial health and performance.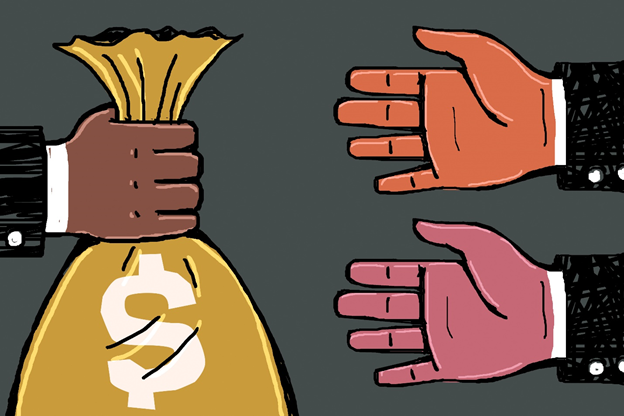 Source: Copyright © 2021 Kalkine Media Pty Ltd
Here in this article, let us go through the 6 NZX stocks which have of late distributed dividends or shall be paying in April 2021.
PGG Wrightson Limited (NZX: PGW)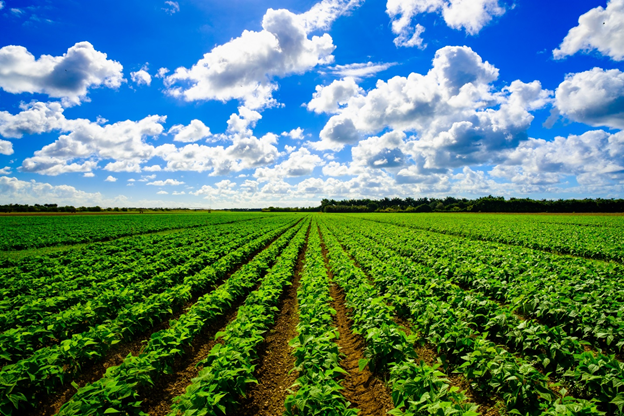 Source: © Fotoluminate | Megapixl.com
Operating for more than 165 years, PGG Wrightson Limited is an agricultural services-based company, with nationwide presence in the rural supply chain.
PGW has declared 12 cps as 100% imputed interim dividend for its shareholders, which will be paid on 24 March 2021.
This could be attributed to the Company's robust performance for H1 FY21. Its revenues climbed to $499.3 million, rise 6% on pcp. Significant increase of 21% in the operating EBITDA of $42.1 million was recorded.
Last year, the Company witnessed the successful launch of its eCommerce channel along with its popular livestock programme, GO-STOCK. With the relaxations in COVID-19 restrictions and economic conditions coming back to normal, PGG Wrightson is hopeful to continue to grow as NZ's leading primary sector-based company.
The Board has declared about $57 million as operating EBITDA guidance for the year 2021.
On 19 March 2021, by the end of the trading session, PGW was down by 0.86% at $3.460.
Barramundi Limited (NZX:BRM)
NZ based Barramundi Limited, is an investment company which gives access to its investors to invest in a diversified portfolio of the growing Australian companies.
BRM has declared 1.58 cps as quarterly dividend along with a supplementary dividend of 0.020 cps which will be paid on 26 March 2021.
Barramundi's half year results ended 31 December 2020, depict a strong performance with 136% increase in its total revenues of $34,616. Its net operating PAT was $31.6 million as compared to $12.7 million in 1H20. The Company's diversified investment portfolio helped the investors in reaping enhanced value on their shares.
Also, as on 28 February 2021, BRM's sector-wise investment details are: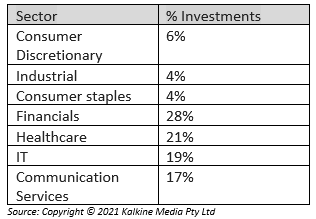 MUST READ: New Zealand's 5 Penny Stocks Drawing Investors' Attention- AFC, BRM, GSH, SVR, ACE
On 19 March 2021, at the end of trading session, BRM stock was up by 2.08% at $0.980.
Argosy Property Limited (NZX:ARG)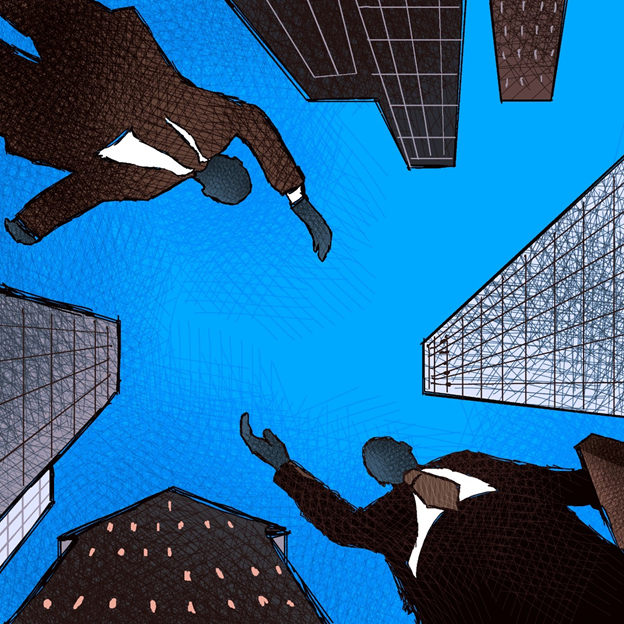 Source: Copyright © 2021 Kalkine Media Pty Ltd
Argosy Property Limited is a diversified investment company which invests in industrial, office and rental properties.
The Company shall be paying 1.6125 as Q3 dividend (for the period ended 31 December 2020) on 30 MARCH 2021 with Dividend Investment Plan at 2%.
Argosy Property had successfully completed the sale of Albany Lifestyle Centre with sale proceeds worth $87.5 million in February 2021. The funds would be utilised towards further expansion of the Company. It has refinanced its banking facilities for $490 million. Despite the challenging economic environment, Argosy managed to report increase of 21.5% in net distributable income with high occupancy of 99.4% during the half year period ended 30 September 2020.
MUST READ: 4 NZX Dividend Stocks From Real Estate Sector- ARG, PCT, IPL, KPG
On 19 March 2021, by the end of the market session, ARG stock traded up by 0.34% at $1.46.
Turners Automotive Group Limited (NZX:TRA)
Another financial company, Turners Automotive Group Limited, which focusses on delivering financial services in 3 core areas of automotive retail, finance & insurance, and debt management services.
The Board has announced 100% imputed Q3 dividend of 6.0 cps to be distributed on 30 March 2021.
The Company had recently shared its FY21 earnings guidance with NPBT likely to be $35 million, owing to an impressive performance by the above stated core businesses. Despite of recent lockdown in February 2021, TRA stood steady and resilient especially in the used car market segment.
On 19 March 2021, TRA ended the market session, up by 1.53% at $3.320.
NZ Windfarms Limited (NZX:NWF)
NZ Windfarms Limited is an electricity generator, drawing electricity from its Te Rere Hau wind farm and supplying it across the country.
The Company has committed to pay an unimputed interim dividend of 0.15 cps on 9 April 2021.
NWF's half year performance ended 31 December 2020, posed effected cost control and capital management. Its total revenue stood at $6.9 million with EBITDAF of $3.2 million during HY21.
Moreover, NZ Windfarms has maintained an EBITDAF guidance between $5.7 million -$6.3 million in FY21. The Company continues to aim at refinement in all its businesses with focus on effective supply chain management to reap enhanced results.
On 19 March 2021, NWF ended the trading session flat at $0.198.
Vector Limited (NZX:VCT)
Auckland based Vector Limited is one of the New Zealand's leading energy sector-based company. In 2020, it placed nearly 1500 new electricity and gas connections across the country.
The Board has announced to pay 8.25 cps as interim dividend on 8 April 2021, carrying imputation credits at 10.5%
Inspite of the uncertainties arising from the pandemic, Vector witnessed a robust performance for the half year period ended 31 December 2020. Its NPAT jumped by 26.8% amounting to $102.1 million with $273.8 million as adjusted EBITDA, up 3.5% on pcp. The Company believes FY21 EBITDA guidance in the range of $500 million to $520 million.
On 19 March 2021, by the end of the trading session, VCT was up by 2.16% at $4.25.
(NOTE: Currency is reported in NZ Dollar unless stated otherwise)