On 26th July 2021, NZ market ended the session in red as the broader market came under selling pressrue, primarily led by Consumer Stables stockes, followed by Consumer Discretionary and Primary Sector stocks. NZX 50 Index declined by -0.50% to 12,673.23 and NZX 20 Index fell 0.61% to 8,032.57. Notably, NZX All Consumer Staples declined by 4.21%.
Data Source: NZX, Table Source: Copyright © 2021 Kalkine Media
Performance of Indices:
NZX 50 Index ended at 12,673.23, which implies ~9.39% increase over the previous 1 year. Also, MidCap Index and SmallCap Index claimed 6,360.10 and 22,546.30 points, respectively.
S&P/NZX 50 Index vs SmallCap Index vs MidCap Index – Performance Over One Year

Source: REFINITIV
Gainers and Losers:
Wellington Drive Technologies Limited (NZX: WDT), in its release dated 26th July 2021, noted recent robust rise in the share price, up by ~20%. The company has stated that it remained in compliance with the continuous disclosure obligations. It has also reiterated the upgraded FY 2021 guidance from 28th June 2021. WDT is expecting US$ revenue between US$45 Mn-US$50 Mn, reflecting a rise from the earlier range of US$41 Mn-US$46 Mn, and subject to the component supply chain risks.
Radius Residential Care Limited (NZX: RAD) declined by 7.32% to NZ$0.760 per share.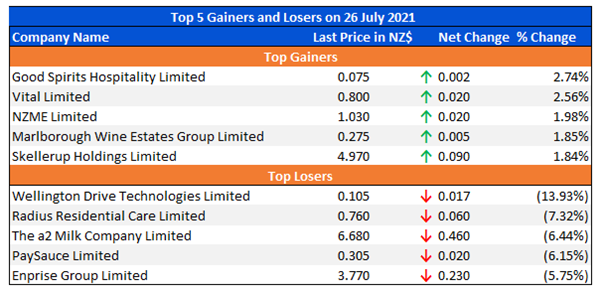 Data Source: NZX, Table Source: Copyright © 2021 Kalkine Media
Movement on Wall Street:
On 23rd July 2021, NASDAQ Composite rose 1.04% to 14,836.99. Notably, Dow Jones Industrials Average increased by 0.68% to 35,061.55.
Note: The reference data in this article has been partly sourced from REFINITIV