Summary

Governments from several countries are taking initiatives to accelerate vaccine development for COVID-19 and ensuring fair distribution once a vaccine is approved.
The COVAX facility is a global collaboration to fast-track the development, manufacture, and equal access to COVID-19 tests, treatments, and vaccines.
COVAX aims to deliver approximately 2 billion doses of safe and effective vaccines by the end of 2021.
Scancell Holdings expects to start a Phase 1 clinical trial (COVIDITY) in the first quarter of 2021.
IMV Inc is working with its collaborators and regulatory agencies to commence clinical trials shortly.
In the first part of this 3-part series concerning WHO-documented COVID-19 vaccine candidates, we highlighted 50 of the most talked-about candidates, including the vaccines candidates under clinical development.
In this part, we will emphasise the 'slightly less talked about but potentially promising' investigational vaccine candidates, currently in preclinical stage.
The learnings and experience from developing vaccines for diseases such as SARS and MERS have helped scientists explore various technologies for developing COVID-19 vaccine. While inactivated vaccines have been in discussions, the potential of new technologies such as messenger RNA and viral vector vaccines is increasingly evaluated.
Local governments are taking necessary measures to provide all possible support for ensuring sufficient dosage of the potential vaccines is available. Just like the US initiatives that we highlighted in the first part, the second-worst affected economy, Brazil, is also doing its bit to ensure there is no shortage of doses when a vaccine is approved.
On 27 June 2020, AstraZeneca and the government of Brazil signed a deal worth US$127 million for producing doses of the University of Oxford's adenovirus-based COVID-19 experimental vaccine, AZD1222, as the country combats a rising count of a new infection. Brazil's Fundacao Osvaldo Cruz would produce the vaccine and would manufacture nearly 30 million doses initially.
COVAX facility for fast-tracking development of COVID-19 tests, treatments, and vaccine
The COVAX facility is an international collaboration to fast-track the development, manufacture, and fair access to COVID-19 tests, vaccines, and treatments. This facility forms a crucial part of the COVAX pillar (COVAX) of the access to COVID-19 tools (ACT) accelerator.
COVAX is co-led by Gavi, the Coalition for Epidemic Preparedness Innovations (CEPI) and the World Health Organization (WHO), in partnership with vaccine manufacturers of developed as well as developing countries. COVAX intends to speed up the development of COVID-19 vaccines, with fair and equitable access for every nation around the world.
COVAX aims to deliver ~2 billion doses of safe and effective vaccines by the end of 2021, that have accepted regulatory approval and/or prequalification of the WHO.
So far, COVAX partners have achieved significant progress, and seven candidate vaccine out of nine supported by CEPI are already in clinical developments. Moreover, in a memorandum of understanding (MoU), AstraZeneca also committed to supplying 300 million doses of COVID-19 vaccines to COVAX.
COVID-19 Vaccine development: According to the most recent COVID-19 vaccine landscape by WHO (dated 20 July 2020), there are a total of 166 investigational vaccine candidates which are under development in different technologies. Out of the 166 vaccine candidates, 24 are under clinical development.
To look at vaccine candidates under clinical evaluation, read our previous coverage- Your Complete Guide: Companies Hitting the COVID-19 Vaccine Charter (Part 1)
The pie chart below shows the number of COVID-19 investigational vaccine candidate (as on 15 July 2020) under various technologies: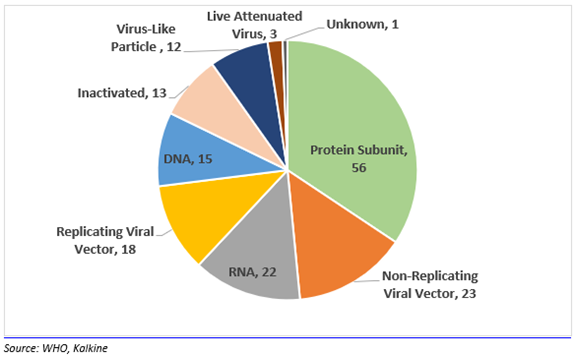 Though the advanced stage candidates will remain in the limelight, for now, vaccines in the preclinical stage, that show promising data, can quickly move into clinical-stage development. If these candidates demonstrate an encouraging safety and tolerability profile, they can go ahead with large-scale studies with assistance from regulatory authorities.
Scancell to commence development of novel DNA vaccine against COVID-19
Scancell Holdings plc revealed that the company started a research programme for developing a DNA based COVID-19 vaccine.
In April 2020, Scancell stated that preliminary research for its COVID-19 vaccine is under progress and the company expects to commence Phase 1 clinical trial (COVIDITY) in the first quarter of 2021, subject to funding. Moreover, Scancell is aggressively looking for development partners and further funding (including non-dilutive financing from global institutions and governments) for the swift development of its vaccine.
Professor Lindy Durrant, Chief Scientific Officer, Scancell, stated-

Bharat Biotech & Thomas Jefferson University signed an agreement to develop COVID-19 vaccine candidate
India-based vaccine innovator Bharat Biotech and the Thomas Jefferson University of Philadelphia have signed a contract for creating a novel vaccine candidate for COVID-19 invented at the University. The vaccine candidate was developed by utilising an existing deactivated rabies vaccine as a vehicle for coronavirus proteins.
On 20 May 2020, University disclosed an agreement with Bharat Biotech to speed up the development of its vaccine candidate through the next phases. With this agreement, Bharat Biotech gains exclusive rights to develop and market University's vaccine across the world, excluding countries like the United States, Japan, Europe, etc. where Jefferson continues to seek partners.
Notably, Bharat Biotech intends to get into human trials by December 2020.
Canada-based IMV Inc to commence clinical trials of its COVID-19 vaccine in the summer
On 14 July 2020, IMV Inc. (Nasdaq:IMV) provided an update on rapid progress on COVID-19 vaccine program. Notably, the company received an agreement with Health Canada on a Phase 1 clinical trial design protocol that also includes older patients of 56 years and above.
IMV notified that it had completed cGMP formulation and manufacturing process development for clinical trials. The company is working with its collaborators and regulatory agencies to commence a clinical trial shortly.
Let us now have a look at the next set of vaccine candidates which are under preclinical development and anticipated to move into clinical development.
DNA-based vaccine candidates: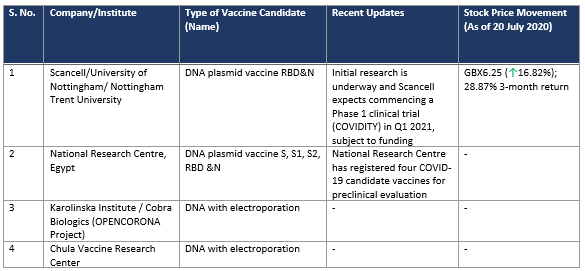 Inactivated virus vaccine:

Non-Replicating Viral Vector:
Replicating Viral Vector:
Protein Subunit: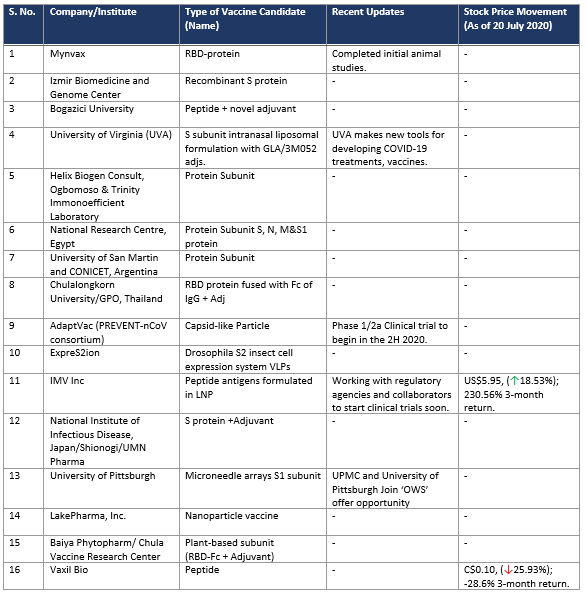 RNA-Based Vaccine:
Virus-Like Particle (VLP vaccine):