Summary

The US Department of Justice filed an antitrust lawsuit on Monday against Google, accusing the company of abusing monopoly power.
Eleven Republican-led US states joined in the complaint, saying Google needs to change its business to allow further competition.
Shortly after the lawsuit became public, Google posted a tweet stating that people choose them as their own choice, not because of alleged monopoly.
If Google is found guilty, Amazon, Apple, and Facebook could be in trouble as they are also under the lens in the initial research from early October.
After years of thorough investigations and one published research held by the House Judiciary Committee, an antitrust suit against Google (NYSE:GOOGL) has come through late at night local time on 19 October.
The Department of Justice is currently suing Google for misuse of monopoly power, namely for not allowing fair competition within the industry and leaving consumers with no other choice but to primarily use Google search.
The complaint was agreed upon by eleven US states, Montana, South Carolina, Florida, Arkansas, Georgia, Texas, Kentucky, Michigan, Louisiana, Missouri, and Indiana. All these states have Republican attorney-generals in power.
The Google situation is the biggest antitrust lawsuit against a company in the last two decades. The previous high-profile suit was filed in 1998 when Microsoft was accused of the same monopoly behaviour.
At the beginning of the suit, the Department stated a couple of ways of how Google can make a positive impact on its alleged monopoly behaviour:
Put Google 'on a leash' so the past action would not occur.
Demand remedies for the effect Google had on other businesses and consumers – meaning that solutions could come in forms of paying fines, enforced divestments, change of operations, or all of the above.
What is Google accused of?
In a 64-page lawsuit, Google was primarily accused of specifically targeted advertising, as consumers are now seeing content that works well for Google, but not for them. For that reason, the Committee has conducted the investigation that delved into Facebook, Amazon, Google, and Apple. As Google's suit had emerged, three other companies are still awaiting their fate.
MUST READ: Do Google, Facebook, Amazon, Google, and Apple allow fair competition?
Another severe accusation that Google allegedly did is spending billions of dollars from advertising campaigns on making sure that every smart device has Google search as their primary search engine.
The US authorities fear that Google is using a similar type of behaviour to conquer the competitors, ultimately reducing the quality of search results. The research found Google Search has been used in ~90 per cent of all Internet requests in the US and ~95 per cent of all mobile device searches.
The search engine giant immediately responded to mention accusations via Twitter, saying the charges are 'deeply flawed' and that their users make use of Google because they choose to.
Political controversies
This lawsuit brings more controversies as US President Donald Trump promised to 'take care' of some companies that are deliberately being biased against his political party.
However, it is essential to emphasize that Google has never been found guilty of any significant charges in the US, even though the company is continuously experiencing several meticulous investigations.
Republicans have been famous for complaining about Google and social media platforms because their political viewpoints are not, allegedly, shown as much as the Democrats'.
What about Amazon, Apple, and Facebook?
With Google accusations, Amazon (NASDAQ:AMZN), Apple (NASDAQ:AAPL), and Facebook (NYSE:FB) are likely to take a hit in their respective departments if Google is found guilty. However, judicial hearings are expected to start by the end of next year or early 2022. That said, the investigation will be a long process, and all parties should prepare accordingly.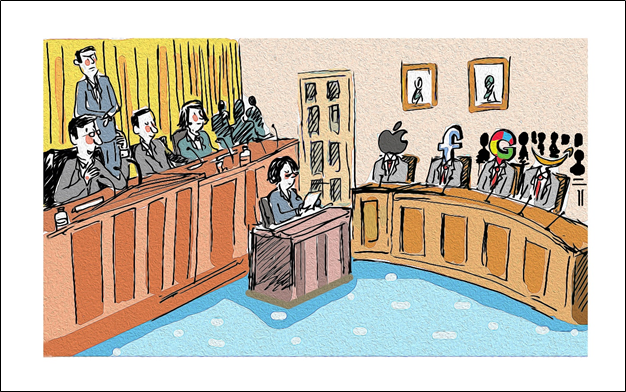 Image Source: © Kalkine Group 2020
As they are still waiting for their lawsuits to come in, the rest of the Big Tech have a lot at stake in case Google is put on a leash. If that happens, each company will most likely need to reconstruct their businesses or pull it apart.
Facebook is facing a risk of losing Instagram and WhatsApp, two of the most popular apps of all times. As Apple has a vast monitoring power over the Apple Store, it is currently facing a threat of limiting those privileges. Meanwhile, Amazon could potentially lose the right to resell third-party products.
The Seattle-based tech player had been previously accused of selling third-party products and then manufacturing their version of it. With that move, Amazon is thought to be getting rid of competition deliberately. Still, Amazon is declining any misconduct involved with the allegation, saying it works for the benefit of sellers that put their products on the Marketplace.
On the other hand, Facebook may need to break off its relationship with Instagram and WhatsApp, as it is thought to have bought the apps to reduce the competitors' influence. In previous controversial allegations, Facebook CEO Mark Zuckerberg stated that YouTube and TikTok both show there is competition on the market.
Finally, Apple's problem is the unique control it has over Apple Store. If developers decide to put their apps on the Store, they need to pay a 30 per cent fee on each transaction within the app. The most recent affair with Fortnite makers about the same issue is still outgoing, as the game creator managed to bypass the commission, so Apple got rid of the game.
MUST READ: Fortnite removed from Apple store; Here's what you need to know about Apple-Epic Clash
What now?
Even though the Department had filed one suit, more are likely to get delivered on Google's doorstep. Several attorney-generals with Texas as the leader are planning to file a separate motion, which will focus on Google's digital marketing strategy. There could be another potential lawsuit from Colorado, whose details have not been disclosed.
The A$1.4 trillion company had previously paid expensive fines to the EU. European Commission requested a payment of US$1.7 billion for not allowing fair competition in Europe, US$2.6 billion for putting their products first while 'googling', and US$4.9 billion for halting competitors on Android.