Hate me or love me, but you can't ignore me: this is the statement that China might be humming to the world right now. Over the years, especially since the turn of the millennium, has grown at an unbelievable rate.
By 2020, China had cemented its place as the world's second largest economy and now seems to be enroute to the top slot. Also, China has already dislodged US – the world's largest economy – as the biggest trading partner for majority of the nations across the globe, except for some Western European and North American countries. China, as on date, controls, 15% of the world trade.
The Chinese growth story does not seem to be intriguing. But one thing that has skipped the eye of the world media is how China has grown internally. While the world was going gaga over Wall Street banks, China's banks raced to conquer the top four spots, based on asset size – globally. On the other hand, of all the much-hyped Wall Street banks, only one made it to the top five.
So here we are with a list of the largest companies in China by market capitalisation: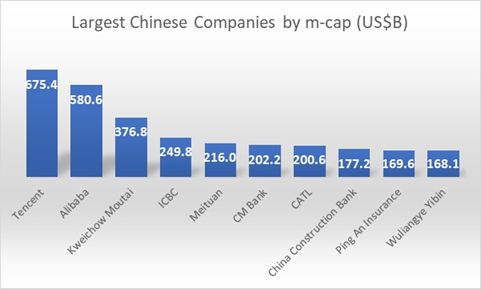 Source: Kalkine Research
Tencent Holdings Ltd: Also known as Tencent, it is a Chinese multinational technology conglomerate. Founded in 1998, its subsidiaries globally market various internet-related services and products, including those related to entertainment, artificial intelligence, and other technologies. It is the most valued company in China – worth US$675.4 billion. While Tencent is headquartered in Shenzhen, the company's shares trade at the Hang Seng Index of Hong Kong.
Which are the most valuable companies in China?
Alibaba Group Holding Ltd: After the Chinese government decided to crack down on the company just because its founder Jack Ma was critical of government policies, the company has seen one-third of its value erode since November 2020. But despite that, Alibaba remains the second-most valued Chinese company – worth US$580.6 billion. It is a Chinese multinational technology , specialising in e-commerce, retail, Internet, and technology and is headquartered in Hangzhou, China.
Kweichow Moutai: Surprise! Have you heard this name before? But let me tell you that this company is the largest beverage company in the world right now. Headquartered in Zunyi, China, it is a partial publicly traded, partial state-owned enterprise in China, specialising in the production and sales of Maotai baijiu, which is a distilled Chinese liquor. The firm is also engaged in the production and sale of beverages, food and packaging materials, development of anti-counterfeiting technology, and research and development of relevant information technology products. The company is worth US$376.8 billion.
Industrial and Commercial Bank of China: Also known as ICBC, it is the world's largest bank by asset size. Founded as a limited company on 1 January 1984, ICBC is a state-owned commercial bank. Headquartered in the Chinese capital of Beijing, the bank employs a whopping 450,000 people. The bank, as on date, is worth US$249.8 billion.
Meituan: Formerly known as Meituan Dianping, it is a Beijing-headquartered e-commerce platform providing life services. The company connects consumers and businesses to provide services, satisfying people's daily eating needs. It owns an instant food ordering and delivery brand, Meituan, as well as provides services through its mobile app by the same name. Founded just 11 years back in 2010, the company has now reached the top five in China and is worth US$216 billion.