Image Source: Shutterstock
Summary

On US Election Day last month, residents of Oregon voted for Measure 109, a program which allows usage of magic mushrooms under controlled environments.
The substance which causes a 'magic' effect in people under the mushroom influence is called psilocybin.
Once the Oregon Health Authority sets all parameters for Measure 109, the whole program should be finalised in a two-year time frame.
Exactly a month ago, Oregon became the first state in the US to legalise the usage of psychedelic mushrooms for psychiatric purposes.
Psilocybin, a 'magic' substance that allows therapists to treat anxiety and depression in patients, has been considered both legal and decriminalised since Election Day (3 November). The law has been named Measure 109.
After the legislation has been passed, individuals in Oregon can opt for the magic mushroom treatment, even without a doctor's prescription. However, if a person decides to take mushrooms without professional guidance, the Oregon government would be allowed to prosecute him legally.
Since the substance has been decriminalised throughout the state, people possessing insignificant amount of the mushroom (0.5g – 5g) would be a low threat to the police and authorities.
DID YOU KNOW: New Zealand votes for Euthanasia, Cannabis legalisation gets a thumbs down
Scientists who agree with Measure 109 think the new enforcement will allow more investigations into psilocybin benefits, which could help many therapists and their patients. However, legalisation seems to be passed a lot quicker than science can conduct a research, so the overall development might not be as easy as some may think.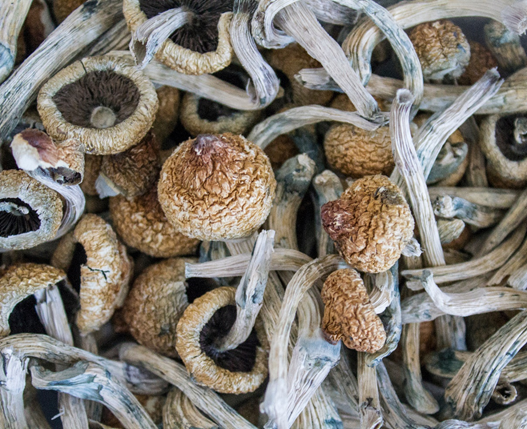 US state Oregon was the first state to make magic mushrooms legal (Image Source: Shutterstock)
What is psilocybin useful for?
As the US has started easing restrictions on psychedelic drugs, more experts could delve into more in-depth studies of the matter.
Some scientists from New York University and Johns Hopkins University tested the mushrooms in a lab environment, finding less anxious and depressed brain activity in the respondents. However, those who had pre-existing mental conditions and a long history of cancer have shown the best progress in combatting cognitive difficulties while using magic mushrooms.
With further research, experts might entirely prove the hypothesis where individuals immune to antidepressants could achieve peace of mind by using magic mushrooms. For now, the only indication that confirms the theory is a study where two doses of magic mushrooms were successfully used for the depression treatment.
Before Measure 109 came into effect, experts had supported their theories with the aforementioned report.
Doctors have compared mental illness to physical diseases, saying there are infinite ways of treating something visible, while depression and anxiety still lack promising treatments. As psilocybin displayed high effectiveness in those patients, Americans have acknowledged the importance of accepting magic mushrooms for broader usage.
What comes as impressive is the fact that people with no sign of mental conditions have demonstrated higher life satisfaction after receiving the professional guidance on psilocybin. People who are merely lonely or distracted could see immense benefits if the substance becomes more affordable and accessible across the globe.
ALSO READ: Cannabis, Legalisation and Way Forward – 7 Tips for Investing
When is the regulation becoming genuine?
The whole process should be finalised within two years – that is how long it takes to pass a legislature as significant as this.
Measure 109 ultimately depends on how the Oregon Health Authority (OHA) decides to move forward, and how long it will take the institution to structure the project.
What does this legislation mean for science?
Once the OHA passes Measure 109, scientists are hoping to find even more benefits that magic mushrooms can bring.
Many criticise lab environments as artificial and not enough to reach a conclusion, so the natural setting could potentially create more clarity around the substance and help to get accurate answers.
On the other hand, some fear that the government did not think about the harmful side effects of the program. People who have occasionally used it as a recreational drug witnessed bad trips and psychosis, among other health issues.
Once a proper structure is set, patients and their therapists would know a lot more than what is currently known.