Summary

Europe being a technically advanced continent, boasts some of the biggest companies across the globe, which are also leaders in their respective market segments.
Nestle, a consumer goods company, has a huge variety of products liked by people from all age groups.
Volkswagen, the automobile jumbo, is famous for its iconic brands like Audi, Bentley, Porsche, and many more.
Europe boasts a modernised economy backed by advanced technology and huge investments in R&D. The continent is home to some of the most successful and largest companies in the world, running from multiple business locations, which provide employment to thousands of people across the world.
These companies are from varied industries ranging from consumer goods segment to pharmaceuticals, technology-driven companies, to integrated automotive manufacturers.
Amid the given backdrop, let's now skim through the top 10 most significant and famous companies of the European continent.
Source: Copyright © 2021 Kalkine Media
Nestle S.A. (SWX:NESN)
Headquartered in Vevey, Switzerland, Nestle is the largest food and drink processing company across the world. Some of the famous brands owned by the Company include Cerelac, Nestlé Pure Life, Nesquik Cereal, Milkybar, KitKat, Nescafé, Maggi, Nestea, Milo, Boost, Häagen-Dazs, and many more.
Its portfolio comprises almost all the food and beverage segments, offering products for all the stages of life - right from infancy to adulthood. The Company focuses on offering affordable yet high-quality nutrition.
Employing nearly 273,000 people worldwide, Nestle's business operations are spread in almost all countries in the world.
In 2020, Nestle's market capitalisation was more than CHF 293 billion, which has now grown to CHF313.8 billion. Its sales were CHF84.3 billion along with a net profit of CHF 12.2 billion.
Related Read: Nestle SA subsidiary to Invest $550 Million For Pet Food Factory's Expansion in Georgia
Roche Holdings AG (SWX:RO)
Established in 1896 at Basel, Switzerland, Roche builds innovative medicines and diagnostic tests related to cancer research, thereby helping millions of patients worldwide. Being the largest biotech company across the globe, Roche has 17 biopharmaceuticals on the market.
Every year, it invests nearly nine billion Swiss francs in its R&D, which is perhaps the largest R&D spends in the world. Currently, the Company boasts a market capitalisation of more than CHF306.6 billion.
Its workforce includes more than 90,000 people working in over 100 countries. Also, the Company has been awarded Sustainability Award Gold Class 2021 by S&P Global.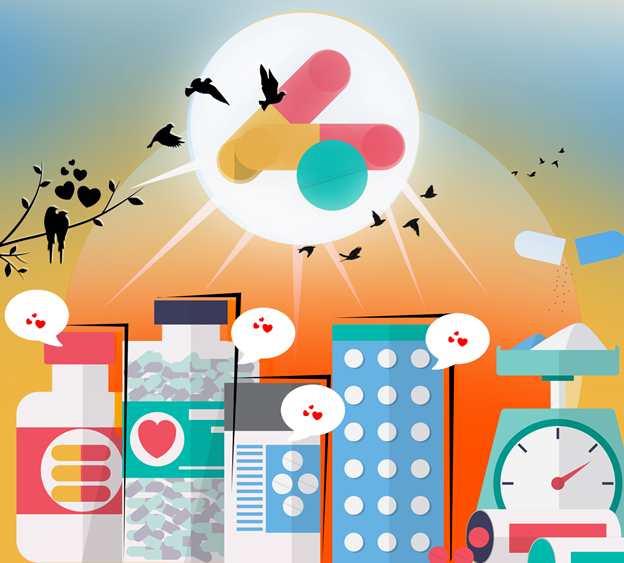 Source: Copyright © 2021 Kalkine Media
Novartis AG (SWX:NOVN)
Another globally acclaimed pharmaceutical company is Switzerland-based Novartis AG. It consists of two business units - Novartis Pharmaceuticals and Novartis Oncology.
The Company uses innovative science and technology to create breakthrough medicines and treatments to improve the lives of millions of people across the globe.
Currently having a market capitalisation of about CHF208 billion, Novartis employs over 125,000 people working in more than 140 countries worldwide.
Also Read: COVID-19 Vaccine Development: Updates from Novartis, Moderna and Novavax
AstraZeneca PLC (LON:AZN)
The UK-based AstraZeneca is a world-famous pharmaceutical and biotechnology company. It focuses on manufacturing and commercialisation of medicines related to renal & metabolism, cardiovascular as well as respiratory & immunology.
It boasts a solid portfolio of investigational therapies with 160 projects in its pipeline.
The pharmaceutical giant has a market capitalisation of US$179 billion.
Further, the Company has been granted approval by the European Commission for acquiring Alexion Pharmaceuticals.
Related Read: AstraZeneca's COVID-19 vaccine: A look at recent challenges
SAP SE (NYSE:SAP)
One of the leading software-based companies across the world is SAP SE. It has a market capitalisation of ~US$170.61 billion.
The German Company's workforce comprises more than 10,000 employees who are committed to helping every customer to run a successful business.
The software behemoth is known for its ERP software, business intelligence, analytics, reporting, dashboarding, SCM, HCM and focuses on effective business processes and building solutions.
Recommended Read: German software company SAP SE (NYSE: SAP) announces results
Volkswagen AG (FRA:VOW3)
One of the most famous automotive manufacturers across the world is Germany-based Volkswagen AG. It boasts some of the most famous vehicle brands under its umbrella - Volkswagen, Bentley, Audi, Lamborghini, Ducati, Porsche, SEAT, etc.
In order to achieve its goal of sustainable mobility, the Company plans to launch 30+ electric cars by 2025, along with a focus on expanding battery technology.
It has a market capitalisation of around €143.47 billion and boasts 118 production plants across the globe.
Moreover, the German automotive giant provides employment to more than 660,000 people worldwide.
Related Read: Volkswagen Enters EV Space, Set To Unveil ID.4 GTX Model
Novo Nordisk A/S (NYSE:NVO)
Another pharmaceutical company making the list is Denmark-based Novo Nordisk A/S. It focuses on serious chronic diseases affecting millions of people across the globe, such as diabetes, obesity, haemophilia, growth disorders, etc.
Novo Nordisk has a market capitalisation of over US$213 billion. Boasting 16 production sites and 10 research and development centres, the Company's products reach 169 countries and is providing jobs to 43,100 people worldwide.
Moreover, being cautious about its environmental impact, Novo Nordisk is the first pharmaceutical Company to make use of 100% renewable power across all its production facilities located globally.
Also Read: How Are NZ Pharma Stocks Reacting to Possible IPR Waiver For Vaccines?
Royal Dutch Shell plc (NYSE:RDS.A)
Headquartered in the Netherlands, Royal Dutch Shell is a giant petrochemical and energy-based company.
Its business segments comprise oil products, gas, upstream as well as chemical products, and the Company boasts a market capitalisation of ~US$161 billion.
Nearly 84,000 employees from over 70 countries work for the global energy company.
Royal Dutch Shell makes use of innovative approaches and advanced technologies so as to build a sustainable energy future. It aims to become a net-zero energy emissions business by 2050.
Related Read: Royal Dutch To Shut Philippine Tabangao facility
Unilever plc (NYSE:UL)
The UK-based company, Unilever, is one of the leading consumer goods companies in the world with a portfolio of more than 400 brands in over 190 countries. Among its most famous brands are Dove, Cornetto, Comfort, Knorr, Lifebouy, Lipton, Hellman's, Clear, Axe, Vaseline, etc.
It employs 149,000 people worldwide and has a market capitalisation of nearly US$151.63 billion.
Recently, the Company had disclosed acquiring US-based Onnit, a wellness and lifestyle company.
Interesting Read: Unilever (LON:ULVR) to try out 4 days working per week in NZ
British American Tobacco plc (LON:BATS)
Based in London, British American Tobacco is one of the biggest tobacco companies around the world. It is spread across all the major six continents of the world, having access to more than 180 markets.
More than 55,000 people work in the Company, which has a market capitalisation of over £86.82 billion.
The Company has recently diversified into a growing cannabis segment and has acquired 20% interest in the Canadian OrganiGram Holdings.
Related Read: Needle on Grocery and Tobacco Sectors: NZ's health review report invites industry backlash